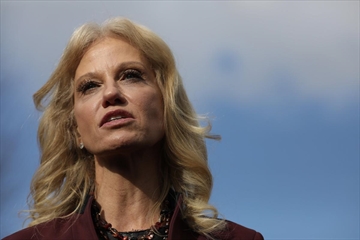 President Donald Trump's 2020 campaign manager, Brad Parscale, publicly branded White House counsellor Kellyanne Conway's spouse a bad husband Wednesday in response to his latest barb directed at the president — this one over Trump's misspelling of "hamburger."
@repost Divorce Fees
source https://www.therecord.com/news-story/9130051-donald-trump-s-campaign-manager-unloads-on-bad-husband-george-conway/
January 17, 2019
Welcome to a sneak peek of the Maclean's Politics Insider newsletter. Sign-up at the bottom of the page to get it delivered straight to your inbox.
In the end, the only question was how long it would be before Karen Wang resigned. The Liberal candidate in the byelection for Burnaby-South sent out a message to Chinese voters on the Chinese social media platform WeChat noting that she was the only Chinese candidate in the race and that, well, Jagmeet Singh is not. Specifically, Wang pointed to the NDP leader's ethnicity in an apparent bid to rally Chinese voters in the riding to her side on the basis of race. The StarMetro Vancouver bureau got hold of the message and translated it, sparking immediate calls for her to step down. (StarMetro Vancouver)
Here is what Wang wrote in her WeChat message: "If we can increase the voting rate, as the only Chinese candidate in this riding, if I can garner 16,000 votes I will easily win the byelection, control the election race and make history! My opponent in this byelection is the NDP candidate Singh of Indian descent!"
And here's what she said hours later when she dropped out of the race: "In trying to speak about my own story and the importance of people of all different backgrounds getting involved in this important byelection, I made comments online that also referenced Jagmeet Singh's cultural background. My choice of words wasn't well-considered and didn't reflect my intent, and for that, I sincerely apologize to Mr. Singh. I have deep respect for him as the leader of his party and for his public service — and I would never want to diminish that in any way." (Canadian Press)
The Liberals have until Feb. 4 to name a new candidate for the riding, with the vote to take place on Feb. 25.
The death sentence handed down to a Canadian citizen by a Chinese court was "politically motivated," the U.S. State Department said in a statement, after U.S. Secretary of State Mike Pompeo spoke with Canada's Foreign Affairs Minister Chrystia Freeland. Between the death sentence and the arrests of two Canadians, moves widely seen as retaliation for the arrest of a Chinese telecom executive in Vancouver, Freeland described China's behaviour as "a threat to all countries."  (Canadian Press, Globe and Mail)
Meanwhile another Canadian, the daughter of a jailed Chinese pro-democracy activist, was temporarily detained at Beijing's airport on her way from South Korea to Toronto. Ti-Anna Wang, her daughter and husband, were taken into custody for two hours. They were ultimately put back on a plane to South Korea, but Wang described the ordeal as "a shocking, terrifying and senseless ordeal with no purpose but to bully, punish and intimidate me and my family." Her lawyer, Irwin Cotler (who served as Canada's justice minister in the Martin government) called it yet another example of China's "hostage diplomacy." (Toronto Star)
Ahead of parliament resuming on Jan. 26, political staffers and other employees on the Hill gave the House of Commons' new digs in the West Block a dry run on Wednesday. (Twitter)
Lastly, here's a look at what it takes for the speaker of the House of Commons in Britain to keep things functioning through the Brexit turmoil: "OOORRRDDDEEERRR!!!" (Twitter)
@repost How to Get a Divorce
source https://www.macleans.ca/politics/ottawa/racial-vote-pandering-sinks-liberal-candidate-in-burnaby-byelection/
January 17, 2019
LOS ANGELES — New York real estate heir Robert Durst is charged with one count of murder, but will have to defend himself in three killings at trial later this year in California.
Los Angeles prosecutors won a victory Tuesday in persuading a judge to allow jurors to hear that Durst killed a man in Galveston, Texas, in 2001, dismembered his body and tossed it out to sea.
Durst was acquitted of murder after testifying he shot Morris Black in self-defence, but prosecutors argued that Black's death and the killing of Susan Berman in Los Angeles in 2000 were both part of an effort to cover up the slaying of Durst's wife years earlier.
"That man beat a murder in Galveston," Deputy District Attorney John Lewin said. "He's not going to get away a second time."
Durst, 75, faces trial Sept. 3 in Los Angeles Superior Court in Berman's death. He has pleaded not guilty.
Prosecutors contend Durst, who is reportedly worth $100 million, killed his first wife, Kathleen Durst, in New York in 1982 and disposed of her body. She was reported missing and has never been found.
Durst has denied any involvement in the disappearance of his wife, who is presumed dead. But he allegedly told Berman, his best friend, about what he did and she helped him cover up the crime for years, according to testimony at previous hearings.
New York authorities reopened the case in 2000 and planned to talk to Berman, but Durst got to her first, prosecutors said. He ambushed Berman in her home near Beverly Hills and shot her in the back of the head, prosecutors said.
Durst, who inherited a fortune from his family's New York City real estate empire, went into hiding in Galveston disguised as a mute woman living in a low-rent apartment.
He befriended Black, his neighbour, who eventually figured out his true identity. Prosecutors claim Durst killed Black to prevent him from revealing his whereabouts.
Durst provided a different story, testifying that Black confronted him with a gun one day and he accidentally shot the older man during a struggle for the pistol. Durst testified that he panicked and dismembered the body and tossed it in garbage bags in Galveston Bay.
Durst's lawyers argued that it was unfair to present evidence of Black's killing during the Berman case because he had been cleared by a jury and should not be on trial for the same crime.
"The second the Morris Black acquittal comes before this jury it's game over," said defence lawyer Chip Lewis.
Judge Mark Windham said he would allow the evidence because the "events seem to be intertwined" and it would be up to jurors to decide if the two killings were part of an effort to dodge New York detectives.
"These crimes happened — both of them — during the flight, during the hiding, at the time he believes he's going to be prosecuted," Windham said. "He leaves town, and two people are killed."
It will be up to the judge to instruct jurors on what they're allowed to consider about Black's killing and the suspected slaying of Kathie Durst in weighing evidence in the Berman case.
Peter Johnson, a defence lawyer and law school lecturer at University of California, Los Angeles, said that evidence of two other deaths would make for a difficult defence.
"If you're looking at once accused of murder, second time accused of murder and now it's the third time accused of murder, that's not within the normal juror's experience," Johnson said. "I think that does have a significant prejudicial impact on the defendant in this case."
Durst was arrested in New Orleans in March 2015, just hours before the airing of the final episode of HBO's "The Jinx: The Life and Deaths of Robert Durst."
The documentary examined the disappearance of his wife, and the killings of Berman and Black.
The HBO series created a sensation after Durst was heard during the finale muttering to himself on a live microphone: "You're caught! What the hell did I do? Killed them all, of course."
It's not clear yet whether jurors will hear that recording, though it's now likely they will hear testimony linking Durst to three deaths.
@repost Family Law Solicitors
Via Domestic Partnership Contract
source https://canoe.com/news/crime/robert-durst-murder-trial-set-for-september
January 17, 2019
Ewan McGregor's eldest daughter has hit out at tabloid reports suggesting a snarky tweet was directed at her famous father, urging followers not to believe everything they read.
Clara McGregor hit headlines early on Wednesday for appearing to criticize her actor dad for leaving her mom, Eve Mavrakis, in 2017 after 22 years of marriage to date his Fargo co-star, Mary Elizabeth Winstead.
The cutting remark was made after the model posted a photo of her 52-year-old mother looking youthful in a bikini while on a family vacation, and captioned it, "my mother, ladies & gentlemen * 50 is the new 30 apparently."
One follower jokingly suggested Clara keep Eve away from any of the 22-year-old's future boyfriends, prompting the model to respond with a fiery comment.
"Nah I keep her away from a–hole men who leave my goddess of a mother," she wrote, alongside a smiling face emoji.
Many assumed the tweet, which has since been deleted, was aimed at the 47-year-old Scottish actor, who filed for divorce in early 2018, but Clara has now clarified her statement in a post on her Instagram Story timeline.
She shared a screenshot of an article all about her comment, titled, "Ewan McGregor's daughter Clara attacks 'a–hole dad with bikini snap of mum Eve," and then made her feelings clear in a statement written over the piece.
"Let's make one thing clear," she began. "I was not attacking my dad or calling him (an) a–hole. I was simply saying she deserves someone who isn't one. ALSO this isn't news."
She then added, "F– tabloids. Don't believe everything you read."
Clara has become known for her opposition to her father's new romance, after dismissing actress Winstead, 34, as a "piece of trash" in a bitter Instagram comment last year.
She subsequently apologized, admitting to The Times, "It wasn't the most mature way to go about things, but I was angry and upset. There had been a lot building up to it and a lot to deal with – but yeah, it wasn't my finest moment."
@repost Divorce and Child Custody Lawyers
source https://canoe.com/entertainment/celebrity/ewan-mcgregors-daughter-denies-calling-him-an-a-hole
January 17, 2019
Rick McGowan started fishing in Stoney Lake and Minnie Lake in B.C.'s Interior in the 1960s when he was 14 years old. The lakes were a good stopping point along Stoney Lake Road, a gravel route the McGowan family travelled almost daily from Merritt to a fishing resort on Paradise Lake owned by Rick's parents, Hughie and Ruby.
The province stocked both lakes with rainbow trout, and Minnie Lake was the place to catch a fish to brag about, five or even eight pounds. "Minnie Lake has always had a great ecosystem for providing big fish," says McGowan. "It had a lot of shrimp and invertebrates for the fish to feed on." The lakes were surrounded by land owned in part by the Woodward family, founders of an eponymous department store chain, but were themselves Crown property and a popular spot for residents, including neighbouring First Nations.
One day—McGowan figures around 1988—the family found the gate to Stoney Lake Road closed and padlocked. It was the start of a 30-year dispute, pitting local anglers against wealthy landowners, public interests against private, and culminating in a recent court decision that could set a precedent for public access to Crown-owned waters.
Today, the owner of that gate is American billionaire Stan Kroenke, who owns a stable of professional sports teams including the NBA's Denver Nuggets and the NHL's Colorado Avalanche, and who is married to a Wal-Mart heir. He bought the Douglas Lake Ranch in 2003 and has been snapping up adjacent land ever since. He's now the largest private landowner in B.C., with rights to almost 500,000 hectares of deeded and Crown grazing land under his Douglas Lake Cattle Company.
After years of disputes over access, which included RCMP arrests for trespassing and a failed petition from the Nicola Valley Fish and Game Club—of which McGowan is a member—the Douglas Lake Cattle Company sued the club. Lawyers asked a judge to clarify whether Stoney Lake Road is public, whether the public should be permitted access to the lakes and who owns the fish.
Douglas Lake Cattle Company did not get the answers it wanted when B.C. Supreme Court Justice Joel Groves rendered his decision in early December. Stoney Lake Road is public; the lakes must be reopened for catch-and-release fishing; and the fish are wild, even if the lakes are stocked, the judge found.
More than a mundane court ruling, the decision is being received as a declaration affirming public rights to cherished water bodies at a time when private interests are rapidly closing them off. The court heard that the company dammed Stoney and Minnie lakes to make them bigger, partially flooding the road in the process. The company, which operates several private fishing lodges, argued that the new expanded borders of the lakes were private. The ranch also put large rocks and logs on the road "to make it impossible to pass," writes Groves.
All the while, the province knew. In 1996, the district highways manager wrote a letter to Douglas Lake ranch manager Joe Gardner, asking him to remove the locked gate and install a cattle guard. Gardner did not comply. "Mr. Gardner has acted, as manager of the DLCC, as someone who is above the law," writes Groves.
Groves had harsh words for the province, the second defendant in the case: "The province did not respond to this apparent unlawful act. Over 20 years, a privately held corporation, owning a large swath of land, prohibited the public from driving on the public road and the province did nothing."
The government came in for even greater rebuke in a scathing epilogue to the decision—a rare document Groves presented in court after his ruling. In it, Groves writes that "it makes no sense to me that the Crown would retain ownership of the lakes, only for there to be no access." He urges the province to re-examine its trespassing laws and "guarantee access to this precious public resource."
Christopher Harvey, lawyer for the Nicola Valley club, says he hopes this ruling will spur the province to protect right of access to public lands. "It is the easiest thing in the world for a landowner to put up a private property sign and just lock a gate over a public road," Harvey says. "Ninety-nine per cent of the public will assume it is private property."
B.C.'s natural resources ministry says it's reviewing the judgment before deciding its next steps, while a lawyer representing Kroenke's company says it is considering all options, including appeal. Neither Kroenke nor ranch manager Gardner agreed to an interview.
The gate to Stoney Lake Road isn't the only one with a lock. There is legal action in the works over access to Corbett Lake, another Crown lake partially on Douglas Lake Cattle Company property. McGowan, now 66, sees this as his fight to ensure his eight-year-old granddaughter can fish in Crown lakes, just like he did as a boy. "The locking and blocking access to public lakes all over B.C. is escalating like an epidemic," he says. "If we don't stop it, you're not going to go off the blacktop without paying someone to go there."
@repost Divorce in Canada Who Gets What
Via Common Law Property Division
source https://www.macleans.ca/news/canada/reel-justice-prevails-this-b-c-man-won-a-30-year-battle-to-fish-in-a-public-lake/
January 17, 2019