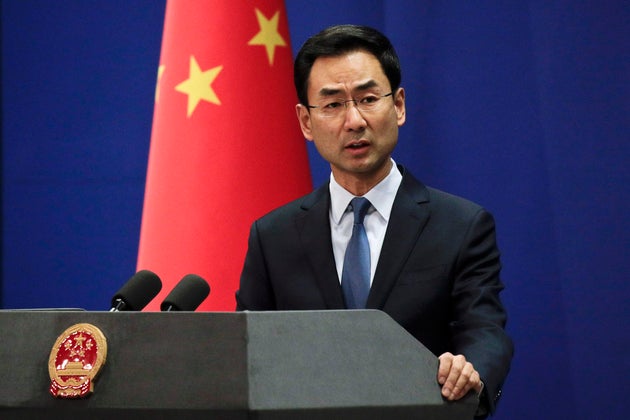 BEIJING — China warned Canada on Friday that it needs to be aware of the consequences of aiding the U.S. in a case involving the Chinese tech giant Huawei that is believed to have sparked the detention of two Canadians in China.
Foreign ministry spokesman Geng Shuang's comments Friday came after U.S. Vice-President Mike Pence and Prime Minister Justin Trudeau called for the release of Canadians Michael Kovrig and Michael Spavor.
Both were arrested on Dec. 10, 2018, after Canada detained a Huawei executive wanted by the U.S. on fraud charges. While China has denied they were taken in retaliation, it has repeatedly implied that there is a strong connection between the cases. 
We hope that the Canadian side can have a clear understanding of the consequences of endangering itself for the gains of the U.S.Geng Shuang, China's foreign ministry spokesman
Kovrig, a former diplomat and Asia expert at the International Crisis Group, and Spavor, a businessman, have been accused of colluding to steal state secrets. Canada has repeatedly urged their immediate release, calling their detention "arbitrary." Neither has been permitted access to lawyers or family members.
"We hope that the Canadian side can have a clear understanding of the consequences of endangering itself for the gains of the U.S. and take immediate actions to correct its mistakes so as to spare itself the suffering from growing damage," Geng said at a daily news briefing.
Watch: Huawei has been blacklisted by the U.S. Story continues below.
Huawei CFO Meng Wanzhou, the daughter of the company's founder, is accused of lying to banks about the company's dealings with Iran in violation of U.S. trade sanctions. Her attorney has argued that comments by U.S. President Donald Trump suggest the case against her is politically motivated.
Washington has pressured other countries to limit use of Huawei's technology, warning they could be opening themselves up to surveillance and theft of information.
China and the U.S. are currently embroiled in a trade dispute that has beleaguered global financial markets.
Another Canadian held in China, Robert Schellenberg, was re-sentenced to death in a drug case following Meng's detention. His case is currently under appeal.
@repost Alimony Attorney
Via Dividing Assets in Divorce
source https://www.huffingtonpost.ca/entry/china-huawei-us-canada-warning_ca_5cf111cae4b0e346ce7c8cc8
May 31, 2019
Welcome to a sneak peek of the Maclean's Politics Insider newsletter. Sign-up at the bottom of the page to get it delivered straight to your inbox.
Were his fingers crossed? Kudos to Vice President Mike Pence for keeping a straight face as he evoked his  boss's deep affection for Canada on Thursday: "I'm honoured to be here today on behalf of a friend of yours and a great friend of the Canadian people, President Donald Trump."
Pence, of course, was here to talk trade-deal ratification, Canada and America's shared challenges with China, and to listen as Prime Minister Justin Trudeau expressed concern at recent U.S. state laws banning abortions.
Deal with it: On the trade front Pence credited Trudeau for "driving a hard bargain." Having the U.S. VP praise the Trudeau government's negotiating skills should help the Liberals, who face constant accusations from the opposition that they caved to Trump. (CBC News)
(On the other hand, isn't that the kind of thing a victor might say so the other side can tell itself it didn't loose.)
Having had his back scratched by Pence, it was Trudeau's turn. He urged the Democrat-held Congress to support Trump and ratify the deal because it contains a lot of things Democrats should like: "They are significant things that we look to the U.S. Democrats to understand are significant improvements and are issues that, like Canadian Liberals, they care deeply about. So we are confident that the work being done on ratification is possible because we made sure that, from multiple angles, this was a better deal for Americans, for Canadians and for Mexicans." (CBC News)
We may see how strongly Trudeau's words resonate with Democrats sooner rather than later. The Trump administration has sent a letter to Congressional leaders that included a draft of an administrative action that would send the deal to Congress to be ratified within 30 days. (CNBC)
Aaaaaaand scratch that: Last night Trump effectively ensured USMCA won't be ratified by Mexico any time soon by promising to slap a five per cent tariff on all Mexican imports starting on June 10 to force that country to crack down on migrants crossing the U.S. border. (CTV News)   
Common ground: Pence also did Trudeau another solid, confirming publicly that the U.S. will link its trade talks with Beijing to the release of  two Canadians detained by China in anger over Canada's arrest of a Huawei executive on a U.S. warrant. As John Geddes writes at Maclean's, securing their release has become the most pressing diplomatic preoccupation of the Liberal government, yet things haven't been going Canada's way:
Enter Mike Pence. Asked about the detained Canadians by reporters today, Pence said he and Trudeau spoke "extensively" on the file. Then he volunteered a commitment about the Group of 20 leaders' summit coming up in late June in Osaka, Japan: "Let me say that President Trump will be travelling, along with the Prime Minister, to the G20 in the weeks ahead. We anticipate he will be meeting with President Xi there. We are in the midst of significant discussions over our trading relationship, but I can assure you in that context and going forward, we're going to continue to urge China to release the Canadian citizens, even while we deal with the larger economic and structural issues between the United States and China." (Maclean's)
Miles apart: But the A-word hung over much of the day. Trudeau had said he would raise concerns with Pence about the U.S. backsliding on abortion rights, and he did. But while Pence hailed the close relations between the two countries for allowing a "candid" discussion, Pence didn't shy away from his views: "But let me be clear, I'm very proud to be part of a pro-life administration and our administration has taken steps to stand for the sanctity of life at home and abroad."
Trudeau's endless talk about abortion should be a clear indicator to everyone that the Liberals are worried about the upcoming election, writes Andrew MacDougall:
The Liberal play on abortion is 100 per cent domestic. Slapping at the vice-president should also please the clap-happy backbench. But if you had told the Liberals at Christmas that cheering for abortion is how they'd be preparing for the upcoming federal election they would probably have guessed that something had gone wrong.

Badly wrong. (Maclean's)
Let me get that for you: How do you turn $24,000 into nearly $100,000 in just four months? Get a sole-source contract to hold doors open for senators. In February Ottawa security firm Arlington Group Inc. was granted a contract to provide "ushers" to the Senate of Canada Building, the Upper Chamber's temporary digs, because of a shortage of automatic door openers. After the original contract ballooned in size to $95,000 administrators suspended the use of security guard-ushers while the contact is reviewed. (CBC News)
Scoop: The federal government is making a habit of tipping off J.D. Irving whenever pesky reporters come poking their noses around. When the Globe and Mail reached out to Economic Development to ask if the company had counted any of its investment in an Alberta french fry plant against its re-investment obligation under a naval shipbuilding contract, bureaucrats almost immediately got on the horn to J.D. Irving, which dispatched its lawyers and threatened legal action. Two months ago the same thing happened when a Postmedia reporter asked two other departments about  the company—and that was the third time Ottawa tipped off the company about that reporter's inquiries. (Globe and Mail)
@repost Separation Documents
source https://www.macleans.ca/politics/ottawa/mike-pences-fence-mending-visit-to-canada/
May 31, 2019
AKWESASNE, Que. — A funeral will be held Saturday for the last of the Mohawk code talkers from the Second World War, Louis Levi Oakes, who died peacefully on Tuesday surrounded by family at age 94.
Oakes was the last surviving member of a group that used the Mohawk language to help relay encrypted secure messages to Allied forces during the Second World War — one of 33 native languages used by U.S. troops to share vital information.
"Levi was one of Akwesasne's most respected elders and the remaining survivor of the World War II Mohawk Code Talkers," the Akwesasne Mohawk Council wrote in a statement posted to Facebook. "While stationed in Louisiana, Levi and other Indigenous soldiers received training as code talkers using their traditional first languages."
"Levi was a man who utilized his language unselfishly to preserve the freedoms bestowed upon us today."
According to an obituary published this week, Oakes joined the U.S. Army at 18. He and 22 fellow recruits from Akwesasne used their unique language skills to help American troops as Mohawk language code talkers in the South Pacific, Philippines and New Guinea.
Oakes was awarded the American Silver Star for courageous conduct, before being honourably discharged in 1946. In 2016 he was among the Indigenous code talkers that received the Congressional Silver Medal.
In December 2018, Oakes was also honoured for his service by the Assembly of First Nations and members of Parliament in Ottawa, and met privately with Prime Minister Justin Trudeau.
Oakes was born Jan. 23, 1925, in St. Regis, Que., on the Canadian side of the Akwesasne Mohawk territory that straddles Quebec, Ontario and New York state.
Indigenous Services Minister Seamus O'Regan wrote on Twitter this week that Oakes' loss will be deeply felt, but he will never be forgotten.
"As an 18 year old Mohawk from Akwesasne, Levi Oakes joined the U.S. Army to fight in the Pacific," O'Regan wrote. "By sending messages in his own language that couldn't be understood by the enemy, Levi saved untold lives."
According to his obituary, he worked in iron in the Buffalo area for three decades before returning to work for the Mohawk Council of Akwesasne, retiring as public supervisor after 30 years of service.
It said he enjoyed gardening, driving around the community on his machinery and weaving rugs, and he cherished the time he was able to visit with his children and grandchildren.
"Levi Oakes was an inspiration to many, was truly a treasured Akwesasronon, and will forever be remembered as a hero, and a family man," the council wrote, adding flags would be flying at half-mast.
Oakes is survived by several of his children and their spouses, grandchildren, great grandchildren and great-great grandchildren.
A funeral mass will be held Saturday morning at St. Regis Catholic Church, to be followed by a burial with full military honours.
– By Sidhartha Banerjee in Montreal
The Canadian Press
@repost Equalization Payments
source https://toronto.citynews.ca/2019/05/30/louis-levi-oakes-last-of-mohawk-code-talkers-passes-away-at-94/
May 30, 2019
The recording included Saskatchewan ex-lovers Angela Nicholson and Curtis Vey talking about an alleged plot to kill their spouses. But a judge ruled that the RCMP's handling of the recording violated the Nicholson and Vey's privacy rights, before finding them not-guilty.
@repost Child Support and Custody
Via Divorce for Men
source https://www.cbc.ca/news/canada/saskatoon/nicholson-vey-murder-trial-secret-recording-1.5153175?cmp=rss
May 29, 2019