Family Law Lawyer Voted Among Top 3 Firms In Vaughan

The Vaughan, Ontario based Mazzeo Law Barristers & Solicitors law firm is pleased to celebrate being ranked among the top three divorce law firms in 2019. The Family Law Office Vaughan was recently recognized by the renowned website Three Best Rated as one of the best firms in divorce law available in the Vaughan community.
In their article, the review website states that Mazzeo Law offers a wealth of experience and knowledge on various legal issues as they focus mostly on helping families resolve their legal issues. By the Three Best Rated's criteria, it was determined that Mazzeo Law Barristers & Solicitors services are, competitively speaking, amongst the top three that are available in the Vaughan community. The firm is proud that their dedication and adherence to excellence in their legal practice has allowed them to stand out from their peers.
Among the relevant criteria that Three Best Rated used to arrive at this conclusion are: "Local proximity to the Vaughan Community," "Service Diversification," "Experience," and "Success stories." Out of all the criteria used to determine Mazzeo Law's competence, the local law firm achieved a perfect score in 4 different sectors, with a near-perfect mark in many others.
A spokesperson for Mazzeo Law Barrister & Solicitors said, "At Mazzeo Law, we are extremely happy with the recognition given to us as it reflects the efforts we've put throughout the years to ensure that our clients get the best representation possible. Even though we're happy to be recognized as one of the best, we're far from satisfied, and we will strive towards improving even further to give our beloved community the service that they deserve."
The spokesperson added, "As we've said before, we want to convey the feeling to our clients that when they choose a member of our team to represent them, they will be in the safe, experienced hands of legal professionals, each of whom is adept in family and real estate law representation."
The Vaughan Law firm has shown a great deal of commitment towards the community, as illustrated in the article Spousal Support Lawyer in Vaughan Advocates Basic Understanding of Family Law,' where one can learn more about the initiatives that the firm has developed to help the community. Alongside this, clients and other interested parties may also peruse the law firm's blog, found on their website, where they offer advice and share their experience regarding the different areas of family law that the firm is involved in.
As stated before, Mazzeo Law Barrister & Solicitors specializes in family law. Their services encompass family law, separation, divorce and child support agreements, real estate law complemented with will law services, and many other services related to family law. The firm offers the Vaughan community the vast expertise of their highly qualified professionals, who will look after their client's interest regardless of the situation.
Through online reviews, the community has responded positively towards Mazzeo Law Barrister & Solicitors. A satisfied client wrote, "My family law case had become rather complicated, yet Mazzeo Law firm had been prepared every step of the way. With their team's expertise, we have been successful in all family court appearances. They are always well prepared and organized, which I believe is the key to their success. Although this process is highly stressful, there is always someone available to respond to all my concerns. I highly recommend Mazzeo Law's services for any family law issue, as they have delivered a top tier service to me."
Those who wish to find out more or get in touch with a reliable family lawyer in the Vaughan, Ontario area may contact Mazzeo Law Barrister & Solicitors. Furthermore, they may visit the firm's official website, where they can fill out a form to schedule a consultation with the firm's lawyers, browse articles on their regularly updated blog, and more. Interested parties may also follow the firm's social media, where they announce the company's newest initiatives to support the Vaughan community.
For more information please contact us at any time:

Mazzeo Law Barristers & Solicitors
3300 Hwy 7 Suite 904
Vaughan
,
Ontario
L4K 4M3
Email: [email protected]
Phone: (905) 851-5909
Fax: (905) 851-3514
Price Range: $000 – $000




5/5 stars –
based on 3 reviews

source https://www.mazzeolaw.ca/family/family-law-lawyer-voted-among-top-3-firms-in-vaughan/
June 5, 2019
___
Poor Americans likely to be hit hardest by new US tariffs
PHOENIX (AP) — The biggest victims of President Donald Trump's tariffs won't necessarily be Mexicans or Chinese. Some experts say the people most likely to pay the steepest price are poor Americans. They already live close to the financial edge and could have to pay more for everyday purchase. Jay Shambaugh of the Brookings Institution says tariffs are a tax on consumption for many low-income households. The president has threatened to impose a 5% tax on Mexican imports.
___
Dow jumps over 500 points amid hopes of Fed rate cut
NEW YORK (AP) — The Dow Jones Industrial Average jumped more than 500 points Tuesday as investors welcomed signals that the Federal Reserve may cut interest rates to help buttress U.S. economic growth in the face of escalating trade wars. Technology companies led broad gains for U.S. stocks as the benchmark S&P 500 index notched its best day since early January. The Federal Reserve chairman signalled the central bank could cut rates if multiple U.S. trade conflicts threaten the nation's economic expansion.
___
Powell hints Fed will cut rates if needed over trade wars
WASHINGTON (AP) — Chairman Jerome Powell says the Federal Reserve is prepared to respond if it decides the Trump administration's trade conflicts are threatening the U.S. economy. Investors read his remarks as a signal that the Fed will likely cut interest rates later this year.
___
Is 'Big Tech' too big? A look at growing antitrust scrutiny
SAN FRANCISCO (AP) — Is Big Tech headed for a big breakup? The U.S. Justice Department and the Federal Trade Commission are moving to investigate Google, Facebook, Amazon and Apple over their aggressive business practices, and the House Judiciary Committee has announced an antitrust probe of the industry's giants. Experts say breakups are unlikely in the short term, but that's what some politicians and others are calling for. They say the companies are too powerful and need to be taken down a notch.
___
China issues travel alerts, slams US 'interference'
BEIJING (AP) — China has issued a pair of travel warnings for the U.S. and slammed what it called "interference" in its internal affairs. Foreign Ministry spokesman Geng Shuang said any attempts to interfere or undermine China's stability would be "doomed to fail." The comments followed a U.S. statement criticizing a Chinese report that defended Beijing's stance in stalled trade negotiations.
___
World Bank downgrades its forecast for global economy
WASHINGTON (AP) — The World Bank is downgrading its forecast for the global economy in light of trade conflicts, financial strains and unexpectedly sharp slowdowns in wealthier countries. The bank, an anti-poverty agency, expects the world economy to grow 2.6% this year. That would be the slowest calendar-year growth since 2016, and it is down from the 2.9% expansion the agency expected when it made its previous forecast in January.
___
At stores and online, health care moves closer to customers
A major U.S. drugstore chain is pressing further into health care. CVS Health announced plans Tuesday to expand a new store format that will provide dietitians, help people monitor chronic diseases and add community rooms that can be used for yoga classes. It's another example of health care moving closer to patients. Other drugstores are expanding the care and support they offer. And telemedicine is bringing doctors and therapists to the family room couch.
___
Renault's FCA merger move leaves partner Nissan in the cold
TOKYO (AP) — Nissan has found itself out in the cold. The Japanese automaker wasn't consulted about a proposed merger between its French alliance partner Renault and Fiat Chrysler and has little say over the issue. Partnering with a colossal Renault-Fiat Chrysler could help Nissan slash costs on shared components and research. But analysts say it could be an unwieldy alliance where Nissan would have even less influence than it's had with Renault.
___
Trump says GOP would be 'foolish' to block Mexico tariffs
WASHINGTON (AP) — President Donald Trump declared on Tuesday that fellow Republicans would be "foolish" to block the tariffs he's threatening on Mexican imports, but GOP senators are fearing a new trade war and considering action. They're grilling his administration lawyers behind closed doors. Republicans are deeply concerned that Trump's proposed 5% tariffs on all imports from Mexico would spike U.S. consumers' costs, harm the economy and imperil a major pending US-Mexico-Canada trade deal.
___
Hotel investor: Trump evaded taxes in Panama
NEW YORK (AP) — The majority owner of a former Trump-branded hotel in Panama has accused the U.S. president's company of evading taxes in the country. A filing in New York federal court on Monday alleges that President Donald Trump's hotel management company evaded income and social security taxes when it managed the former Trump Ocean Club International Hotel & Tower. The Trump Organization says it did not evade taxes.
___
The S&P 500 index gained 58.82 points, or 2.1%, to 2,803.27. The Dow vaulted 512.40 points, or 2.1%, to 25,332.18. The Nasdaq composite climbed 194.10 points, or 2.7%, to 7,527.12. The Russell 2000 index of small companies picked up 38.58 points, or 2.6%, to 1,508.56.
The Associated Press
@repost What Are Equalization Payments
source https://toronto.citynews.ca/2019/06/04/business-highlights-139/
June 5, 2019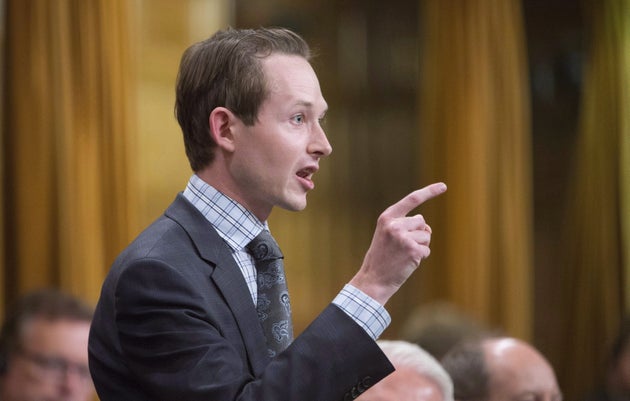 The House of Commons justice committee has voted to expunge from the record the name of the Christchurch mosque shooter, as well as a portion of his so-called manifesto that was read aloud last week by Conservative MP Michael Cooper.
Three Tory MPs on the committee abstained on the vote, however, with one calling the move a "stunt."
The motion was moved by Liberal MP Randy Boissonnault, who a day earlier called on Conservative Leader Andrew Scheer to boot Cooper from his caucus. There is a "revolving door" back in the Conservative Party for those who express intolerance, Boissonnault charged.
Watch: Randy Boissonnault says his motion 'speaks for itself'
Scheer removed Cooper from the committee over the weekend for his "insensitive and unacceptable" treatment of Faisal Khan Suri, the president of the Alberta Muslim Public Affairs Council. Liberals say Scheer has not gone far enough.
During a study of online hate last week, Suri told the committee that the gunman in a 2017 attack on a Quebec City mosque was influenced by content about "anti-immigrant, alt-right and conservative commentators, mass murderers, U.S. President Donald Trump, and about Muslims, immigrants living in Quebec."
Suri said the man charged with the N.Z. mosque attacks in March that killed 51 people was similarly shaped by "alt-right online networks."
Cooper called Suri's remarks "defamatory" and accused him of linking conservatism with extremist attacks. The MP for the Alberta riding of St. Albert-Edmonton read part of the 74-page manifesto of the Christchurch shooter, a document that is banned in New Zealand.
Cooper read how the attacker wanted "no part" of conservatism and instead stated his political and social values to be more closely aligned with China. The MP said Suri should be "ashamed" — a remark he later withdrew.
LISTEN: You can hear the justice committee audio recording here.
Boissonnault's motion called Cooper's treatment of Suri "discriminatory, hurtful and disrespectful."
NDP MP Randall Garrison told the committee Tuesday that he welcomed the move, noting how the New Zealand government has worked to ensure the Christchurch terrorist and his twisted words not become infamous.
"I am not opposed to people having ideas or people thinking ideas," Garrison said. "What I'm opposed to is giving a public platform for the spreading of those violent ideas and for the spreading of hatred."
Conservative MP John Brassard told the group the Conservative leader has already "dealt with this" and that Cooper has apologized for his remarks.
"This is nothing more than a stunt," he said before calling for the vote.
It is "not up to the leader of the Opposition to decide when this is over," Garrison responded.
Tory MP Michael Barrett pushed committee chair Anthony Housefather to call the vote, arguing the back and forth was cutting into time allotted for witnesses to testify.
In a recorded vote, the motion passed by a vote of 6 to 0. Brassard, Barrett, and Tory MP Dave MacKenzie abstained.
In a statement released Saturday, Cooper said he was wrong to quote a "white supremacist anti-Muslim mass murderer" in an attempt to demonstrate such acts aren't linked to conservatism.
"I absolutely should not have quoted these words nor named the perpetrator. This was a mistake. I apologize to Mr. Suri and to all Canadians," he said in a statement. "I reiterate that I unequivocally condemn all forms of racism."
 But Suri, the Muslim anti-racism activist berated by Cooper, agrees the MP should not longer sit as a Conservative.
"I would request Mr. Andrew Scheer to make the right move and to really, actually, have Mr. Cooper removed from caucus. It is detrimental to have such leaders part of any party, and part of Parliament. It's dangerous to have such a person there," he told HuffPost Canada.
Scheer said in a speech last week ― on the same day as the incident at the justice committee ― that the Conservative Party has no room for anyone who espouses intolerance, racism, or extremism of any kind.
Read the full text of
Boissonnault's motion:
Whereas the treatment by Mr. Cooper of the president of the Alberta Muslim Public Affairs Council was discriminatory, hurtful and disrespectful and whereas reading into the record the comments from the terrorist attacker in Christchurch, New Zealand was inappropriate, be it resolved that the committee recommends that the name of the attacker in the Christchurch, New Zealand massacre, as well as any quoted portion of his manifesto be expunged from the committee's hansard and that the committee report this recommendation to the House.
With files from Althia Raj
@repost Divorce Splitting Assets
source https://www.huffingtonpost.ca/entry/michael-cooper-justice-committee_ca_5cf68ae3e4b0a1997b7193c7
June 5, 2019