MONTGOMERY, Ala. — When philanthropist Hugh F. Culverhouse Jr. pledged a record $26.5 million to the University of Alabama in September, the institution showered him with praise, lauding his generosity, describing him as a "special person" and renaming the law school in his honour.
That relationship quickly soured. On Friday, Alabama's board of trustees is expected to reject Culverhouse's gift, give back the $21.5 million received so far, and remove his name, too.
Depending on which side you talk to, the flap is either the most high-profile fallout from Alabama's new abortion ban or a completely unrelated dispute.
The bond began publicly unraveling last week after Culverhouse, a Florida real estate investor and lawyer, called on students to boycott the university to protest the ban. Hours later, Alabama announced it was considering giving back his money, the biggest donation ever made to the university.
"I don't want anybody to go to that law school, especially women, until the state gets its act together," the 70-year-old Culverhouse said in an interview.
The Alabama ban would make abortion at any stage of pregnancy a crime punishable by 10 years to life in prison for the provider, with no exceptions for rape or incest. The law, set to take effect in November, is the most hardline of the anti-abortion measures enacted this year as states emboldened by the new conservatives on the U.S. Supreme Court take aim at Roe v. Wade, the 1973 ruling that legalized abortion nationwide.
Culverhouse did not attend Alabama, but his parents did, and the business school bears the name of Hugh Culverhouse Sr., a wealthy tax lawyer and developer who owned the NFL's Tampa Bay Buccaneers.
The younger Culverhouse, who describes himself as a political independent who votes for and donates to both parties, said that his family has long been involved in supporting reproductive rights and that his father was on the board of Planned Parenthood in Jacksonville, Florida, in the 1950s.
While Culverhouse said he has no doubt Alabama is retaliating over his call for a boycott, the university said the dispute has nothing to do with that.
The same day Culverhouse called for the boycott, the university issued its own news release saying it was in an "ongoing dispute" with Culverhouse over the way his gift was to be handled.
The university said that on May 28 — the day before Culverhouse's boycott call — its chancellor recommended the trustees return the donation. The university said that donors "may not dictate University administration" and that Culverhouse had made "numerous demands" regarding the operation of the school.
University administrators and trustees did not respond to requests for comment.
Culverhouse called university officials "liars" over their account. He acknowledged there were some disagreements over the handling of his gift. He said he told university President Stuart Bell that the law school should admit more students and that his donation was to fund scholarships to achieve that. But he said he thought the matter had been resolved.
The board of trustees — made up of 15 members, including the governor — appeared poised to give the money back. A university lawyer last week asked Culverhouse for his bank information, saying the trustees are expected to vote for a refund, according to an email Culverhouse provided to The Associated Press.
Alabama's Hugh F. Culverhouse Jr. School of Law is regarded as one of the best public law schools in the nation. Its alumni include former Supreme Court Justice Hugo Black, former Alabama Gov. George Wallace, Southern Poverty Law Center founder Morris Dees, and President Donald Trump's former attorney general, Jeff Sessions.
This isn't the first time the university has been embroiled in a dispute with a Culverhouse over a donation. Culverhouse's mother, Joy McCann Culverhouse, sued the university in 1997 to nullify a pledge her late husband had made to the business school. The university eventually settled for $16 million.
The younger Culverhouse has donated more than $30 million to the university over the years, including about $2.25 million to the women's golf team and $5.3 million to the business school. Those smaller gifts are not in contention.
Culverhouse said he was stunned by the university's stand. But he confessed: "You probably shouldn't put a living person's name on a building, because at some point they might get fed up and start talking."
Blake Paterson, The Associated Press
@repost Child Visitation Lawyers
source https://toronto.citynews.ca/2019/06/06/university-may-return-21-5m-after-donors-abortion-remarks/
June 6, 2019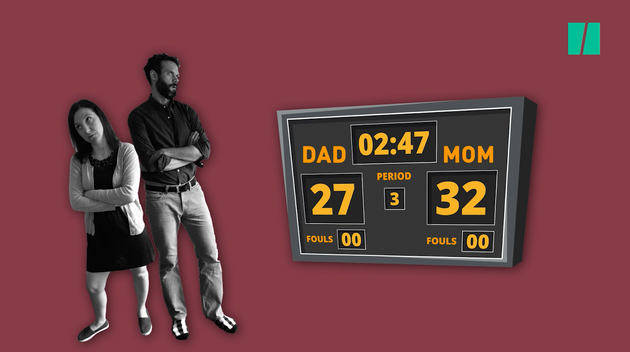 In the end, it wasn't my new baby's daily poops, but my husband's that pushed me over the edge.
I'd been on maternity leave for approximately 100 years, and every day looked the same: watch husband leave for work, clean baby's poopy diaper a million times, breastfeed baby for a million hours, chase baby away from stairs for a million hours, text husband that it would be cool if he put up the DAMN BABY GATES BEFORE OUR KID GOES TO COLLEGE, hold baby for his naps, slap my own face to try to keep my eyes open, cry while binge-eating brownies, wonder if you can die of burst bladder/boredom/the stress of keeping a baby alive 24/7.
WATCH: Does having a baby make you resent your partner? Um … story continues below.
And then, the best sound in the world, followed by the worst: my husband's key in the front door, and then his voice saying, "Just need to run to the bathroom."
Oh, go right ahead. Take your time. YOU DESERVE A BREAK.
Ten minutes later, after he'd had a leisurely toilette, changed his shirt, rinsed his face, and god knows what else, he'd cheerily take the baby out of my arms for the first time in 10 hours and wonder why I looked like a serial killer.
Have you ever contemplated divorce over your partner's bathroom habits? Because I have. And if the frequent rants in my private mom Facebook groups tell me anything, it's that I'm not alone.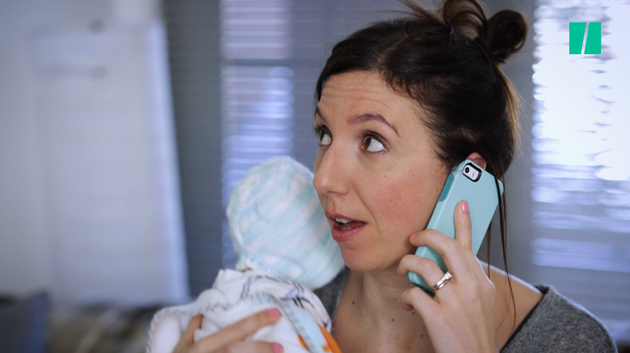 Our parenting video series, "Life After Birth," seeks to bring conversations about the harder parts of mom life out into the open. We've given you the brutally honest truth about postpartum hair loss, postpartum sex, the gross things no one warns you about, and sleep (or lack thereof).
Now, we want to tackle a little-discussed but often-experienced side effect of bringing a life into this world: resenting your partner.
New parents don't handle change all that well
Two thirds of parents are less satisfied with their marriage after having a baby, according to a widely-cited 2011 study by famous couples' therapists, John and Julie Gottman. In fact, it's so common, that a lot of people think it's inevitable and acceptable, John Gottman told the American Psychological Association.
The reason for all that discontent mostly boils down to change: to your identity, your sex life, the division of labour, and the stress that comes along with all that change.
A lot of couples start keeping score, and comparing who has it worse/cleaned more poop/got less sleep/has to feed the baby with their boobs (AH HA! I WIN!). But this only makes things worse, the Gottman Institute notes, and they urge new parents to remember they're in this together.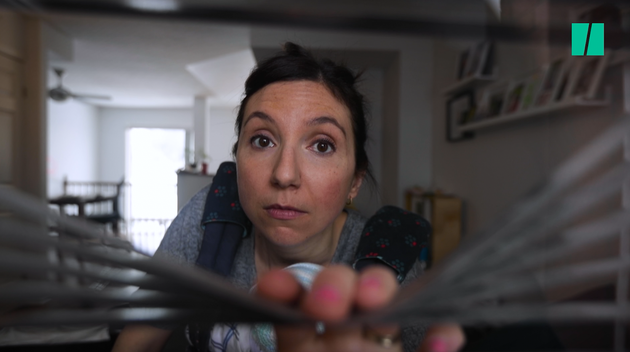 But, that's easier said than done when you're in the trenches.
Change was definitely a big part of my own resentment. Overnight, I'd morphed from an ambitious workaholic to a walking milk dispenser. My lovely husband, who had always supported me in my writing career (whether that meant cooking dinner most nights or moving across the country with me for a newspaper gig), was suddenly the only breadwinner. 
No one ever said aloud that the cooking and cleaning should fall to me, but the household just ran a lot smoother when I did most of it. Same with booking all the baby's medical appointments, buying his clothes, and generally knowing what he needed to survive.
It felt like I'd become the manager of our lives, and it wasn't a job I wanted. Pile on that the utter exhaustion of raising a baby who didn't sleep unless he was held, the financial strain of having a new kid, and the fact that both my husband and I were in the middle of switching careers, and it got real ugly, real fast.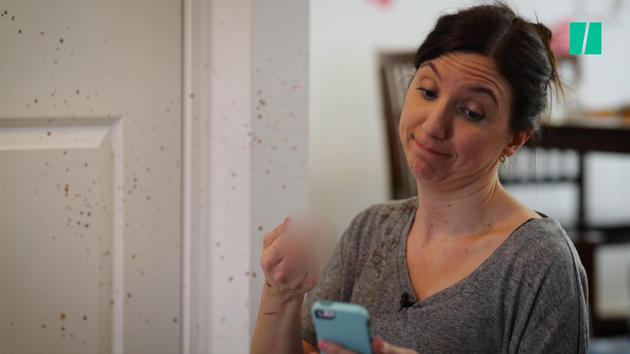 Plus, I can see now that my husband wasn't exactly having the time of his life that year, either. He was up with the baby as much as I was, then he had to drive to work and be productive afterward (although, in my eyes, that seemed like a treat compared to chasing a poop-monster off the stairs all day). Then, he'd come home to an angry-AF wife, and a baby who said his first words without him.
We went to couples therapy. We went on date nights. But in the end, what got us back in sync was time.
Eventually, the baby started sleeping through the night. Eventually, I went back to work and our roles balanced back out (and we had money again). Eventually, things got easier. And eventually, that baby grew into a toddler who figured out how to open doors and became obsessed with watching his parents go to the bathroom.
So now no one can take a dump in peace, but at least the score is even.
Also on HuffPost:
@repost Custody Mediation
source https://www.huffingtonpost.ca/entry/hate-partner-after-having-baby_ca_5cf8155fe4b0638bdfa3c150
June 6, 2019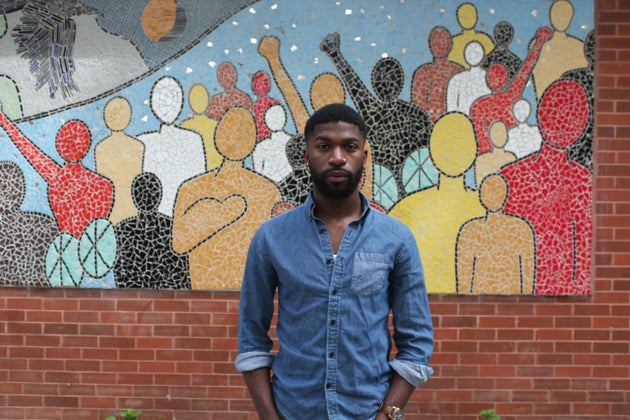 This story is a part of UNAIDED, a HuffPost Canada series that examines the effects of recent funding cuts to Ontario's legal aid system and the impacts on the vulnerable people who rely on it to navigate our complicated justice system.

TORONTO — Sebastian Commock remembers the incident that made him want to leave Jamaica for good.
A man came into his office where he worked as a concierge to borrow a pen.
"I handed a pen to him and he took up a napkin, and held the pen with a napkin."
The man refused to touch something that belonged to an LGBTQ person. Commock says that in Jamaica, anyone who's different, who dresses or speaks in a certain way, is assumed to be LGBTQ.
"At that point I was like, I'm not willing to go through these things," Commock told HuffPost Canada. "Seeing as I'm contributing positively to society, then there are these little stupid people who are making me feel like this is not a place that I belong."
Commock, then 24, packed his clothes and bought a plane ticket to Toronto. In September 2015, a month after his plane landed, he applied to stay in Canada as a refugee.
He met friends who told him about The 519, a local charity and agency that serves LGBTQ folks. The 519 referred him to Legal Aid Ontario, a program funded by the provincial government to provide lawyers to people with little income, including refugees. So Commock got a lawyer to help him through the process to get refugee status.
Legal aid gave Commock some comfort during a "horrifying" year-long wait for his Immigration and Refugee Board (IRB) hearing, he says.
It was a comfort that other refugees might not get in the future. Ontario's Progressive Conservative government cut funding for the legal services that help refugees in its 2019 budget. Ontario will now only pay for lawyers to help refugee claimants fill out their initial basis of claim forms, but won't cover time spent preparing for or attending IRB hearings.
Legal Aid Ontario is trying to replace the funding with money from the federal government, but if that doesn't happen, spokesman Graeme Burk told HuffPost that refugee claimants will be on their own after the initial claim.
Seeing the situation that exists back home I probably … would have been targeted or even killed.Sebastian Commock
If he hadn't prepared for his IRB hearing with a lawyer, Commock says his claim probably would have been denied. His counsel did a mock hearing with him and asked detailed questions about his personal life and experience in Jamaica so that he'd be ready for the board.
"If I didn't have legal aid, I probably would have lost my hearing," Commock said. "With that, I'd be sent back home and seeing the situation that exists back home I probably — or more than likely, not probably — would have been targeted or even killed."
Commock says he has friends and acquaintances who've been murdered in Jamaica because of their sexual orientation.
He recalls waiting for public transportation after work one night when a car stopped, lingered and then drove off. The next day, his colleague said that she was in the car and the driver, a friend of hers, had said that if no one else was around, he would've picked up Commock and they wouldn't have heard from him again.
It's illegal for two men to engage in acts of intimacy in Jamaica. There is "unchecked homophobic violence" in the country and the LGBTQ community can't rely on the police to investigate, according to a 2014 Human Rights Watch report.
Refugee lawyer calls cuts 'appalling'
For refugees who come to Canada from dangerous countries around the world, Ontario's cuts will be "utterly disastrous," Mary Boyce told HuffPost. She's a lawyer who works with refugees in Toronto and says more than half of her clients are on legal aid.
Without legal aid, there could be refugees who get deported and then wind up being murdered, tortured or otherwise abused, Boyce said.
"This is just appalling," Boyce said. "It seems neither level of government cares."
It would be "very, very tough for almost anyone" to go before the IRB without legal counsel, she said. And it'll be even harder for refugees who aren't familiar with Canada and may not speak English.
Boyce said that in her experience, LGBTQ refugee claimants are especially scared of the immigration process.
"In many cases, they have never talked to anyone, except perhaps a partner, perhaps a family member, about their sexual orientation."
And the IRB makes "unreasonable demands" of these people to prove that they are gay or trans, she said.
Ultimately, these people will have to leave the country.Mary Boyce
"They're not going to know how to do it … They may be so intimidated by the whole procedure or by the board member, they're not going to make a good impression," Boyce said.
"Ultimately, these people will have to leave the country."
Attorney General Caroline Mulroney says the provincial government will fund legal aid for immigrants and refugees when they appear before provincial courts, but not the IRB because it's run by the federal government.
"With respect to federal courts and tribunals, that's the responsibility of the federal government," she told HuffPost.
Mulroney's government has been fighting the Trudeau government over costs associated with an influx of refugee claimants since taking power last summer. The PCs argue that the federal government should pay for all costs associated with the increase in migrants entering Canada at the U.S. border; the federal Liberals argue that immigration is a shared responsibility and Ontario's government is stoking fear of migrants.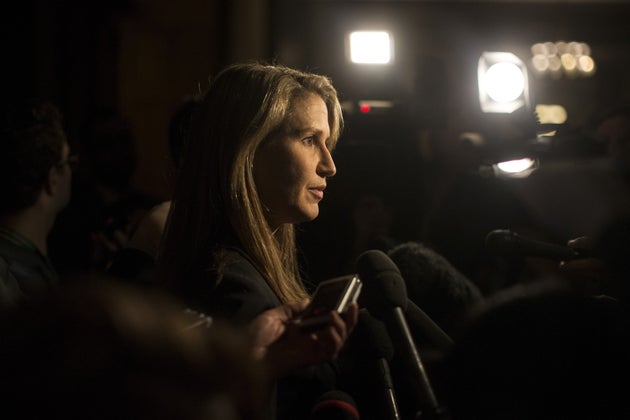 Mulroney asked the federal government for more money for refugees' legal aid in a letter sent on a Friday, four days before Canada's 2019 budget was unveiled.
"As you are aware, the costs of providing immigration and refugee services have increased significantly in Ontario over the last few years," she told the federal ministers of justice, immigration, and finance.
 She said the rising costs "are driven exclusively by changes in the federal government's immigration and refugee policies" — but there haven't been any changes to Canada's immigration policy. The influx of refugees at the border began after U.S. President Donald Trump ended a program in his country that granted temporary protected status to migrants from countries that had experienced war or environmental disaster.
Asked for clarification, Mulroney's spokesman Jesse Robichaud told HuffPost that she was generally referring to the fact that immigration is a federal responsibility.
The federal ministers didn't respond to Mulroney's letter or another one sent in May, Robichaud said. The only acknowledgement was a tweet by Finance Minister Bill Morneau.  
Robichaud noted that a report by Ontario's auditor general found that the federal government only covered 39 per cent of Ontario's costs for refugees' and immigrants' legal aid in the 2017/18 fiscal year. The report also found that the proportion of provincial money being used for those services jumped by almost 30 per cent between 2014/15 and 2017/18.
A spokeswoman for the federal justice minister wouldn't say if Canada plans to pick up the tab for the slashed funding.
"We are deeply disappointed to see the sweeping cuts the Ford Government has made to this important program. While provinces and territories are responsible for the management of their individual legal aid programs, our Government recognizes the importance of working with partners to ensure proper funding for these programs," Rachel Rappaport said by email.
"We are actively engaged in conversations with relevant stakeholders and will continue to monitor the situation closely."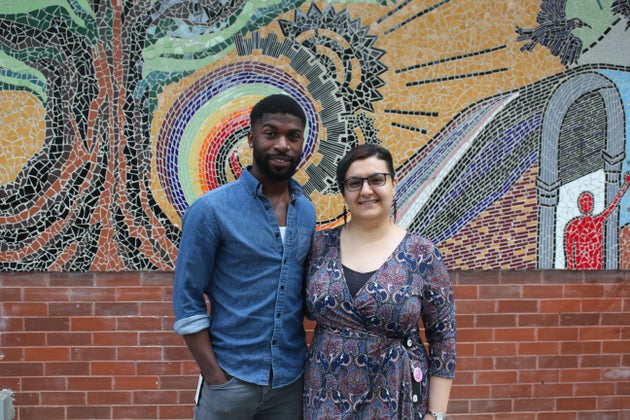 Commock, the Torontonian who came as a refugee from Jamaica, said the cuts to legal aid go against what Canadians say they stand for.
He says he's seen the impact of the program not just on his own life, but on the lives of thousands of refugees in Toronto. He now works at The 519 in newcomer services, helping immigrants and refugee claimants get settled.
"As a country, you say you are a welcoming people. You want people to come in, you want people to feel safe," he said. "And now you're cutting this. It made me feel you're going against what you're marketing yourself as."
When he first heard about the Ontario government's cuts, he thought about the other LGBTQ newcomers at The 519 who are alone in Canada and don't know where to turn.
"What exactly are you expecting to happen with those people?"
Earlier On HuffPost:
@repost Divorce Lawyer Fees
source https://www.huffingtonpost.ca/entry/ontario-legal-aid-cuts-refugees-unaided_ca_5cf822f3e4b0e3e3df148a5c
June 6, 2019