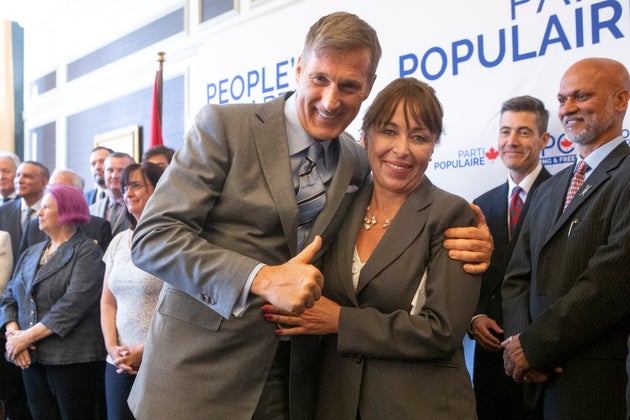 TORONTO — Renata Ford is running for a seat in Parliament with the People's Party of Canada.
Ford is the widow of former Toronto mayor Rob Ford, who died in 2016. Her brother-in-law is Ontario Premier Doug Ford.
"After a period of trials and tribulations, I'm healthier and I'm more ready than ever," Ford said. "The time is right for me now to run to be a Member of Parliament for Etobicoke North."
The Toronto riding is currently held by Liberal Kirsty Duncan, the minister of science and sport.
The time is right for me now to run to be a Member of Parliament for Etobicoke North.Renata Ford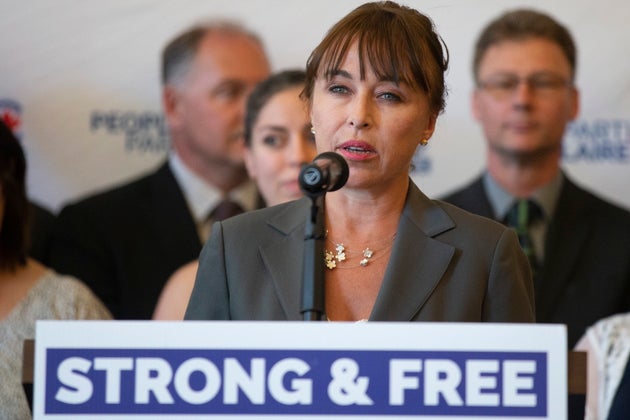 Asked by a reporter on Friday what qualifies her to sit in Parliament, Ford noted her experience during her husband's career.
"I've had political background. I've worked with my husband. I think that qualifies me," she said at a news conference announcing her candidacy.
Her biography handed out by the party says that she was a "primary contributor to the strategic and tactical operations of Rob Ford's 16 years in elected office" and was "the primary architect of the 'Fridge Magnet Municipal Diplomacy' whereby Rob and Renata would hand out tens of thousands of fridge magnets each year with their Home Phone number." 
People's Party Leader Maxime Bernier said Ford approached his party about running. She told reporters Bernier stoked her interest in federal politics.
"I found that Bernier is passionate, just as much as my husband was, on the real issues. He's not afraid to stand up," Ford said.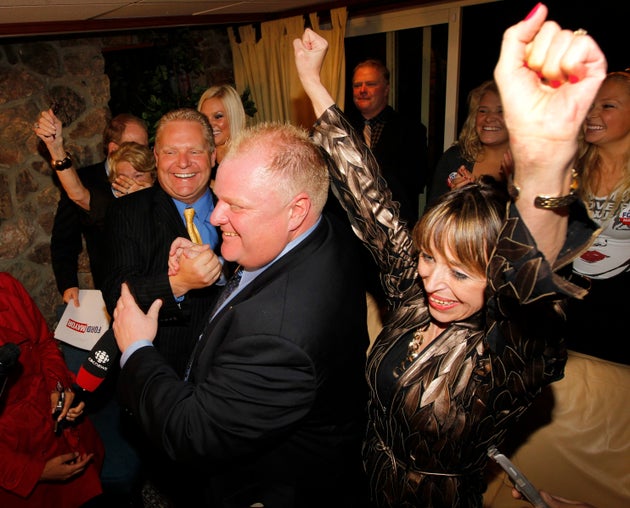 Bernier, a Quebec MP who finished a close second in the last race for federal Conservative leadership, launched the People's Party as an alternative in 2018.
This year, the party has been rocked by the resignations of staffers who say the party panders to racists, Islamophobes, extremists and conspiracy theorists.
This is Renata Ford's first run for public office.
She made headlines last year by filing a $15-million lawsuit against her late husband's family just days before the Ontario election. Ford alleges that her husband's brothers, including the premier, have deprived her and her children of millions of dollars from his estate.
However, Ford and her two children were among the guests invited to watch Doug Ford take the oath of office to become premier.
Ford wouldn't comment on the lawsuit Friday and did not directly answer a question about what role the premier's support of Bernier's main rival, Andrew Scheer, played in her decision to run for the People's Party.
But she said the premier will always be family.
"We're a family and we stick together when times are tough," she said.
"But we have different opinions. He's his own man and I'm my own person. Rob and Doug are very different people."
Also On HuffPost:
@repost Spousal Support Law
source https://www.huffingtonpost.ca/entry/renata-ford-peoples-party-bernier_ca_5d0d0125e4b0aa375f4bef52
June 21, 2019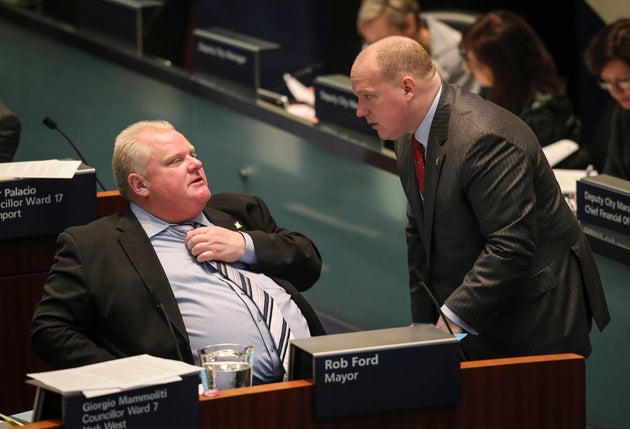 TORONTO — Ontario Premier Doug Ford has appointed four people to positions abroad to drum up business in the province, including a former aide to his brother and a former president of the Progressive Conservative party.
The four agents-general — positions that have not existed in Ontario's government since the 1990s — will be based in London, Chicago, Dallas and New York City, and serve as the province's primary international representatives there. They will be paid between $165,000 and $185,000.
Ford said the positions will help increase investment and jobs in Ontario.
"Our government will work closely with these experts to make sure they're delivering what we need and creating opportunities for our businesses to thrive," the premier said in a statement. 
The government said it may appoint up to four more agents-general.
Watch: Ford demoted several members of his team this week. Story continues below. 
The budget for their salaries comes out of the existing budget for the Ministry of Economic Development, Job Creation and Trade, the premier's office said.
The appointees include Earl Provost, who served as chief of staff to Ford's late brother Rob Ford when he was mayor of Toronto. Provost, also a former Ontario Liberal Party executive, joined the premier's office as a policy adviser a few weeks ago and will now head to Chicago.
Jag Badwal, who is a past president of the Ontario PC Party, heads to Dallas.
Taylor Shields, an assistant vice-president of marketing for Chubb Insurance, was appointed to the London post and Tyler Albrecht, a senior analyst at Optimize Capital Markets, was selected for the role in New York City.
Following the announcement, Global News and The Globe and Mail reported on Friday the appointments of Shields and Albrecht had been revoked after personal ties to Ford's chief of staff had been revealed.
Opposition politicians have previously been critical of appointments Ford has made of friends and loyalists, after accusing the Liberals during the election campaign of helping insiders get rich.
Ford sparked a huge outcry when he named family friend Ron Taverner as Ontario Provincial Police commissioner, an appointment Taverner ultimately turned down. 
Jenni Byrne left her post as principal secretary for an appointment with the Ontario Energy Board with an annual salary of about $197,000.
Past Progressive Conservative party president Rueben Devlin was granted a three-year term as a health-care adviser, Ford campaign adviser Ian Todd was appointed Ontario's trade representative to the United States, with a $350,000 salary, and Ford family lawyer Gavin Tighe was appointed to the Public Accountants Council.
Failed Tory candidate Cameron Montgomery was appointed to lead a standardized testing organization.
With files from HuffPost Canada
@repost Prenup Lawyer
source https://www.huffingtonpost.ca/entry/doug-ford-earl-provost-ontario_ca_5d0cd201e4b0aa375f4b3e88
June 21, 2019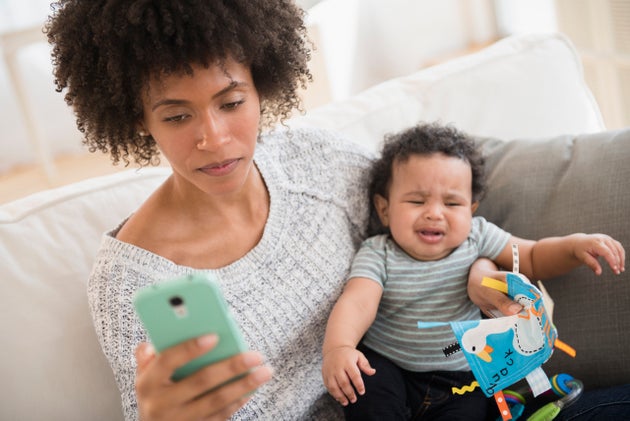 Resenting your partner is a surprisingly common, but little-discussed side effect of bringing home baby. All that change, stress, and sleeplessness can bring out the worst in us.
But while it might seem like a new mom is flipping her lid over something "small" or unavoidable, we promise you it's usually about much more than ignoring that pile of laundry or going for a jog.
To bring the conversation into the open (and out of private mom Facebook group rants), we asked a handful of Canadian moms what their partners did that sent them into a blind rage after they had a baby— and, more importantly, what it was really about, and how things got better.
They're being identified with pseudonyms due to the deeply personal nature of their stories.
I hated my partner for: exercising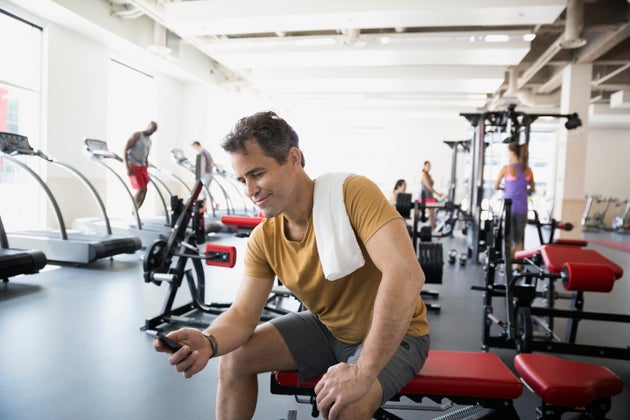 The offence: "Played tennis on the three days he took off work to be with our newborn. Went to the gym every day after work and wouldn't get to my place 'til 8 p.m. when our son was a newborn, then have the couples counsellor applaud him because 'balance is so important.' WHAT ABOUT MY BALANCE?!?!?"
How it made her feel: "Cue postpartum rage."
What she wished he'd done differently: "I wished he had put his needs aside to recognize that as our newborn's lifeline, my need for support trumped his need to play tennis and go to the gym, because caring for me meant caring for our son. It's important for men to be able to make that connection."
How things got better: "Now that our son is older and can go live at his dad's a few days a week, things are better. But we are not together."
— Anjelica, Ottawa
I hated my partner for: communicating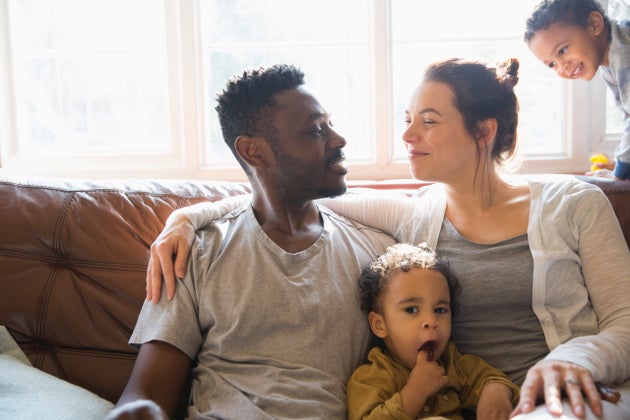 The offence: "When my first was six weeks old, my husband said to me (when I was using my rare free-from-babe-in-arms time to spend time with him): "I feel like we don't communicate anymore." Thus indicating to me that not only was it my responsibility to do all the baby care (which I was), but also for meeting his emotional needs."
How it made her feel: "Oh, it was awful. I burst into tears at the time, but really internalized that our relationship was solely my responsibility, which it really had been up to that point. And I held onto that idea/responsibility for years, until I was pregnant with my second and my mental health really started to unravel from all the responsibility/pressure to keep two kids and myself alive, plus be the sole carrier of our relationship."
What she wishes he'd done differently: "Known how to be an equal emotional partner in a relationship before we had kids."
How things got better: "Things got better when we both started to go to therapy about five years later, but got much, much, much worse before they got better. It was a dark time. I was only 24 when I had my first so I was pretty young/naive, which played into it, too."
— Hannah, Vancouver
I hated my partner for: pooping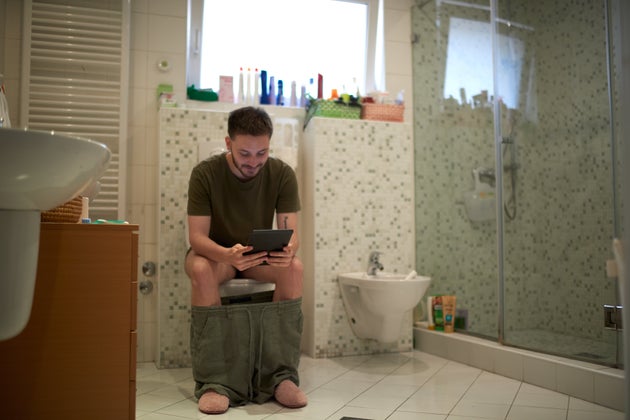 The offence: "I literally hated my husband after my son was born. Mostly because of his useless nipples and ability to sleep through the screeches of our newborn. I used to whisper sweet nothings to him while he slept that sounded an awful like 'I hate you.' True love right there LOL!!  Then came the one hour escapes to the bathroom to poop … ummm what?! No one needs an hour to poop."
How it made her feel: "I felt like he was prioritizing himself over our new baby. That his need for me time was more important than my need for it. That it was always me giving things up while he had everything. He got to leave the house every day and socialize with adults (even though he was working!). He didn't have to keep a person alive all day; he still got to maintain his sense of self whereas I was running on empty; he wasn't the food factory. I had no sleep, I was touched out, I had now become mom and I was a shell of the person I once knew."
What she wishes he'd done differently: "I wish he had taken the time to ask me what I needed or just told me to go take 30 minutes and breathe."
How things got better: "I'll admit I didn't communicate very well at first. I expected him to just know and change immediately like I had. Once we opened our lines of communication and I expressed my frustration and my needs, things changed. He started waking in the nights to help with diaper changes and burping so I could nurse and then go back to sleep. He cut down his bathroom time and would offer me some solo time.
"No one can read your mind: you have to tell them what is going on in your head. Communication is key. We both made assumptions rather than having conversations. Neither of us realized how our actions were impacting the other."
 — Heather, Ottawa
I hated my partner for: leaving me in charge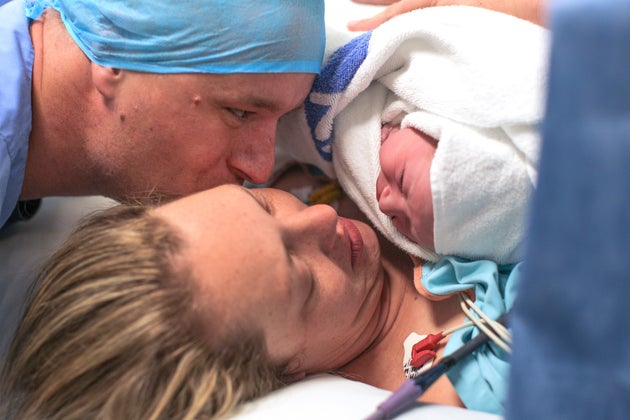 The offence: "Before my daughter was born, I did most of the managing of our household but it was manageable. I made sure we had all of the staples in our home, the sheets and towels were washed, etc. And then our daughter was born and I was considered the 'expert' (despite having some serious postpartum depression and anxiety) and definitely in charge. There were many instances of my husband going out for a beer after work when he could have come home, or walking in the door past a crying baby and mom, straight into the shower."
How it made her feel: "It made me feel like my entire world had flipped upside down caring for this small human all day and his life was barely affected at all."
What she wishes he'd done differently: "I explained to him that your family is not a shift at McDonald's and I am not the default. That I was struggling at home and needed all the help I could get all the time."
How things got better: "We had many, many difficult conversations about what 'equal' actually looks like over the first year. To be honest, the tipping point was a conversation he had with my mom one night where he tried to explain how much he was doing and she said, "Well, I hope you guys make it."
— Jennifer, Vancouver
I hated my partner for: having a life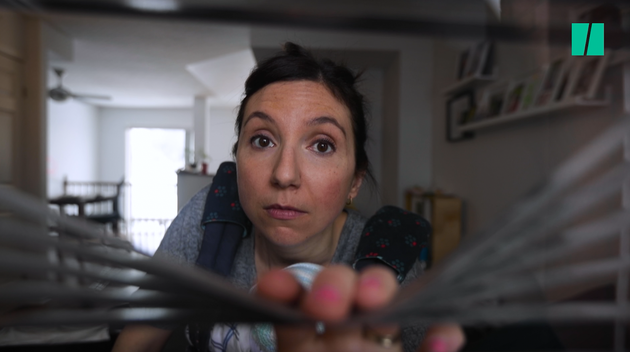 The offence: "I hated that my husband's life didn't seem to change at all but mine changed significantly. I hated that he felt he should sleep because he worked."
How it made her feel: "When his life continued as normal, i.e. he would wake up, go to work, come home, visit friends (after consulting me), I felt lonely, jealous, and trapped by a tiny human."
What she wishes he'd done differently: "I wish he acknowledged my hard work and sacrifices as often as possible. Hourly would have been good!"
How things got better: "Things got better with time and when I accepted I could still have a life, too. Then when baby #2 came, he became equally as busy with kids as I was and it was awesome."
— Danielle, Ottawa
I hated my partner for: working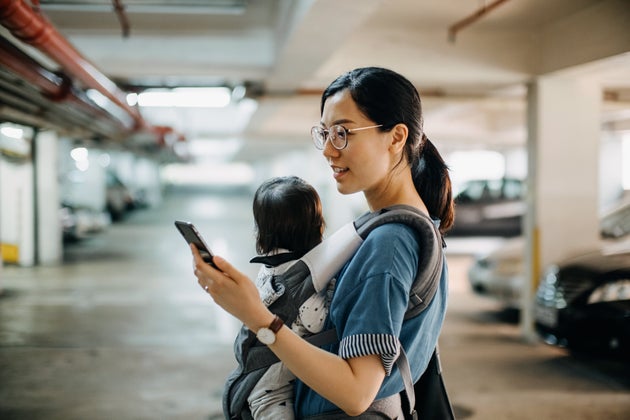 The offence: "I was stuck at home all day with a screaming infant while he was out working, with real people and hot coffee. He once had the balls to ask for 'decompression time' when he got in the door from work. HAHAHAAAAA."
How it made her feel: "I guess I felt undervalued and under-appreciated … I had gone from a busy career to being tethered to a crying baby all day. When do I get to decompress?! I was jealous that my spouse got to go out into the world and interact with adults and use his brain. I was even envious of his subway commute because at least he could sit and play games on his phone. In hindsight, I see how ridiculous that is. He also had his own challenges."
What she wished he'd done differently: "I wish that he realized that when he got home from work, I finally had someone to offload our child to. Like if he was 30 minutes late, it would throw my entire world off its axis."
How things got better: "Honest communication and managing our expectations is key. I still resent that I do the majority of cooking and laundry and things like signing our daughter up for classes or appointments. When I confronted him on this, he said I just do things without consulting him. So it's a work in progress."  
— Charlotte, Toronto
I hated my partner for: walking over a pile of laundry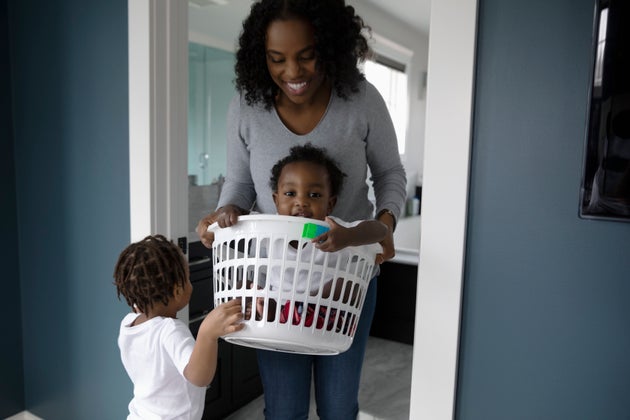 The offence: "After our first, I was feeling completely overwhelmed and overworked. At one point, I was sorting out piles and piles of dirty laundry to try and get a load in the washer but was interrupted by our baby, who woke up and needed to nurse. While I was changing the baby's diaper, I saw my husband literally just step over the giant laundry pile in our bedroom doorway, laughing at something on his phone and lie down in bed. Come on!"
How it made her feel: "What he did made me feel very alone and unsupported. I also felt like he clearly didn't recognize or appreciate how much of the load (housework/parenting) I was carrying and how much I was struggling with my new role. I thought it was quite selfish of him to put his needs and wants first, while I had to drop everything to care for our baby. I think I was resentful that, while we were supposed to be partners, my life changed drastically when our baby was born while his mostly remained the same."
What she wishes he'd done differently: "I wish he had realized just how much work I was doing in caring for our son. I wish he had pitched in so that I wasn't left with the mental burden of continuing to run our household, while caring for our baby."
How things got better: "We went to a couples' therapist and she helped us to communicate better. When either of us is frustrated, overwhelmed or just needs to get something off of our chest, we carve out time for the two of us to talk about it alone and uninterrupted by kids, phones, etc. She also suggested we make a chore list, which helped both of us. He was doing more than I gave him credit for but it was still fairly uneven. We made some changes to our responsibilities and then hired a cleaning lady to give me us both some more free time!"
— Andrea, Ottawa 
I hated my partner for: cleaning a bit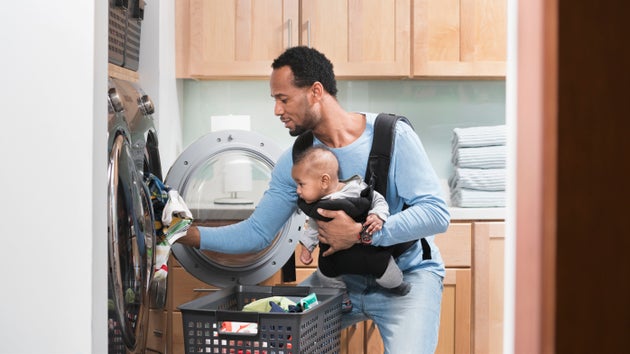 The offence: "The first time he watched my son for almost a full day (son was about four months I think) and I went out for a few hours, he got dishes done and cleaned a bit and says to me 'I don't know why you always feel like you can't do it. I did. It was easy. I just left him on his play mat and checked on him. Being on leave is easy.' It was easy because I did the damn base, dude!"
How it made her feel:  "It made me feel really upset and hopeless that I was in it myself. I had a lot of panic attacks from the state of the house and feeling overwhelmed, especially for him to think it was easy and I was just complaining to complain …"
What she wishes he'd done differently: "I wish he had acknowledged how difficult it was raising a child in general quicker and that I shouldn't have had to ask for help around the house. But once he really saw what it was, since I had a lot of appointments at the end of my leave from planning the wedding, he apologized for ever being so naive in saying it was easy."
How things got better: "After I went back to work, it got a little better with the house but not much. It's still a work in progress but he's coming around slowly. Realizing how much work it all takes. Especially with this pregnancy, he said it on his own: 'After you have the girls, I'm going to have to step up and clean the house because it'll be hard on you. It won't be like you have it now but I'll do what I can' which makes me happy because I know he's listening to me."
— Joanna, Ottawa
Also on HuffPost:
@repost Types of Custody
Via Statement of Claim for Divorce and Division of Matrimonial Property
source https://www.huffingtonpost.ca/entry/new-baby-relationship-hate-partner_ca_5d0b8779e4b0859fc3da6669
June 21, 2019
A woman was killed in a suspected drunk driving crash in Regent Park on Thursday.
At around 1 p.m., emergency crews responded to reports of a vehicle hitting a pedestrian, a fire hydrant and a pole in the area of Regent Park Boulevard and Dundas Street East.
Toronto paramedics said one person was pronounced dead at the scene of the collision.
"It appears that the woman was waiting to cross the street and she was struck by an eastbound travelling vehicle. That woman was pronounced here at the scene and was probably killed almost instantly," said Sgt. Brett Moore.
A witness of the crash described the victim as a woman in her 30s wearing a pink hijab while speaking with CTV News Toronto at the scene.
"I saw that her chest was still moving and I called 911, by the time I was off the phone her chest had stopped moving," Erica Russo said. "I said a prayer right then."
Police have not identified the victim, but several people who identified themselves as friends told CTV News Toronto that she is a mother of three children. The friends also said that she lives near the scene of the collision.
The driver of the vehicle involved in the crash has been taken into police custody under suspicion of impaired driving.
An investigation into the matter is ongoing.
@repost Permanent Spousal Support
Via Family Divorce Lawyer near Me
source https://toronto.ctvnews.ca/woman-killed-in-suspected-drunk-driving-crash-downtown-1.4475207
June 21, 2019
VAUGHAN, Ont. — A Toronto web-hosting business whose servers distributed child pornography around the world was fully aware of the "horrific" content it was supplying and needed to be held responsible, provincial police said Thursday as they charged five men at the company.
The arrests following an investigation into a website described as a "big box store of child pornography" should put similar companies on notice, the force said, noting that the site was allegedly run by someone in Vietnam but given a platform by Ontario-based YesUp Media.
Among the charges laid were several counts of "duty to report" internet child pornography, which the force believed were laid for the first time under a federal law that came into effect in 2011.
Under the law, internet service providers must make a report to authorities if they learn their businesses are used to commit child pornography offences. It also makes them responsible for reporting websites where child pornography is available if they are aware of them.
"I'm proud of the leadership being demonstrated to address the web hosts and administrators who, in Canada, have a legal duty and a responsibility to respond when they are made aware that illegal content is being trafficked through their infrastructure," said Ontario Provincial Police Commissioner Thomas Carrique.
"We're taking down the infrastructure that holds their monstrous content."
Det. Insp. David MacDonald said Toronto police launched an investigation in 2012 and quickly realized it involved an operation that stretched around the globe.
The website at the centre of the probe had about 60,000 users in 116 countries, he said, and about 19,000 people purchased 30-day memberships to allow for faster downloads of child pornography.
"Some of these images of children were horrific, just horrific," MacDonald said.
The site was run by a man in Vietnam but used servers owned by YesUp, which was aware of the content, police alleged.
Within six months police had shut the website down, raided the Toronto company and seized 32 of their servers, MacDonald said.
Investigators had focused initially on those who uploaded and downloaded the images. But by 2014, police launched a separate probe that targeted the operators of the business. The OPP had help from Toronto police, the RCMP and the U.S. Department of Homeland Security.
"We took the infrastructure used by the website out of operation," MacDonald said. "The OPP is proud of this precedent-setting investigation."
YesUp Media did not immediately respond to a request for comment.
Daniel Hittner, a representative with Homeland Security, said they will be watching the court proceedings in the case closely.
"This is, I think, a positive way forward to hold companies accountable," Hittner said, adding that the investigation "has had a large impact on the United States."
More than 2,000 suspects have been identified as a result of the investigation and 100 cases of child pornography are either underway or completed, Hittner said.
The five men from the Toronto company were arrested last week, OPP said. Three come from Richmond Hill, Ont., one from Aurora, Ont., and one from Toronto.
The accused have all been ordered to surrender their passports and are due in court in Toronto on Aug. 1.
The OPP said they have also issued a Canada-wide warrant for the Vietnamese man they allege ran the website, but they believe he's still in his home country.
With no extradition agreement between Canada and Vietnam, detaining him has proved tricky, said MacDonald, adding that he nonetheless believed the man would be in custody soon.
@repost Divorce Process
Via Divorce Assets
source https://toronto.ctvnews.ca/five-people-charged-in-connection-with-investigation-into-big-box-child-porn-retailer-1.4474502
June 21, 2019