VANCOUVER — An Iranian-born Canadian resident has returned to British Columbia after being imprisoned and allegedly tortured in his home country for 11 years.
Saeed Malekpour arrived at Vancouver International Airport on Friday evening, having escaped an ongoing prison term in Tehran, said a professor who has been involved in his case for years.
Now 44, Malekpour was a web programmer living with his wife in Victoria, B.C. He was taken into custody after travelling back to Iran in 2008 to visit his ailing father. He was soon arrested by members of Iran's Revolutionary Guard as part of a crackdown on online activities deemed "immoral" or "un-Islamic," according to Amnesty International.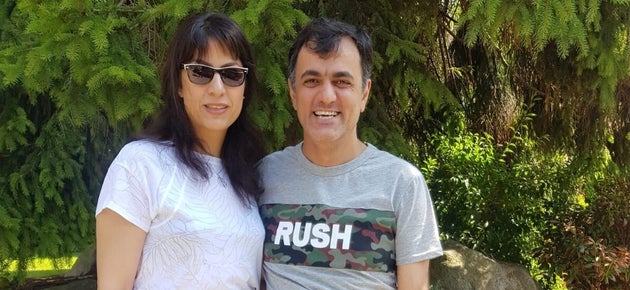 Malekpour's escape from Iran was spearheaded by his sister Maryam Malekpour and made possible with the help of Canadian officials, said Payam Akhavan, a McGill professor and a senior fellow at the Raoul Wallenberg Centre for Human Rights.
"It was heartbreaking to realize that these siblings hadn't seen each other for a decade, and to imagine all the suffering and loss. But at the same time, it was a demonstration of the astonishing resilience of the human spirit," Akhavan said, describing a video of the siblings embracing.
Malekpour's return to Canada was not sanctioned by the Iranian government and his family and lawyers in Iran knew nothing of the plan, Akhavan said.
"He was temporarily released from prison in Iran following pressure from United Nations human rights bodies, and he was to report to the prison authorities again. But instead he left the country and came to Canada through a third country."
Arrangements were made to get Malekpour out of Iran within 48 hours of his release on furlough, and Canadian authorities quickly reinstated his status as a permanent resident so he could board a flight to Vancouver, said Akhavan.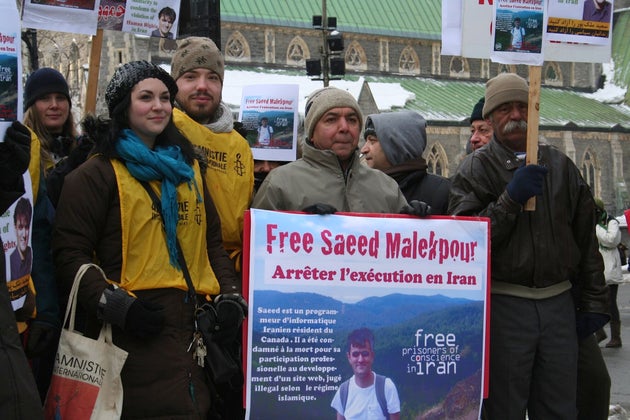 Malekpour was held at Tehran's notorious Evin Prison, where he has said he was beaten, held in solitary confinement, tortured with electric shocks and threatened with sexual violence.
In a 2010 letter detailing his experiences during pre-trial detainment, Malekpour wrote that interrogators forced him to confess to creating software that was used to post pornographic photos.
Malekpour has maintained that the software was open source and that he was unaware of its use on other websites.
Initially, Malekpour was sentenced to death for "spreading corruption on earth" in relation to the software, and in 2012 his sentence was commuted to life in prison.
A spokesperson for Global Affairs Canada acknowledged Malekpour's return, but offered few other details.
"Canada welcomes the news that Saeed Malekpour has been reunited with his family in Canada," the statement reads. "We have advocated for Mr. Malekpour's release and are pleased that he is now in Canada."
The department did not comment further, citing privacy considerations.
Also on HuffPost:
@repost Uncontested Divorce Forms
source https://www.huffingtonpost.ca/entry/saeed-malekpour-iran-canada-prison_ca_5d46e98ce4b0ca604e338de4
August 4, 2019
DALLAS — About 20 minutes before the shooting started at an El Paso Walmart, a rambling screed was posted to an online message board saying the massacre was in response to an "invasion" of Hispanics coming across the southern border.
Titled "The Inconvenient Truth," it railed against the dangers of mass immigration and warned that Hispanics will eventually take over the economy and government. The writer argued that attacking "low-security" targets was a way to "fight to reclaim my country from destruction."
Investigators increasingly believe these are the words of 21-year-old suspect Patrick Crusius, who surrendered shortly after Saturday's rampage, and they are looking closely at the writing as they consider whether to prosecute the slaughter of 20 people and the wounding of 26 more as a hate crime.
"We have to attribute that manifesto directly to him," El Paso Police Chief Greg Allen said Sunday at a news conference. "And so we're going down that road."
What remains a mystery is why Crusius chose El Paso, which has figured prominently in the immigration debate, and a shopping complex just five miles from the U.S.-Mexico border. The scene was a 10-hour drive and a world away from the life he lived growing up in a leafy, upper-middle-class suburb of Dallas.
Security video showed a skinny young man marching through the front door of the Walmart in a black T-shirt and khaki pants, carrying an AK-47 military-style rifle with an extended capacity magazine. Witnesses say he went aisle by aisle through a store packed with people stocking up on back-to-school supplies. The dead included at least three Mexican citizens and a 25-year-old mother of three who was shot while holding her 2-month-old baby.
The first sentence of the online rant posted on the 8chan message board expressed support for the man accused of killing 51 people at two New Zealand mosques in March after posting a 74-page document promoting a white supremacist conspiracy theory called "the great replacement." That theory, promoted by French writer Renaud Camus, argues there is a plot by elites to replace whites with non-white immigrants in Europe and around the world.
The online rant speaks of a "Hispanic invasion of Texas."
"They are the instigators, not me," it says. "I am simply defending my country from cultural and ethnic replacement brought on by an invasion."
Though a Twitter account that appears to belong to Crusius included pro-Trump posts praising the plan to build more border wall, the writer of the online document says his views on race predated Trump's campaign and that any attempt to blame the president for his actions was "fake news."
Still, some of the language included in the document parroted Trump's own words, characterizing Hispanic migrants as invaders taking American jobs and arguing to "send them back." Though the writer denied he was a white supremacist, the document says "race mixing" is destroying the nation and recommends dividing the United States into territorial enclaves determined by race.
The writer went on to say he has an AK-47-style semi-automatic rifle and coolly debates the positives and negatives of using that firearm rather than another military-style weapon, the AR-15, for killing as many people as possible.
Crusius, the son of a licensed therapist and a nurse, was seen on social media postings from his years at Plano High School snarling into the camera in a selfie. On his LinkedIn page, since removed, it lists a job bagging groceries and the comment: "I'm not really motivated to do anything more than what's necessary to get by. Working in general sucks. … I spend about 8 hours every day on the computer so that counts toward technology experience I guess."
Under skills, he posted "Nothing really."
Police in Crusius' hometown of Allen, a community of about 100,000 residents 20 miles north of Dallas, said their only significant contact with him over the years was a 2014 call by his parents that he ran away. He came home 30 minutes later.
Information from an online database shows Crusius registered to vote on Election Day in 2016, not long after his 18th birthday. He listed his party affiliation as Republican.
Collin College, north of Dallas, confirmed that Crusius had been enrolled as a student from fall 2017 to spring 2019.
A Twitter account under Crusius's name that appeared not to have been updated since 2017 included a photo of Trump sitting at his desk in the Oval Office and a pro-Trump poll asking about the best way to secure the country. The potential responses were the hashtags #BuildTheWall, #NoSanctuaryCities, #KeepGitmoOpen and #BanSyrianRefugees.
Crusius responded by tweeting "#BuildTheWall is the best way that @POTUS has worked to secure our country so far!"
More than a dozen federal, state and local law enforcement officers assembled Saturday at a house in Allen. A woman answered the door at the gray stone house after a group of officers knocked. They appeared to speak with her briefly before coming inside.
Court records show Crusius' mother, Lori Lynn Crusius, filed for divorce in 2011. She has been a nurse in Texas since 1990. His father, John Bryan Crusius, is a licensed counsellor. He also was a licensed instructor for alcohol education programs for minors.
___
Biesecker reported from Washington, D.C. and Kunzelman from Silver Spring, Maryland. AP Reporters Jake Bleiberg in Allen, Texas; Michael Balsamo from Orlando, Florida; and Eric Tucker in Washington, D.C., contributed.
___
Follow Biesecker at http://twitter.com/mbieseck , Dunklin at http://twitter.com/ReeseDunklin and Kunzelman at http://twitter.com/Kunzelman75
Michael Biesecker, Reese Dunklin And Michael Kunzelman, The Associated Press
@repost Child Custody Lawyers near Me
Via How Does a Legal Separation Work
source https://toronto.citynews.ca/2019/08/04/el-paso-suspect-appears-to-have-posted-anti-immigrant-screed/
August 4, 2019
NEW YORK — The Florida man who created a two-week crisis by mailing 16 packages of inoperative pipe bombs packed with fireworks powder and shards of glass to 13 famous Democrats and CNN is scheduled to learn his punishment Monday.
Defence lawyers urge leniency, saying Cesar Sayoc, burdened as a child by severe learning disabilities, was living alone in a cramped van and working as a strip club DJ and a pizza deliveryman in West Palm Beach when he became "increasingly obsessive, paranoid and angry" and believed enemies of President Donald Trump were trying to hurt him and other Trump supporters.
Prosecutors say a life sentence is "necessary and appropriate" after Sayoc caused "widespread fear and panic" with his boxes in the days before the 2018 midterm elections. None of the packages exploded.
His targets included Hillary Clinton, former Vice-President Joe Biden, several members of Congress, former President Barack Obama and actor Robert De Niro. Devices were also mailed to CNN offices in New York and Atlanta.
U.S. District Judge Jed S. Rakoff will order 57-year-old Sayoc to serve at least 10 years in prison, the mandatory minimum required by his plea to 65 charges, including 16 counts each of using a weapon of mass destruction, interstate transportation of an explosive, threatening interstate communications and illegal mailing of explosives.
Prosecutors say Sayoc's devices, though not capable of functioning as designed, were still able to explode and were responsible for shutting down parts of several major metropolitan areas, including train stations, schools and postal facilities.
They say he has not fully accepted responsibility and that his claims that his packages were a "hoax" are "simply false."
"The defendant appears to regret facing potential punishment, but not what he did and the harm that his attack caused," prosecutors said in court papers. "His large-scale attack triggered massive law enforcement response and crippled parts of several major metropolitan areas. … The defendant terrorized the public and placed thousands of individuals in harm's way."
In their pre-sentence arguments for leniency, defence lawyers wrote that Sayoc was suffering from "delusional beliefs" fueled by large doses of steroids when he decided "to try to intimidate and scare Trump's perceived enemies."
They urged Rakoff to sentence Sayoc to the mandatory 10 years in prison and one additional month. Sayoc has been housed at the Metropolitan Correctional Center in Manhattan since he was brought to New York after his Oct. 26 arrest. He had been living in a van plastered with Trump stickers and images of Trump opponents with crosshairs over their faces.
"He is sorry for the fear he caused across the country and has drafted personalized letters of apology to each of the victims in this case. He knows what he did was wrong, and he wishes more than anything he could go back in time and act differently," the lawyers wrote, saying he is still mentally ill and struggling but is redeemable and able to change.
They blamed his actions in part on his use of "an extremely large dose of steroids" that he took to bulk up for his new job at the Ultra strip club. They said the steroids left him feeling invincible and made him "pathologically obsessed" with perceived actions by some Democrats.
Sayoc has said repeatedly that his packages would not have exploded and he never intended to injure anyone. An FBI analysis concluded they would not have worked.
Prosecutors said the explosive materials in Sayoc's packages put thousands of people in harm's way, including family members of the victims, U.S. Postal Service workers and law enforcement personnel.
"Put simply, the defendant intended to silence, through harm and fear, those with whom he disagreed, and now he must be incapacitated to protect the public and promote respect for the law," prosecutors said.
Larry Neumeister, The Associated Press
@repost Equalization Payment Divorce
Via Cost of Divorce
source https://toronto.citynews.ca/2019/08/04/man-who-sent-pipe-bombs-to-clinton-cnn-faces-sentencing/
August 4, 2019
EL PASO, Texas (AP) — A gunman armed with a rifle opened fire in an El Paso shopping area packed with as many as 3,000 people during the busy back-to-school season, leaving 20 dead and more than two dozen injured, police said.
Hours later, there was another mass shooting across the country. Police in Dayton, Ohio, said nine people were killed by a shooter who was shot to death by responding officers.
Authorities are investigating the possibility the Saturday shooting in El Paso was a hate crime, working to confirm whether a racist, anti-immigrant screed posted online shortly beforehand was written by the man arrested in the attack on the 680,000-resident border city.
Despite initial reports of possible multiple gunmen, the man in custody is believed to be the only shooter, police said. Two law enforcement officials who spoke to The Associated Press on condition of anonymity identified him as 21-year-old Patrick Crusius. Authorities didn't release his name at a news conference but said the gunman was arrested without police firing any shots and is from Allen, which is a nearly 10-hour drive from El Paso.
Many of the victims were shot at a Walmart, according to police, who provided updates about the shooting in English and Spanish in the largely Latino city. The shopping area is about 5 miles (8 kilometres) from the main border checkpoint with Ciudad Juarez, Mexico.
"The scene was a horrific one," said El Paso Police Chief Greg Allen, adding that many of the 26 people who were hurt had life-threatening injuries.
The shooting came less than a week after a 19-year-old gunman killed three people and injured 13 others at the popular Gilroy Garlic Festival in California before dying of a self-inflicted gunshot wound.
Adriana Quezada said she was in the women's clothing section of the Walmart in El Paso with her two children when she heard gunfire.
"But I thought they were hits, like roof construction," Quezada, 39, said of the shots.
Her 19-year-old daughter and 16-year-old son threw themselves to the ground, then ran out of the store through an emergency exit. They were not hurt, Quezada said.
Relatives said a 25-year-old woman who was shot while apparently trying to shield her 2-month-old son was among those killed, while Mexican officials said three Mexican nationals were among the dead and six more were wounded.
Ryan Mielke, a spokesman for University Medical Center of El Paso, said 13 of the injured were brought to the hospital with injuries, including one who died. Two of the injured were children who were transferred to El Paso Children's Hospital, he said.
Eleven other victims ages 35 to 82 were being treated at Del Sol Medical Center, hospital spokesman Victor Guerrero said.
Residents quickly volunteered to give blood to the injured. President Donald Trump tweeted: "God be with you all!"
Democratic presidential candidate and former Texas congressman Beto O'Rourke, who is from El Paso and was at a candidate forum Saturday in Las Vegas, appeared shaken after receiving news of the shooting in his hometown.
He said he heard early reports that the shooter might have had a military-style weapon, saying we need to "keep that (expletive) on the battlefield. Do not bring it into our communities."
El Paso Mayor Dee Margo said police were investigating whether a document posted online shortly before the shooting was written by Crusius. In it, the writer expresses concern that an influx of Hispanics into the United States will replace aging white voters, potentially turning Texas blue in upcoming elections and swinging the White House to the Democrats.
The writer also is critical of Republicans for what he described as close ties to corporations and degradation of the environment. Though a Twitter account that appears to belong to Crusius included pro-Trump posts praising the plan to build more border wall, the writer of the online document says his views on race predated Trump's campaign and that any attempt to blame the president for his actions was "fake news."
Though the writer denied he was a white supremacist, the document says "race mixing" is destroying the nation and recommends dividing the United States into territorial enclaves determined by race. The first sentence of the four-page document expresses support for the man accused of killing 51 people at two New Zealand mosques in March after posting his own screed with a conspiracy theory about nonwhite migrants replacing whites.
Margo said he knew the El Paso shooter was not from the city.
"It's not what we're about," the mayor said at the news conference with Gov. Greg Abbott and the police chief.
In the hours after the shooting, authorities blocked streets near a home in Allen associated with the suspect. Officers appeared to speak briefly with a woman who answered the door of the gray stone house and later entered the residence.
El Paso County is more than 80% Latino, according to the latest census data, and the city, where the mayor said tens of thousands of Mexicans legally cross the border each day to work and shop, has become a focal point of the immigration debate. Trump visited in February to argue that walling off the southern border would make the U.S. safer, while city residents and O'Rourke led thousands on a protest march past the barrier of barbed wire-topped fencing and towering metal slats.
O'Rourke stressed that border walls haven't made his hometown safer. The city's murder rate was less than half the national average in 2005, the year before the start of its border fence. Before the wall project started, El Paso had been rated one of the three safest major U.S. cities going back to 1997.
Heidi Beirich, director of the Southern Poverty Law Center's Intelligence Project, said the El Paso shooting suspect wasn't on her group's radar before the shooting. "We had nothing in our files on him," Beirich wrote in an email.
The shooting was the 21st mass killing in the United States in 2019, and the fifth public mass shooting. Before Saturday, 96 people had died in mass killings in 2019 — 26 of them in public mass shootings.
The AP/USATODAY/Northeastern University mass murder database tracks all U.S. homicides since 2006 involving four or more people killed, not including the offender, over a short period of time regardless of weapon, location, victim-offender relationship or motive. The database shows that the median age of a public mass shooter is 28, significantly lower than the median age of a person who commits a mass shooting of his family.
Since 2006, 11 mass shootings — not including Saturday's — have been committed by men who are 21 or younger.
——
Balsamo reported from Orlando, Florida, and Heidgerd from Dallas. Associated Press writers Martha Irvine in Chicago; Eric Tucker and Michael Biesecker in Washington, D.C.; Michael Kunzelman in Silver Spring, Maryland; Michelle L. Price in Las Vegas; Jeff Karoub in Detroit; and Jake Bleiberg in Allen, Texas, contributed. AP data editor Meghan Hoyer also reported from Washington, D.C.
@repost Divorce Advice for Women
Via Child Attorney
source https://www.ctvnews.ca/world/20-dead-more-wounded-after-gunman-attacks-texas-shoppers-1.4535728
August 4, 2019
Multiple people have been killed in an apparent mass shooting at a Walmart store in El Paso, Texas. Police have a male suspect in custody.
At least 15 people were killed, according to the Associated Press. Multipleoutlets, citing police sources, reported at least 18 deaths.
Del Sol Medical Center spokesman Victor Guerrero told HuffPost the facility has 11 patients from the scene of the shooting; nine are in critical condition and two are in stable condition. Police said blood donations are "needed urgently."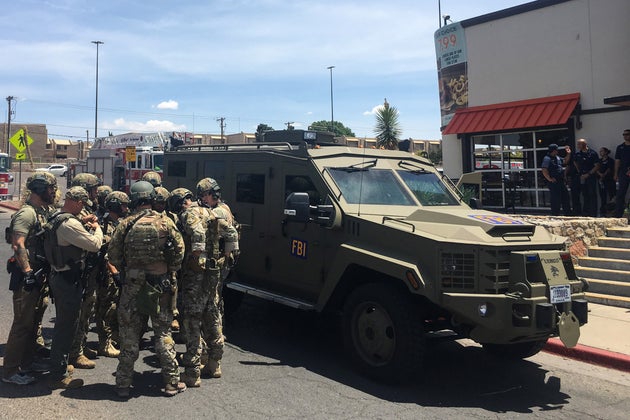 Sgt. Robert Gomez of the El Paso Police Department said at a press briefing that multiple people have died and one male suspect is in custody. El Paso Mayor Dee Margo previously said three suspects were in custody, but Gomez said police don't believe there "is anybody outstanding." 
The suspect has been identified by multiple outlets as 21-year-old Patrick Crusius. KTSM showed a photo of what appears to be the shooter holding a long gun. 
The El Paso Police Department responded at 10 a.m. Saturday to the area of the Cielo Vista Mall after reports came in of the shooting.
Video posted on Facebook by a person claiming to be a witness shows a body lying on the floor of the Walmart with blood near its head. Parents can be seen shielding their children's eyes as they rush them out of the store.
Another video posted to Twitter appears to show multiple bodies in the parking lot. A woman can be heard asking "who needs CPR?" The videos contain graphic images so HuffPost is not linking to them. 
Other stores in the area were evacuated.
Democratic presidential candidate Beto O'Rourke, who represented El Paso in Congress, said backstage at the AFSCME forum for Democratic presidential candidates in Las Vegas that he would be returning home to El Paso. 
"We know that there's a lot of injury, a lot of suffering in El Paso right now. I'm incredibly sad," O'Rourke told reporters, as he choked up. "It's very hard to think about this. But I'll tell you, El Paso is the strongest place in the world. This community is going to come together. I'm going back there right now, to be with my family and to be with my hometown."
This is a developing story. Please check back for updates.
@repost Prenuptial Lawyer
source https://www.huffingtonpost.ca/entry/el-paso-walmart-mass-shooting_ca_5d460ed9e4b0acb57fcd7870
August 4, 2019