REGINA — A Regina mother has filed a lawsuit alleging negligence after the tip of her baby's penis was severed during a circumcision.
In an interview, the woman says she and her husband are worried about their son's self-esteem as he grows up. 
The circumcision happened last November when the boy was nine-days old. The mother has filed a statement of claim against the doctor, his business, and an unidentified intern she believes did the procedure.
The woman, whom The Canadian Press is not naming to protect the identity of the child, said she and her husband took their newborn to the Victoria East Medical Clinic in Regina for the procedure.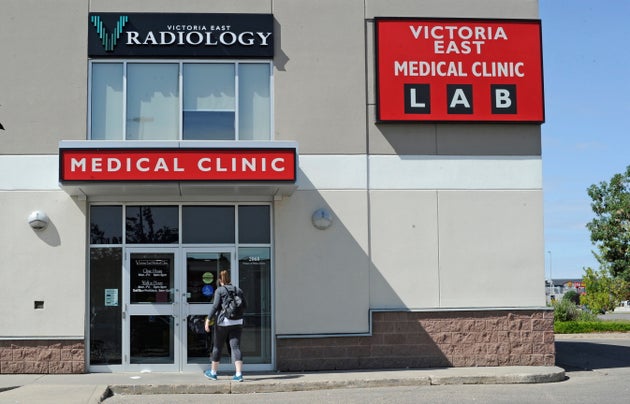 The mother is of African descent and said circumcision is part of her family's culture.
"It was already taking too long," she said, remembering how quick the procedure had been for her older son eight years earlier. "I could hear the baby crying so much."
She said Dr. Owen Miller, the physician they understood was going to perform the circumcision, came into the waiting area and was apologetic.
"He came out and he said, 'There's a problem. We have to call the ambulance,'" the mother recalled.
Intern performed circumcision
The lawsuit adds, "After the botched surgery, Miller informed the plaintiff (mother) that his intern performed the surgery."
The mother said she broke down and couldn't control her crying.
"Someone just told me he was performing some practice on my baby, that's what it sounded like," she said. "I couldn't even talk."
Lawyer Kolade Oladokun, who's representing the mother, said any damages awarded in the suit could help pay for future cosmetic surgery for the boy.
The boy's father said the family doesn't care about money.
"We just want to know if our son's going to be OK," he said. 
None of the allegations has been proven in court.
No previous infractions on doctor's record
In an email, Miller declined to comment, but in a statement of defence filed with the court he denies acting negligently.
"At the close of the procedure, it was noted that a small piece of the glans of the infant's penis (tip) had been removed with the foreskin," the statement reads.
"Immediate steps were undertaken to treat the wound and arrangements made to transfer the infant to specialists at Regina General Hospital for further treatment."
Miller is a longtime doctor who specializes in family medicine and has no previous disciplinary history listed on the Saskatchewan College of Physicians and Surgeons website.
The mother said her baby bled for hours and wailed in pain while he was in the emergency room.
Photographs taken by the woman show the infant lying in a hospital bed, hooked up to machines and a tube to carry urine.
She said a surgeon informed them he was too young to have the severed tip re-attached.
Watch: Reasons why parents choose to circumcise their boys. Story continues below.
Dr. Todd Sorokan, a pediatrician based in British Columbia, said circumcision remains a relatively common procedure in Canada, with between ten to 30 per cent of babies having it done.
Saskatchewan has seen an average of about 430 circumcisions performed annually out of medical necessity in recent years. Non-medically necessary circumcisions aren't insured by the province, so those numbers aren't tracked.
Last year, a doctor in Regina was fined more than $10,000 for not dealing appropriately with complications arising from a circumcision done in 2014.
Penis has 'healed up' but disfigured: mom
Sorokan said it's a straightforward procedure where minor bleeding can occur, but that's estimated to happen in only one to two cases out of 100.
"It's certainly not a good result to trim part of the glans penis (tip) along with the foreskin," he said. "I'm happy to hear that the family went and got urgent attention."
The boy's next followup appointment is in September. His penis is mostly functional, but is disfigured, said his mother.
"It's healed up, but it doesn't look normal."
The mother kept the severed part of her son's penis and stored in the freezer, she said, in case he someday has questions about his body.
"I just hope this doesn't get to that point where the boy is feeling less of himself," she said. "We don't know."
@repost Apply for Legal Separation
Via Types of Custody
source https://www.huffingtonpost.ca/entry/circumcision-regina-hospital-lawsuit_ca_5d5986ece4b056fafd0d883e
August 18, 2019
TORONTO — Canada says it is disappointed the United Kingdom has decided to "off-load their responsibilities" after the British Home Office revoked the citizenship of a dual citizen of the two countries imprisoned in Syria.
Canadian Public Safety Minister Ralph Goodale confirmed Sunday in statement that Jack Letts, a British-Canadian man dubbed Jihadi Jack by the media who has been behind bars in a Kurdish prison since 2017, has been stripped of his British citizenship.
"Canada is disappointed that the United Kingdom has taken this unilateral action to off-load their responsibilities," a statement from Goodale said in a rare rebuke of Canada's ally.
A statement from the Home Office said revoking British citizenships is one way it counters terrorist threats. It said it does not comment on individual cases.
"Decisions on depriving a dual national of citizenship are based on substantial advice from officials, lawyers and the intelligence agencies and all available information," the statement said.
The man's parents are from Oxford and were found guilty earlier this year of sending him money. They received a suspended sentence.
Organic farmer John Letts, 58, and ex-Oxfam fundraiser Sally Lane, 56, said they were acting as any parents would have when they tried to send their 23-year-old son cash when he begged for help from another country. They say they believed their son, Jack Letts, was in mortal danger and trapped in Raqqa, Syria.
Goodale said terrorism knows no borders, so countries need to work together to keep each other safe.
In 2015, Jack Letts posted on Facebook that he would like to perform a "martyrdom operation" on a group of British soldiers. Police warned the family that "sending money to Jack is the same as sending money to ISIS."
But by the end of that year, Jack Letts was indicating that he wanted to come home. The family tried to transfer more money but the funds were blocked and the couple was arrested.
Jack Letts, now 23, is being held by Kurdish authorities in northern Syria. His future is unclear.
Goodale said Canada is under no legal obligation to bring Canadians detained in Syria home. And he said they will not expose consular officials to undue risk.
Rob Billies, The Associated Press
@repost Joint Custody Lawyer
source https://toronto.citynews.ca/2019/08/18/canada-disappointed-by-british-decision-on-jihadi-jack/
August 18, 2019
OTTAWA — Maxime Bernier says not inviting him to take part in the official election debates means excluding the only political party leader who has anything different to say.
Bernier, the leader of the People's Party of Canada, says the Liberals, the Conservatives, the NDP, the Greens and the Bloc Quebecois all share similar views on things like immigration, climate change and supply management in the dairy sector.
Speaking to his candidates and supporters at his party's first national gathering in Gatineau, Que., on Sunday, Bernier dismissed his political rivals as espousing varying degrees of left-leaning views, including the Conservatives.
He accused both the Conservatives, a party he represented for over a decade, and the Liberals of pandering to special interest groups, and that his party, which he said does not do any polling, will campaign according to its principles.
Those other parties have all qualified for the debates, to be held Oct. 7 and Oct. 10, under criteria established by the federal government.
Bernier said he is confident the head of the Leaders' Debates Commission will change his mind and allow him to join the others onstage.
The Canadian Press
@repost Spousal Support Agreement
source https://toronto.citynews.ca/2019/08/18/maxime-bernier-tells-party-faithfuls-he-will-make-it-into-the-leaders-debates/
August 18, 2019
When one of the cast members of your moderately successful cable drama leaves to join the British Royal Family, it must be hard not to make the occasional reference to those bizarre circumstances.
And that's exactly what the legal drama "Suits" did this week.
Meghan Markle appeared on the first seven seasons of show before she left to move to England, marry Prince Harry and become the Duchess of Sussex. The show handled her exit by having her character, Rachel, have a wedding of her own to fellow lawyer Mike (Patrick J. Adams, a Canadian actor had a hilarious reaction to the royal couple's engagement when it was announced). At the end of the show's seventh season, Rachel and Mike moved to Seattle, where they started their own law practice. 
In the episode that aired this past week, Adams' character Mike returns to the show. When asked how Rachel's doing, his response has a little wink to real-life circumstances: "Good," he says. "In fact, if I told you how good, you probably wouldn't believe me." 
We don't know if Meghan saw the nod to her new life, or if she still watches "Suits" — last fall, she told fans she hadn't seen the most recent season. But it's not like duchesses just give up TV: we know she watched "The Good Place," via that show's star Jameela Jamil, who was featured in Meghan's issue of British Vogue. (On the show, Jamil's snobby name-dropping character Tahani takes credit for introducing Meghan to Prince Harry; Jamil said Meghan jokingly thanked her for the introduction when they talked about the Vogue cover.)
Meghan is also still in touch with many of her "Suits" co-stars. Many of her former co-stars were invited to the royal wedding — in addition to her onscreen husband Adams, Gabriel Macht, Gina Torres, Sarah Rafferty, Abigail Spencer and Rick Hoffman were all there, too.
@repost Separation and Divorce
source https://www.huffingtonpost.ca/entry/meghan-markle-reference-suits_ca_5d598990e4b0d8840ff4d47b
August 18, 2019
MONTREAL — More than seven years after Raif Badawi was thrown in prison, lawyers and allies of the Saudi blogger are increasingly lobbying foreign governments in an effort to secure his release as Saudi Arabia prepares to host next year's G-20 meeting.
Irwin Cotler, a human rights lawyer and former federal justice minister who represents the family internationally, says advocates for Badawi have recently been meeting with foreign governments, UN representatives and others to encourage them to call for the release of Badawi, his sister Samar, their former lawyer Waleed Abulkhair and other imprisoned human rights defenders.
Cotler sat down with The Canadian Press to discuss the intensifying effort to free the 35-year-old Badawi, who was arrested on June 17, 2012, and was later sentenced to 1,000 lashes and 10 years in jail for his online criticism of Saudi clerics.
Cotler said it is urgent "to both internationalize and intensify our advocacy" as Saudi Arabia chairs the G-20 ahead of the meeting in Riyadh in November 2020.
That effort appeared to yield results last month when U.S. Vice-President Mike Pence called on Saudi Arabia to free Badawi as well as three other jailed dissidents.
The four dissidents, Pence said, "have stood in defence of religious liberty and the exercise of their faith despite unimaginable pressure, and the American people stand with them."
Pence's statement followed one by European Parliament Vice-President Heidi Hautala in June, which describes Badawi's sentence as "unjust, disproportionate and arbitrary" and urged the Saudi government to free him. The European Union awarded Badawi the Sakharov prize, its top human rights award, in 2015.
Cotler sees significant progress in the year since Canadian Foreign Affairs Minister Chrystia Freeland's tweet calling for the release of Raif and Samar Badawi sparked a diplomatic spat with Saudi Arabia. (While neither prisoner is a Canadian citizen, Raif Badawi's wife and three children live in Sherbrooke, Que., and were granted citizenship last year.)
The fallout from the tweet saw Saudi Arabia suspend diplomatic ties, halt investment and Canadian imports and threaten to shut down scholarships for its citizens studying in Canada. "Not one democracy came to Canada's defence," Cotler said.
He said that while he disagreed with Saudi Arabia being awarded G-20 host duties, he believes the Riyadh summit could be an opportunity to increase the pressure to free the prisoners — and give Saudi Arabia the chance to prove it can be a "credible" host.
"If the Crown Prince wants to be taken seriously, if Saudi Arabia wants to be seen seriously as chair of the G20, he can't call for reforms — which we support — regarding women, such as the right to drive, then imprison the same women who called for the reforms."
He said Pence's statement came after he and Badawi's wife, Ensaf Haidar, travelled to Washington earlier this year to meet with lawmakers and the United States Commission on International Religious Freedom, which has contacts with the vice-president.
Cotler believes the murder of Saudi journalist Jamal Khashoggi, who was killed after entering the Saudi consulate in Istanbul last October, was a "wake-up call" for democracies that had previously hesitated to speak up against the Saudi regime.
More than eight months after Khashoggi's death, a UN special rapporteur released a report saying there was "credible evidence" to warrant further investigation and financial sanctions against Saudi Crown Prince Mohammed bin Salman.
Efforts by Badawi's advocates in the coming weeks and months include a renewed application for clemency, which argues that a pardon would be in line with Saudi law.
Canada, too, has a part to play, says Cotler, who was Liberal justice minister from 2003-06. He plans to once again call on Prime Minister Justin Trudeau to grant Canadian citizenship to Badawi, which would ensure he could receive visits and has "diplomatic protection that is not now authorized."
Badawi's advocates say that while he hasn't received any more corporal punishment, his health has declined and he continues to suffer psychologically from the threat of lashings and the separation from his wife and children.
And while some believe his prison conditions may have improved since the international pressure escalated, Cotler said his situation remains dire.
"There's a sense of urgency," he said. "You meet with his children, and every day the children can't be with their father is a loss for him and a loss for them."
Morgan Lowrie, The Canadian Press
@repost Divorce and Spousal Support
source https://toronto.citynews.ca/2019/08/18/advocates-internationalize-the-fight-to-free-raif-badawi-from-saudi-prison/
August 18, 2019