WASHINGTON — Comedian and media mogul Byron Allen wants TV viewers to watch the channels his company produces — from one that runs "Judge Judy"-like shows all day to those dedicated to comedy, cars, food and pets. But while many distributors carry Allen's channels, two cable giants have refused.
Allen says the reason is that he's black, and so he's sued for racial discrimination. An appeals court has let his lawsuits go forward, but now the Supreme Court will weigh in and could deliver a setback.
The justices will hear arguments Nov. 13 in a $20 billion lawsuit that Allen filed against Comcast, with the outcome also affecting a $10 billion case he has filed against Charter Communications.
If Allen prevails, black-owned businesses will have an easier time winning suits that allege discrimination in contracting. If Comcast wins, the bar will be high to bring and succeed with similar suits.
The question for the justices is whether Allen needs to show that race was just a factor in Comcast's decision not to offer him a contract or whether it was the sole factor.
Allen said his case is about getting rid of institutionalized racism. Pursuing that claim, he said, "is one of the greatest things I've ever done in my life" and "one of the things I'm most proud of."
But Comcast says its decision not to carry Allen's channels has nothing to do with race. Allen's content is "not particularly original" and "not particularly high quality," said Comcast lawyer Lynn Charytan, and Comcast simply made an editorial decision not to carry it.
A trial court dismissed Allen's suit three times before an appeals court, according to Comcast, wrongly let it go forward . The Trump administration has sided with Comcast.
Allen, 58, began his route to media mogul as a child when his family moved from Detroit to Los Angeles. His mother got a job at NBC, which meant Allen hung around the studios. He would see Johnny Carson tape "The Tonight Show" and comedian Flip Wilson rehearse for his variety show.
As a teenager, Allen began doing comedy himself, and he appeared on the "Tonight Show" for the first time when he was 18. That led to a job as a host for reality television forerunner "Real People" while he was a student at the University of Southern California. Ultimately, Allen's interests turned to the business of television, and in 1993 he founded his own media company.
Today his Los Angeles-based Entertainment Studios has 10 television networks, including Cars.tv, Comedy.tv, Pets.tv, Recipe.tv and JusticeCentral.tv. Last year, he bought The Weather Channel . He also has a movie distribution company.
But Comcast and Charter Communications, the nation's two largest cable providers, have passed on carrying Allen's channels. Other distributors including Verizon FIOS do carry the channels. So do the now-merged AT&T and DirecTV after Allen sued them and they settled.
Comcast has called Allen's suit "a scam," saying it and others that Allen filed were intended to generate media attention and timed to exploit when the companies were working on mergers. Comcast has noted that Allen originally sued Comcast but also civil rights groups including the NAACP and National Urban league, saying they had conspired to discriminate against him. Comcast has called the allegations preposterous.
"This is really a run-of-the-mill carriage dispute that has been dressed by Mr. Allen in the garb of racial discrimination for purposes of his own," said Comcast lawyer Miguel Estrada.
But Skip Miller, one of Allen's lawyers, said Allen's channels are "perfectly good channels" and "popular programming in many areas." Miller said he cannot see any legitimate reason that Comcast and Charter would refuse to carry them.
"There's no reason, no reason in our opinion, other than he's black," Miller said.
Allen sued Comcast in 2015, pointing to Section 1981 of the Civil Rights Act of 1866 . Enacted a year after the Civil War ended, the law bars racial discrimination, saying all people should have "the same right … to make and enforce contracts … as is enjoyed by white citizens."
Allen and his lawyers argue that to sue under the law and win, he only needs to show that his race played a factor in Comcast's decision not to offer him a contract. Comcast says Allen has to demonstrate that he didn't get a contract solely because of his race.
No matter what the justices decide, Allen is prepared to make either argument and for the case to continue after the Supreme Court's decision, his lawyer said. This past week he got support from the Los Angeles Urban League, which threatened Comcast with a boycott and other action if it doesn't drop the case.
"This case is bigger than me," Allen said.
Jessica Gresko, The Associated Press
@repost Child Care Lawyers
source https://toronto.citynews.ca/2019/09/08/justices-tuning-in-to-cable-television-civil-rights-lawsuit/
September 8, 2019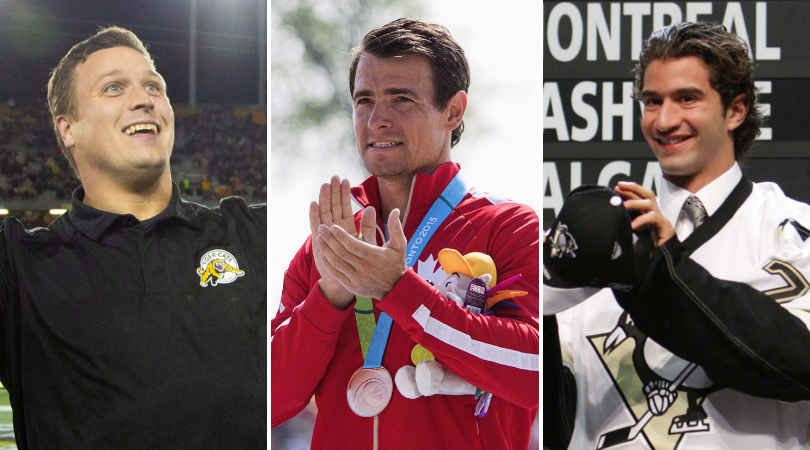 Angelo Esposito knew it was time to hang up his skates three years ago after a conversation he couldn't remember in the back of an ambulance in Czech Republic.
The one-time hockey phenom and first-round NHL draft pick, by then playing professionally in Ceske Budejovice after a string of no-luck injuries, had just suffered a fourth career concussion.
Esposito turned to his fiancee, Laura, to ask how he'd looked on the ice. She told him he played well. Two minutes later, he asked again. Her answer didn't change. Two minutes after that, he asked once more.
"And when she told me this story… I was like, you know what, it's enough," Esposito told HuffPost Canada. "It's time to turn the page and… figure out what's next in life."
On Saturday, Esposito married the woman who was by his side that night. Instead of a honeymoon, they'll be trying to get him elected the Conservative MP for the Montreal-area riding of Alfred-Pellan in a federal election campaign to be called any day now.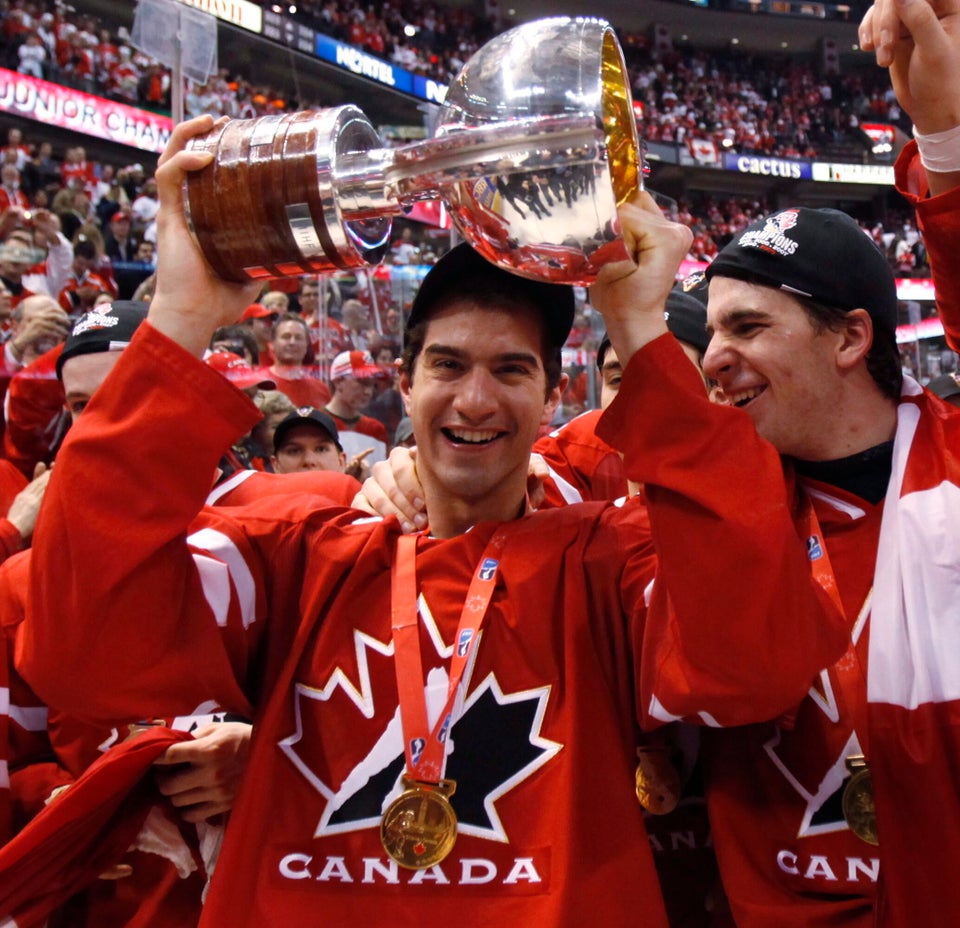 "I owe her big time," Esposito said, laughing about the circumstances. The wedding was planned before he decided to jump into the political arena. "Put it this way, if she asks for me something, I'm going to have to make sure I go through with it."
Esposito, now 30, is one of several athletes who will be attempting to win a seat in the House of Commons for the first time this fall, many facing long odds. He's trying to unseat Liberal MP Angelo Iacono, who was first elected in 2015. The riding has also been held by the Bloc Quebecois and the NDP at points over the last 15 years.
Late last month, Conservatives announced Sylvie Fréchette, a 1992 Olympic gold medallist in synchronized swimming, as the party's star candidate in the Quebec riding of Rivière-du-Nord, currently held by the Bloc. Swimmer Philippe Gagnon, a Paralympic gold medallist, is running in the Jonquière riding held by the NDP. Olympic cyclist Lyne Bessette is seeking to run for the Liberals in the riding of Brome-Missisquoi, where the incumbent Grit isn't reoffering.
Decorated kayaker Adam van Koeverden, who boasts perhaps the most national name recognition, is running for the Liberals in the Greater Toronto Area riding of Milton, represented since 2008 by deputy Conservative leader Lisa Raitt.
Van Koeverden won four Olympic medals in four different Olympic Games, including gold in 2004. He was also awarded the Lou Marsh Trophy that year as Canada's top athlete. He carried Canada's flag at the closing ceremony in Athens 15 years ago and, again, at the opening ceremony in Beijing in 2008. 
"I wasn't much of an athlete growing up," he told HuffPost in between door-knocking this summer. "I ran cross-country because I don't think you can possibly be told not to run cross-country."
In 1995, his mother Beata saw an ad in the local Oakville Beaver newspaper for the Burloak Canoe Club, stating "Future Champions Wanted." She signed her son up and, training there under the direction of coaches and mentors, the rest was history.
Van Koeverden, now 37, says he knew the 2016 Olympics in Rio de Janeiro, Brazil would be his last. He finished first in the B final consolation race, ninth overall in the K-1 (kayak singles) 1000-metre.
"I posted the second fastest time of the day and I was satisfied that my performance was good, despite the fact that I was still in ninth place," he said. "And I realized that if that's my attitude towards winning… then I think maybe it's time to hang it up."
'I don't do easy things'
But van Koeverden's competitive drive is evident when asked about taking on Raitt, a former cabinet minister and Tory leadership aspirant who would be a lock for another senior role if Conservatives form government.
"I don't do easy things," he said. "I took this on because it's something that I can achieve and because I think I can win."
Van Koeverden says he hears a lot of complaints at the doors about Ontario Premier Doug Ford, expected to be a key focus of discussion for Grit candidates in Canada's biggest province. Ontario voters has gotten a "sneak peek of the Conservative agenda" with Ford's cuts to public services, he says.
Less than 40 kilometres south of Milton, the Tories are hoping former Hamilton Tiger-Cat Peter Dyakowski can help them upset NDP MP Scott Duvall in the riding of Hamilton Mountain. It's been 40 years since the riding elected a Tory MP.
The six-foot-five former offensive lineman retired from the Canadian Football League in 2018 after 11 seasons, all but one with Hamilton. He says canvassing voters has already helped him shed 45 pounds from his playing days.
"I'm a feather-light 280 right now," he told HuffPost this summer.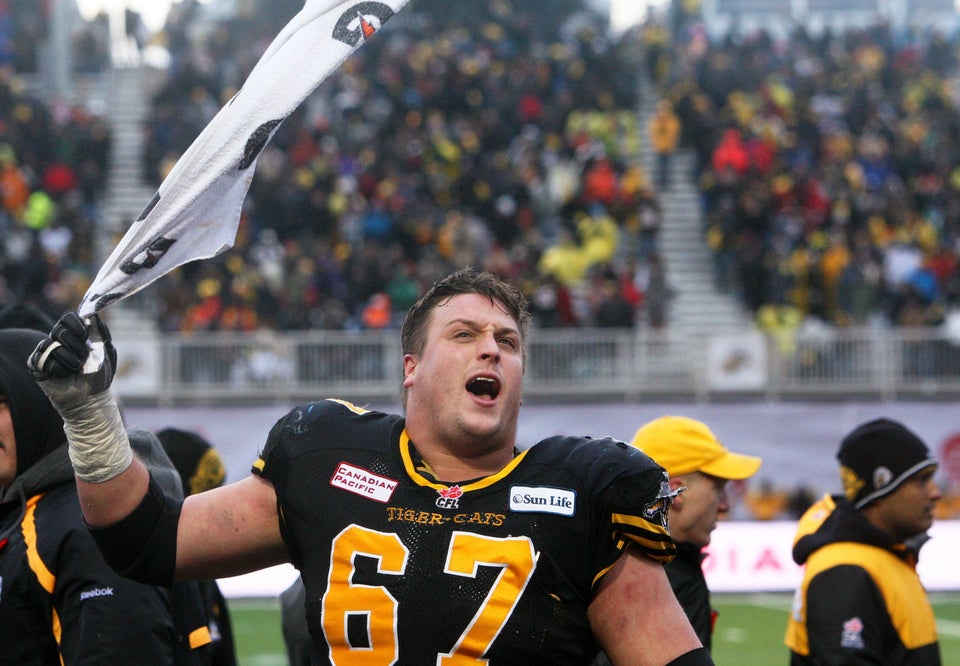 A Vancouver native, he found football at age 15 and punched his ticket to famed Louisiana State University on a football scholarship, where he was coached by "the greatest of all-time" in Nick Saban and was part of a national championship team in 2003. 
Dyakowski says he didn't intend to stay in Steeltown for long after he was drafted by the Ti-Cats in 2006.
"I said to myself, I'm just going to play out my first contract and as soon as I'm a free agent, I'm going to sign with the (B.C.) Lions," he said. "By the time I'd played out my first contract, I'd fallen in love with the city, I'd met my soon-to-be wife. I had a great thing going. It was my team. And there was never any question that I could play anywhere else."
Hamilton let him put down roots and start a family in a line of work that's usually quite transient. He and his wife, Rachel, now have two daughters: Louise, 3, and 11-month-old Helena. He thinks that serving as a local MP would go some way in "repaying the debt" he owes to the city.
Dyakowski regrets only that he couldn't capture a Grey Cup, despite making it to the CFL finals in 2013 — where he blew out his knee before halftime — and 2014, which he describes as "another almost."
The 35-year-old says he always had an interest in politics. He served on the CFL Players' Association, including a stint as treasurer of the players union. Yet he never imagined running for office so soon.
"I've always had a huge belief in the necessity of community and public service," he said. "And to have a chance to go to Ottawa and represent everybody here, to give us a voice and get results for Hamilton… it's powerful."
In sports, the athletes who are able to park their egos and work as part of a team are the ones who have the longest careers, he says. His old position — an often unsung role that meant sacrificing his body to protect the quarterback and create holes for the offense — has also taught him things he hopes to take with him.
"You learn to be satisfied and to take fulfillment from the success you contribute to," he said.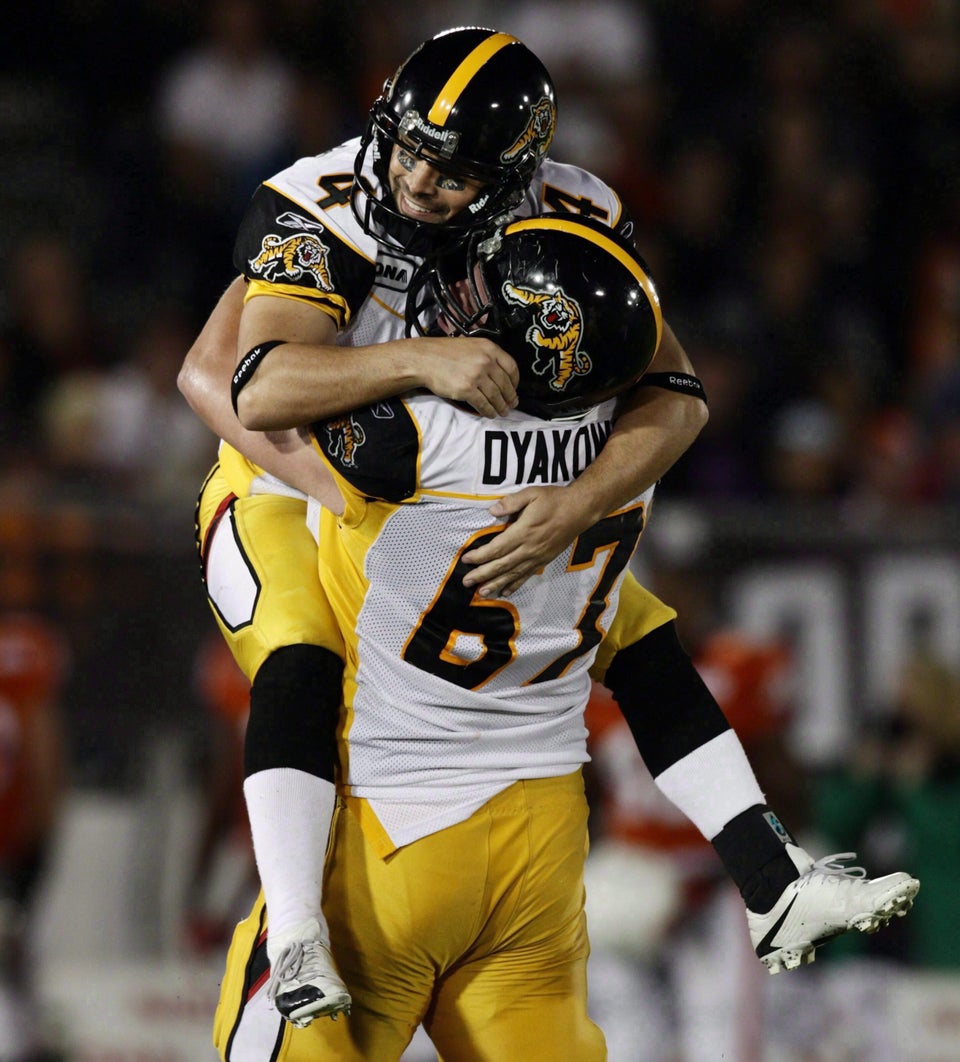 Dyakowski did get his moment in the spotlight when he was crowned "Canada's Smartest Person" on a CBC reality competition in 2012. Dyakowski says he took part in the contest "almost on a whim and it turned out great." He also competed on "Jeopardy!" in 2014, finishing in third place.
Dyakowski doesn't think he's an underdog in Hamilton Mountain, despite the Tories finishing third in the riding four years ago.
"I do know that I have a lot of work ahead of me… and I like that. It's a challenge and I've never shied away from a challenge in my life."
On Monday, Dyakowski and Conservative Leader Andrew Scheer took in the Labour Day Classic together in Hamilton, where the Ti-Cats rallied to beat rival Toronto Argonauts. Scheer, a Saskatchewan Roughriders fan, was decked out in black and yellow.
Esposito admits to feeling a little lost after he walked away from his sport. He suspects many other athletes feel the same way. While he won a Memorial Cup as a junior and scored the goal that gave Canada gold at the World Junior Hockey Championships in 2009 — all the more sweet because he was cut from the team three prior times — the scoring centre never got to lace up in the NHL. The Pittsburgh Penguins drafted him 20th overall in 2007.
"Everything happens for a reason and as much as I was getting injured, it just didn't work out," he said. "I come from a family where if one door closes, you always have to work hard and try to make something happen. And that's what I'm doing right now."
Esposito says that during his playing days, his dad made sure he didn't blow his money on things such as luxury cars. It led to some arguments along the way but proved to be the right call once Esposito got involved in real estate investment. He used the money he saved during his playing career to help purchase several apartment buildings that he manages.
He says that while his family has voted for the Liberals in the past, they have come to see the Tories as a better fit. The party started recruiting him in January.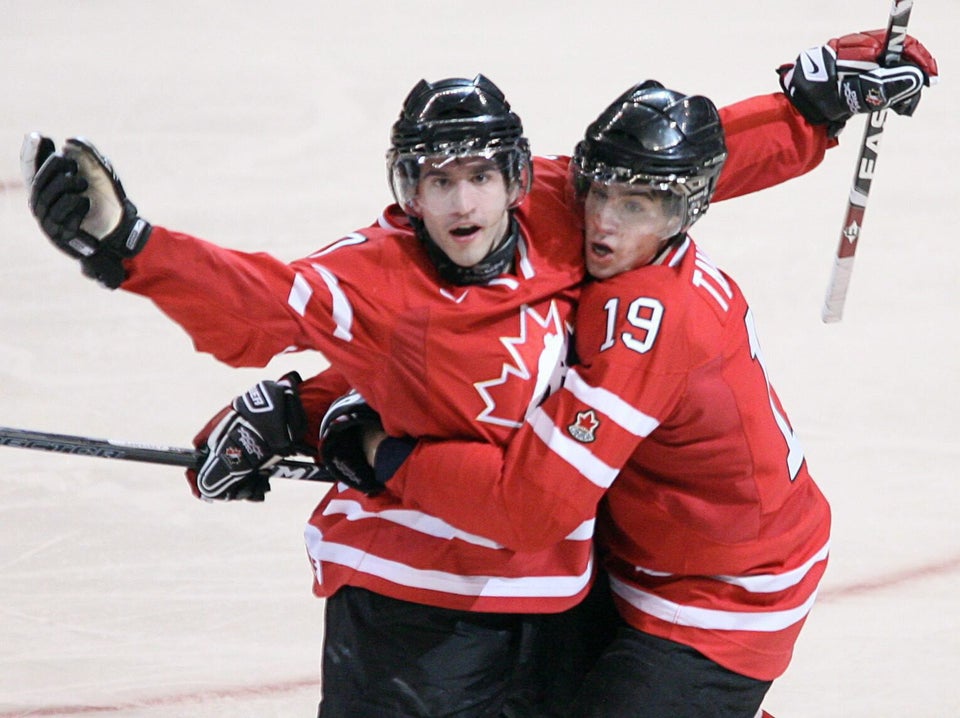 "The Conservative values… they're what I believe in. They're all about helping families, it's all about balancing the budget, and obviously helping small and medium businesses."
Likewise, Dyakowski said that while he has "political views all over the map," he thinks Tories have the best approach for making life more affordable for families. He's also happy to tout Scheer's climate plan — which lacks emissions targets and has been panned by some climate experts — because of its focus on green energy technology.
For van Koeverden, the Liberals were the only choice. He considers himself both fiscally conservative and socially liberal, and says he believes in the prime minister.
"I believe in values around progress, values of diversity and inclusion and equality," he said. "And I see those reflected in the Liberal Party of Canada in quite stark contrast to others."
In a campaign video he released in July, he spoke about how there are good ideas on both the left and right side of the political spectrum. Liberals, he told HuffPost, are "well-positioned" to collaborate with both parties on the left who push for things such as universal pharmacare, and those on the right who champion the importance of individual choice.
The issue of housing affordability hits close to home for van Koeverden, who lived in a co-operative home in Oakville with his single mom and younger brother after his parents divorced. He now lives in Milton with Cairo, a dog he rescued from Egypt.
"I grew up in community housing," he said. "I didn't just go there for a couple of years."
He says the two Liberals running point on the national housing strategy, Jean-Yves Duclos, the federal minister of families, children and social development, and his parliamentary secretary Adam Vaughan, are his my mom's favourite people in Canada these days.
"There's a large percentage of society that should never have to worry about paying off a mortgage and they shouldn't have to be paying off somebody else's either in order to have a safe place to live."
He also believes that politics could use more sportsmanship, recounting how in the world in which he comes from, athletes not only shake hands but often eat together on race days.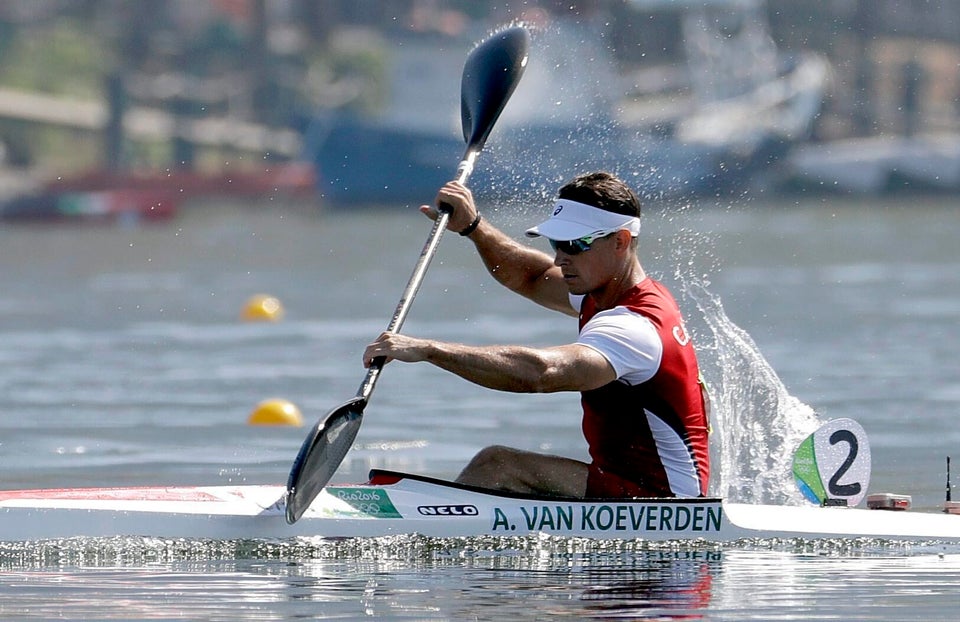 "I respect everybody who has an ambition to represent their community, regardless of political stripe. And I think Canadians would appreciate a government that is more collaborative and less combative," he said. "People working across party lines for solutions rather than just slinging mud and constantly making it look like the other guy or the other party is evil or out to get somebody or negligent in their duties. And clearly that's not the case."
Asked what issues they might want to champion in Ottawa, all three mentioned opportunities for youth.
Esposito, who stays close to hockey by working as a skills development coach with local players, says he wants to promote the importance of staying active. 
"I found my passion in hockey and I want them to find their passion, whether it's in hockey, ballet, music, politics, whatever it is," he said.
Dyakowski said he will push to bring back the child fitness tax credit scrapped by the Liberals in 2017. 
Watch: Trudeau gives Raptors swag to Nancy Pelosi
"One of the biggest public health challenges that we're facing as a nation going forward is sedentary lifestyles, childhood obesity, the pull of technology," he said. "And being able to help bring organized sport to families who might not otherwise be able to afford it, that's something that I really want to push."
Van Koeverden, who has volunteered for charities such as Right to Play and the Special Olympics, says he wants to work to ensure everybody across Canada has access to sport and play opportunities.
"Sport changed my life," van Koeverden said. "Sport made my life what it is today."
Esposito says he can already see parallels between politics and the game he fell in love with long ago.
"Honestly, it's like a hockey season. One day at a time, each day is a new game."
And crunch time, he says, is inching closer.
@repost Cost of Divorce In
source https://www.huffingtonpost.ca/entry/athletes-running-for-parliament_ca_5d72aba0e4b06451356db762
September 8, 2019
MEXICO CITY — Mexican women are clamouring for greater safety in one of the most dangerous countries in the world to be a female, and vandalism during recent protests has prompted widespread discussion about how best to draw attention to what many agree is a pressing issue.
Hundreds plan to take to the streets of Mexico City again Sunday to demand justice for women who have been killed, kidnapped and sexually assaulted. They will be led by family members who have lost loved ones. They plan kick off the demonstration with an art display using glitter at the base of the Angel of Independence statue, followed by a silent march carrying images of missing women and girls.
Here's a look at why they march:
___
HOW SERIOUS IS THE PROBLEM?
The United Nations says that four of every 10 Mexican women will experience sexual violence, such as unwanted groping or rape, during their lifetimes, and that nine women are murdered on average every day in the country.
And that's just what can be documented, says Ramón Ramos, a lawyer and former deputy minister for public safety in Mexico City.
"Violence against women is one of the biggest problems in Mexico," says Ramos, who plans to join the march Sunday.
According to the civil organization Mexicans United Against Crime, an estimated 90% of crimes go unreported in Mexico. Many victims see it as a futile exercise. Solving crime is the exception rather than the rule in Mexico, with only one of every 10 reported crimes resulting in jail time.
___
HOW HAVE WOMEN REACTED?
Mexican women are fed up, and their anger is increasingly boiling over at what they see as impunity for rapists and murderers.
A string of demonstrations decrying violence against women has taken place across the country since reports in August that authorities in the capital were shrugging off accusations that police officers had raped two minors. Demonstrations in the capital became known as the "glitter" protests after women doused the Mexico City police chief with pink glitter.
At one protest, dozens of women trashed a Mexico City bus station, defaced the Angel of Independence monument with spray paint and set a police station ablaze during an August protest. The damage to the monument angered many people, but the protesters argued that the vandalism was a means to demand action for a dire situation, saying a little paint is nothing compared to a life destroyed by violence. City authorities decided not to press charges for destruction of public property.
___
HOW DO WOMEN FEEL?
A 2018 government survey said 80% of women in Mexico don't feel safe.Sexual harassment and assault is so common on public transportation that the Mexico City subway reserves two cars on every train exclusively for women.
Experts blame macho attitudes about the roles of women, combined with deterioration in social values, for the widespread violence.
Activists also say the process of reporting a crime is often painful, with lengthy declarations and hours of questioning for the accusers. They say the judicial process is plagued by victim-blaming. Women who are sexually assaulted may be shamed for having worn revealing clothes, while dead women are sometimes dismissed as careless partiers or girlfriends of criminals.
___
WHAT HAVE AUTHORITIES DONE?
Mexico has improved its legal framework over recent decades to better protect women and girls. The congress passed a constitutional amendment this year that allows for preventive detention for those who are accused of domestic violence for a second time.
Sentences for domestic violence verdicts depend on the severity of the injuries. For instance, the infliction of a bruise or a broken bone that takes more than 15 days, but less than 70 days, to heal may be punished with a sentence of six months to two years in jail, whereas causing life-threatening injuries could result in up to eight years of incarceration.
Rape carries a minimum sentence of six years, regardless of a woman's perceived chastity. As recently as 2002, rape sentences varied in length, depending on a woman's supposed sexual innocence.
Sentences for molesting minors may be extended if the abuser was a person of confidence, such as a teacher or a stepfather.
Since 2011, murders of women that carry tinges of gender hate, such as genital mutilation, come with a minimum sentence of 25 years in prison, compared to 20 years for regular homicides.
___
WHAT MORE CAN BE DONE?
Activists would like to see more women take stands against their abusers. Too often, women drop abuse complaints against their husbands and boyfriends, activists say.
But Ramos says the biggest issue is that the laws are not often applied. Official complacency and ineptitude breed widespread infractions because perpetrators don't fear reprisal, he says.
"If one doesn't respect authority, he's even less likely to respect a vulnerable person like a woman," Ramos says.
Amy Guthrie, The Associated Press
@repost Divorce in Canada Spousal Support
Via Shared Custody
source https://toronto.citynews.ca/2019/09/08/ap-explains-why-mexican-women-march-against-gender-violence/
September 8, 2019