TORONTO —
Ontario's Divisional Court decision upholding the "harsh" punishment for Alexandru Tanase comes even though regulators have proposed allowing hygienists to treat spouses as dentists may do.
"There is no other case of any dental hygienist anywhere in Canada who has been found guilty of sexual abuse for treating his wife," the court said in its ruling. "It is indeed unfortunate that the (discipline committee) elected to proceed with the complaint."
A disciplinary hearing arose after a complaint to the College of Dental Hygienists of Ontario from a colleague, who had spotted a June 2016 Facebook post from Tanase's grateful wife, identified as S.M., about the care he had provided her.
Evidence before the discipline committee was that S.M. feared dental treatment and had had no care for several years when she became platonic friends with Tanase in 2012. He soon provided her with free in-office treatment.
In mid-2014, court records show, they became romantically involved and he stopped treating her because of the blanket ban on sexual relations between health-care professionals and their patients. The province enacted the zero-tolerance policy in 1993 to protect patients from exploitation. Consent is irrelevant.
While working at a clinic in Guelph, Ont., a colleague told Tanase that dental hygienists were allowed to treat their spouses. In fact, the college approved a spousal exemption in September 2015 but the legislature never adopted the rule — as it has done for dentists.
Based on his erroneous understanding of the law, Tanase began again treating his otherwise treatment-averse fiancee, and continued doing so after they married in early 2016.
The discipline committee ruled it had no choice but to find Tanase had violated the ban on sexual relations with a patient — even though the patient was his spouse and the sex consensual — and therefore subject to mandatory licence revocation.
"You have paid a heavy price," the committee said. "We sincerely hope to see you again as an active member of the dental hygiene profession."
Tanase appealed to the courts, arguing the law violated his constitutional rights.
In its ruling, the Divisional Court panel said Tanase posed no danger to the public, and expressed sympathy for the couple given that he cannot practise for at least five years.
The panel noted a previous case in which the college took no action against a female hygienist who treated her husband in light of their pre-existing spousal relationship and questioned why the Tanase complaint had gone forward. The court also said it seemed unfair that dentists can treat their spouses but hygienists can't.
Nevertheless, the panel ruled the licence revocation as a "sexual abuser" and "stigma" of having details of his discipline posted on the college's public website were constitutional and did not amount to cruel or unusual punishment. Current law and previous legal decisions upholding the validity of the sex ban and mandatory punishment for a violation had tied its hands, the court said.
"Unless and until the Ontario government approves the regulation put forward by the College of Dental Hygienists to enact a spousal exemption, the mandatory revocation and ancillary relief imposed by the discipline committee as they pertain to spouses must be upheld," the panel said.
The government did not immediately respond to a request for comment but Tanase's lawyer, Seth Weinstein, said his client planned to seek leave to appeal before a five-judge panel because the Court of Appeal has previously upheld the legislation.
"From our perspective, the law was never intended to capture this conduct," Weinstein said.
@repost Divorce Advice
Via Divorce Alimony
source https://toronto.ctvnews.ca/dental-hygienist-deemed-sex-abuser-and-loses-licence-after-treating-his-wife-1.4592337
September 13, 2019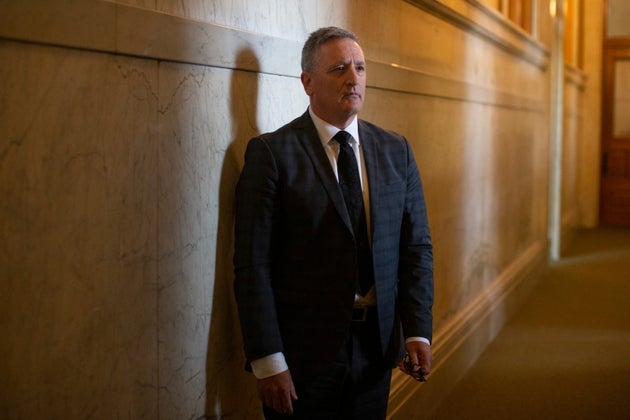 TORONTO — A former deputy commissioner of the Ontario Provincial Police is suing Premier Doug Ford and top staff for wrongful termination, abuse of public office and violations of his fundamental rights in a $15-million lawsuit. 
Brad Blair and his lawyer announced the lawsuit at a press conference at Queen's Park Friday. 
Blair is already suing Ford for $5 million for defamation. The Ontario premier publicly accused Blair of breaking the Police Services Act, a claim that the veteran officer says damaged his reputation.
The government said Blair was fired because his previous court filings included internal OPP documents. 
Blair said Friday he doesn't know why he was let go in March. 
"The impact of the firing has quite frankly traumatized me, my wife and our family," he said.
The officer had asked the courts to force the provincial ombudsman to investigate the short-lived hiring of Ford's friend. Ron Taverner had been named commissioner of the OPP, a job that Blair had been competing for. 
Taverner eventually withdrew from consideration and another commissioner was named in March.
Earlier On HuffPost:
@repost Family Law Property Division
Via Dividing Assets in Divorce
source https://www.huffingtonpost.ca/entry/brad-blair-sues-doug-ford-opp-fired-lawsuit_ca_5d7bc999e4b077dcbd5d632d
September 13, 2019
TORONTO – The director general of the RCMP's intelligence unit at the force's headquarters in Ottawa has been arrested and charged under the Security of Information Act.
In an emailed statement to CTV News, an RCMP spokesperson said that Cameron Ortis was charged under three parts of the Security of Information Act and two parts of the Criminal Code of Canada. The Security of Information Act is a national security law that addresses security concerns, including threats of espionage by foreign powers.
"The charges stem from activities alleged to have occurred during his tenure as an RCMP employee," the statement says, adding that as the investigation is ongoing, the RCMP will not be making further comments at this time.
The 47 year old does not yet have a lawyer representing him, but appeared via video link in an Ottawa courthouse Friday afternoon.
"In broad strokes, the allegations are that he obtained, stored, processed sensitive information, we believe with the intent to communicate it to people that he shouldn't be communicating it to," said prosecutor John MacFarlane after the court hearing.
A total of seven counts against Ortis are listed on the charge sheet, according to The Canadian Press. Two of the seven counts date back to January 2015 through to his arrest on Thursday.
CTV News has also learned that Ortis was a close advisor of former RCMP commissioner Bob Paulson, who retired from the force in 2017 to focus on his family.
WHAT THE CHARGES MEAN
CTV News legal analyst Ed Prutschi said the charges levied against Ortis are anti-spy related.
"[Ortis] is a civilian cyber security guy in the RCMP and the combination of charges implies he's accused of either hacking or just plain out stealing sensitive info through digital networks presumably and passing it along," Prutschi said.
Stephanie Carvin, a former national security analyst, told CTV News Channel that the charges are very serious.
"It suggests this person may have tried or succeeded in communicating details about the way the RCMP may have been trying to go about a criminal investigation," she said.
"This person had access to a lot of information," Carvin added.
A spokesperson for the office of the Minister of Public Safety Ralph Goodale said in a statement emailed to CTV News that "Canadians can continue to have confidence in their security and intelligence agencies to protect our safety and rights," and that all questions should be directed to the RCMP.
REACTION FROM THE CAMPAIGN TRAIL
Prime Minister Justin Trudeau provided a brief comment on the case while on the campaign trail on Friday.
"I was of course made aware of the arrest," Trudeau said to reporters. "I can assure you the authorities are taking this extremely seriously."
In a post on Twitter, Conservative Leader Andrew Scheer said "this is another reminder of the threats we face from foreign actors." Adding that as prime minister, he would "not hesitate to identify these threats and act accordingly."
Ortis will remain in custody until his next court date on Sept. 20.
@repost When Does Spousal Support End
source https://www.ctvnews.ca/canada/rcmp-intelligence-official-charged-under-national-secrets-act-1.4591995
September 13, 2019
ATLANTA — Federal prosecutors in Atlanta say the managing partner of a Chicago travel agency fraudulently accumulated millions of points in a Delta Air Lines frequent flyer program.
Gennady Podolsky was indicted Wednesday on 12 counts of wire fraud. A dual Ukrainian and American citizen, he is managing partner of Vega International Travel Services.
Through the SkyBonus program, businesses earn points when employees fly Delta.
Prosecutors say Podolsky created a SkyBonus account for a fertility centre owned by a family member of Vega Travel's president. When Vega Travel customers flew Delta, Podolsky entered that SkyBonus number even though they weren't fertility centre employees.
Prosecutors say Podolsky accumulated and redeemed more than 42 million points, causing Delta to lose more than $1.75 million.
Online court records didn't list a lawyer for Podolsky.
The Associated Press
@repost Divorce Consultation
Via Divorce Lawyer
source https://toronto.citynews.ca/2019/09/13/prosecutors-say-man-cheated-delta-frequent-flyer-program/
September 13, 2019