Mazzeo Law Bolsters Community With Family Law Services

Vaughan, ON based Mazzeo Law Barristers & Solicitors is pleased to inform their community of the availability of the family law firm's legal services. "When you turn to a member of our team, you're in the safe, experienced hands of legal professionals, each of whom is adept in matrimonial court representation," says Mazzeo Law, a statement that is proudly echoed on their website. Learn more here: Family Law Services In Vaughan Ontario.
While some may assume that the term 'family law' means the firm deals exclusively with divorce cases, given that they are notorious for conflict, this does not describe the full scope of their services. "A matrimonial lawyer can help you to make an effective decision regarding your upcoming marriage. They can work with you to protect your assets and draw up agreements between you and your future spouse. Our team has significant experience in family law and this experience covers all elements of matrimony, from supporting couples in creating property agreements and prenups, to guiding those going through the divorce process."
"The importance of referring to the expertise of a reliable family law attorney cannot be overstated," says Mazzeo Law. A marriage may seem like a simple affair on the surface but there are often a multitude of aspects to consider before entering into a domestic contract of any kind. Given the realities of relationships, it is often wiser for both parties to consider all their options and prepare for multiple scenarios with the aid of an attorney. "Our legal team includes some of the brightest minds in the industry, and we can help you safeguard your assets and your rights as you move forward in getting married," assures Mazzeo Law. Their services include prenups, matrimonial agreements, domestic contracts, child support, child custody, spousal support and so on. Visit the following link to learn more: Family Lawyer.
The firm asserts that clients may use their official website to get started, as it, in addition to hosting an overview of available services, includes a Frequently Asked Questions (FAQ) page that answers some of the most commonly held questions. "Our team of family law attorneys goes to great lengths to ensure our clients have the information they need to make the right choice for their legal needs. In order to assist you, we've addressed some of the issues that are most concerning to our clients on our website and provided information regarding that issue," says Mazzeo Law.
Furthermore, those who would like to read the firm's thoughts on family law may visit their blog. It covers a variety of topics, such as the paths a parent can take to relocate with their children following a divorce and even how much of a partner's social media content can be used against them in court. However, the firm emphasizes that their website should only be used as a stepping stone. Those carrying out research for more than curiosity's sake are advised to schedule an appointment with Mazzeo Law as quickly as possible. Time is often a neglected commodity in such cases, and it is better to have the safety net of professional legal advice sooner rather than later.
The firm boasts a 4.6/5 Star rating on the Google review platform. Clients Kathy and Bryan say that they, "Used Mazzeo Law in a real estate transaction. They were able to accommodate our schedules; they were helpful and prepared. They were also quick to respond to emails and phone messages." Another review by Evgeniya says, "I was referred to Paul Mazzeo by the Lawyer Society of Ontario for a consultation in family faw. His team accommodated me very quickly; then Paul met me at my scheduled time and was very helpful and knowledgeable in my issue. His advice was correct and finally resolved my situation. Thank you."
Mazzeo Law focuses on family law, estates, wills, and real estate. They clarify that, "While we specialize in these areas, our firm successfully serves clients in both corporate law and commercial litigation." Those who wish to learn more about the firm and their services may contact Mazzeo Law directly to learn more. Clients may also connect with the firm through their social media platforms to stay up to date with news, new blog posts, and so on. Read further here: Probate Lawyer Vaughan.
For more information please contact us at any time:

Mazzeo Law Barristers & Solicitors
3300 Hwy 7 Suite 904
Vaughan
,
Ontario
L4K 4M3
Email: [email protected]
Phone: (905) 851-5909
Fax: (905) 851-3514
Price Range: $000 – $000




5/5 stars –
based on 3 reviews

source https://www.mazzeolaw.ca/family/mazzeo-law-bolsters-community-with-family-law-services/
October 2, 2019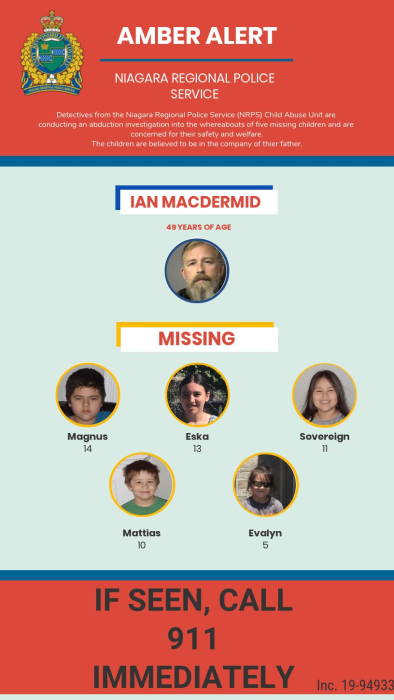 An Amber Alert has been issued for five children who were last seen in Jordan, Ont.
Police say Evelyn, Mattias, Sovereign, Eska and Magnus MacDermid were last seen on Sept. 19. According to the alert, they might be headed towards Toronto in a gold pickup truck driven by 49-year-old Ian MacDermid.
MacDermid is the children's father, according to a Niagara Police press release. An investigation by the service's Child Abuse Unit identified concerns for the "welfare and safety of the children."
The MacDermid children were under a temporary custody order and were taken from their home between Sept. 19 to Sept. 25, police said. Const. Phil Gavin said the children were reported missing in the last 24 hours by Family and Children Services Niagara. 
MacDermid is described as 6 ft. and 280 lbs. with blue eyes, blonde hair and a beard. Const. Gavin said the family had previously resided in the Toronto area and have ties there, so police suspect they could be headed there. 
All the children are described as being of Asian descent.
The youngest child is five-year-old Evalyn, she's three ft. eight inches, 40 lbs. with long black hair and brown eyes.
Mattias is a 10-year-old boy standing at four ft. eight inches, 80 lbs and with light brown caramel hair and brown eyes.
Sovereign is an 11-year-old girl, 140 lbs, five ft. two inches, with long black hair and brown eyes. 
Eska is an 13-year-old, five ft. one inch, 70 lbs with long brown hair and brown eyes.
Magnus is a 14-year-old boy, five ft. six inches, 110 lbs with spikey black hair and glasses.
Anyone with information is asked to call their local police or submit an anonymous tip through CrimeStoppers.
@repost Divorce Advice for Men
Via Do You Have to Be Separated Before Divorce
source https://www.huffingtonpost.ca/entry/amber-alert-macdermid-kids_ca_5d93bd6be4b0ac3cddb056db
October 2, 2019
An Amber Alert that was issued for five missing children last seen in Jordan, Ont. has been cancelled.
Niagara police said the children remain missing.
Police believe the five children, who are between the ages of five and 14, are in the company of their father Ian MacDermid.
MacDermid is described by police as white, standing six-feet-tall and weighing about 265 to 280 lbs. He has blonde hair, blue eyes and facial hair.
He is believed to be driving a gold-coloured pickup truck and may be headed towards Toronto, police said, as the family used to live in the area.
"They certainly would have a friend network there," Niagara Regional Police Constable Phil Gavin said in a news conference.
Police have not provided the license plate number of the vehicle.

Five-year-old Evalyn, 10-year-old Mattias, 11-year-old Sovereign, 13-year-old Eska, and 14-year-old Magnus MacDermid are seen in these photographs provided by police. (Niagara Regional Police)
The missing children are listed as Magnus MacDermid, 14, Eska MacDermid, 13, Sovereign MacDermid, 11, Mattias MacDermid, 10, Evalyn MacDermid, 5.
"Our primary concern is locating and ensuring the safety and welfare of these children," Gavin said.
The children were reported missing about 24 hours earlier by Family and Service Niagara, police said.
"The children are subject to a temporary custody order and their father is in contravention of the order by failing to return them," Niagara Regional Police said in a news release issued Tuesday. "Detectives are concerned for the welfare and safety of the children."
Gavin said that an abduction investigation was initiated following an investigation by Family and Services Niagara.
"That investigation identified concerns for the welfare and safety of the children in question."
The children's mother has spoken with detectives, Gavin said.
Anyone with information regarding MacDermid's whereabouts is asked to call 911.
@repost Marriage Attorney near Me
source https://toronto.ctvnews.ca/amber-alert-for-five-missing-children-cancelled-children-remain-missing-1.4619270
October 2, 2019
A group of families that successfully sued the province for autism funding more than 15 years ago are taking on Queen's Park again after their funding was slashed by the Progressive Conservative government.
On Monday, lawyers representing the families served the Ontario government with a requisite 60-day notice of intent to sue over what they call "breach of contract, negligence and breach of sections 7 and 15 of the Canadian Charter of Rights and Freedoms."
Brenda Deskin, one of the complainants involved in the lawsuit, said that her son lost his funding in August.
"We are in survival mode, trying to get through every day," Brenda Deskin said.
The Ancaster, Ont. woman says Developmental Services Ontario (DSO) determined that her adult son Michael Deskin needs 24-hour-a-day, two-on-one supervision.
The 24-year-old scored in the 93rd percentile on the Autism Spectrum Rating Scale, and is prone to self-harming activities.
"It's impossible. I mean, even this morning I went down to get some medicine for him when I was on my own and I found him jamming his gums with a corner of an armoire in our room."

Michaek Deskin, 24, is seen in this undated photograph provided by family. (Submitted)
Up until August, Michael Deskin had received 40 hours a week of intense services and supports. But in February, his family was given six-month's notice that his funding would be cut off. Suzanne Van Bommel, a spokesperson for the families, said that the explanation was "odd," as it cited changes to the Ontario autism program. But the program, Van Bommel, doesn't apply to Michael Deskin, who is not a child.
According to the legal documents filed this week, his funding "had been provided since 2004 as a result of a court order."
The Deskins are part of a group of 28 families that took legal action against the then-Liberal Ontario government a decade-and-a-half ago. They argued that an age six funding cap was "discriminatory" and a judge agreed.
"As a result of that court case, (the families) received court-ordered funding for specialized supports and services for their children. There was no age cap for that funding," said Van Bommel said.
That is, until their funding was pulled in the summer.
"Fast-forward 15 years later, and we were just astonished to wake up one morning, to a couriered letter, on February 5th, letting us know this government would be cutting off our funding in six months," Brenda Deskin said. "We were just flabbergasted. We couldn't believe it."
Legal documents filed on Monday by Henein Hutchison LLP also make mention of a letter Deskin received from the Ministry of Community and Social Services in February 2007. At the time, then assistant Deputy Minister Alexander Bezzina confirmed his commitment to ensuring Michael Deskin has access to the services he needs.
"I would like to affirm in writing the commitment I made to you on behalf of (Ministry of Children and Youth Services) when I visited you: that no changes would be made to the manner in which your son's program is currently administered nor to the funding amount unless you were completely satisfied with alternative arrangements," Bezzina wrote.
Deskin said she now feels completely betrayed.
"We made plans for our lives, based on this letter, and as difficult as life was, I knew we would have support. And to have this is just like having the rug pulled out from under us."
Apart from the Deskins, seven of the families involved in the original lawsuit are also taking part in this new legal battle.
"I think it's really sad. It's with great reluctance that they are once again exposing themselves to the public," said Van Bommel. "They have built lives for their children based on a promise, based on a contract, and now they've found themselves thrown into limbo, thrown into crisis, and they have no other choice."
In a written statement, Christine Wood, a spokesperson from the Ministry of Children, Community and Social Services told CTV News Toronto that "it would be inappropriate to comment further as this matter may be the subject of litigation."
"Our government is committed to providing a needs-based, sustainable autism program that supports as many children as possible. That is why we are investing a record $600 million into the Ontario Autism Program," the spokesperson said.
But Brenda Deskin says the statement from the government is misleading.
"That $600 million is earmarked for children. Autism does not disappear when someone turns 18 years of age."
And she said she is begging the government to think about Michael Deskin and other adults living with autism, and reconsider its decision.
@repost Attorneys for Child Support Cases
Via How Much Is Spousal Support
source https://toronto.ctvnews.ca/ontario-families-sue-government-a-second-time-over-autism-funding-1.4619389
October 2, 2019