WINNIPEG — A memorial has grown outside the Winnipeg home where a three-year-old boy was allegedly stabbed as he slept last week, while political leaders add their voices to those offering condolences to the child's grieving family.
Hunter Haze Straight-Smith suffered severe brain damage during the incident on Wednesday, according to his family, and died shortly after he was taken off life support on Saturday afternoon.
A vigil was planned outside the home on Pritchard Avenue on Sunday night, adding to several that have been held in the city over the course of a few days.
Mourners placed stuffed animals, flowers and other offerings around the trunk of a large tree in front of the home.
A sign attached to the tree reads, "Rest In Peace Hunter, from all of the grandmothers."
Daniel Jensen, 33, who was in an on-again-off-again relationship with Hunter's mother but who was not the boy's father, was charged with attempted murder on Thursday.
Police have noted a charge may be upgraded when a victim of a crime dies, and they say Jensen remains in custody.
"Further information concerning the status of this investigation will be released when it becomes available," a news release from the Winnipeg Police Service stated Sunday morning.
Manitoba Premier Brian Pallister tweeted after Hunter's death that the province's thoughts and prayers go out to the boy's family and friends.
"A child full of hope and dreams, tragically taken too soon," Pallister wrote.
Winnipeg Mayor Brian Bowman echoed the sentiment.
"Our hearts are heavy this morning with the tragic loss of Hunter Straight-Smith, & our thoughts are with his family and friends at this time," he tweeted on Sunday. 
Police have said that at the time of the alleged attack, Jensen was under a court order not to contact the mother.
Investigators have said they believe there was an argument between the woman and Jensen somewhere on Winnipeg's Main Street. After the dispute, they allege Jensen walked to the home where Hunter was asleep and stabbed him several times.
At an earlier vigil outside Winnipeg's Health Sciences Centre on Friday, the mother and other relatives hugged each other and wept during Indigenous prayers and drum songs.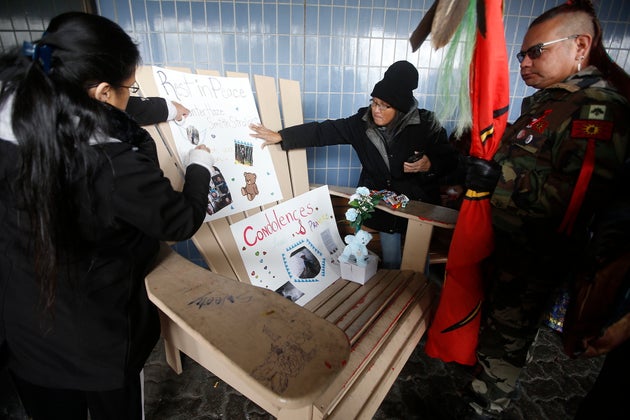 A friend of the boy's family, Darryl Contois, said Hunter's mother and father were at their son's hospital bedside along with relatives and friends after the machines that were keeping him alive were removed.
"They broke down, like any mother would do or any father would do. There's no words to take away that pain from them," Contois said.
This report by The Canadian Press was first published Nov. 3, 2019.
@repost File for Divorce Online
source https://www.huffingtonpost.ca/entry/hunter-haze-straight-smith-vigils_ca_5dc01d83e4b0bedb2d4f7ee6
November 4, 2019
EDITOR'S NOTE: On Nov. 4, 1979, Iranian students overran guards to take over the U.S. Embassy in Tehran, starting a 444-day hostage crisis that transfixed America.
After a three-hour struggle, the students took hostages, including 62 Americans, and demanded the extradition of the deposed Shah Mohammad Reza Pahlavi, who was receiving medical treatment in the United States for the cancer that ultimately would kill him. Some hostages would later be released amid the crisis, but it would take over a year for all to be freed.
On the day of the takeover, The Associated Press actually had no presence in Iran. Two months earlier, Iranian authorities had shut down the AP's bureau in Tehran, throwing out four foreign correspondents for the co-operative over its reporting of a Kurdish uprising in western Iran. Two Iranian staffers for the AP were ordered to stop working for the agency.
The AP story shows how the agency adapted, relying on bureaus around the world to monitor broadcasts and make calls, including its Middle East headquarters, which at the time was in Nicosia, Cyprus.
Iranian authorities ultimately relented and allowed the AP to resume its news operations. But by January 1980, Iran threw out the AP and all American journalists. The AP ultimately would return to Iran and re-establish a presence in 1995 and later a bureau that it still operates there today.
Now, 40 years later, the AP is making its story and photos of the U.S. Embassy takeover available. The story has been edited for typographical errors, but maintains the AP style of the day.
___
A mob of Iranian students overran U.S. Marine guards in a three-hour struggle Sunday and invaded the American Embassy in Tehran, seizing dozens of staff members as hostages, Tehran Radio reported. They demanded that the United States send the exiled shah back to Iran for trial, the radio said.
No serious injuries were reported. Tehran Radio said as many as 100 hostages were being held, but an Iranian Foreign Ministry spokesman said he believed it was fewer than 45 — about 35 Americans and seven or eight Iranians.
The spokesman, reached in Tehran by telephone from New York, said an estimated 200 or 300 students were involved.
In Washington, State Department spokesman Jack Touhy said it was estimated 59 persons were being held captive and there was no firm evidence the invaders were armed. He said a State Department working group was set up to monitor the situation and added the U.S. government would have no immediate comment on the demand that the shah be returned to Iran.
White House spokesman Alan Raymond reported in Washington that President Carter, spending the weekend at the Camp David retreat, was in contact with his national security adviser Zbigniew Brzezinski, Secretary of State Cyrus R. Vance and Defence Secretary Harold Brown.
The Tehran Radio broadcasts, monitored in London, said the embassy's Marine guards hurled tear-gas canisters but were unable to hold back the waves of students. None of the broadcasts mentioned any weapons besides the tear gas.
Japan's Kyodo news service reported from Tehran that the invaders called a news conference in the embassy compound and a sweater-clad man in his mid-20s told reporters, "We will continue to stay here and won't release any of the hostages until the United States returns the ousted shah, which is what the Iranian people want."
There were reports that the hostages were blindfolded and handcuffed. The Foreign Ministry spokesman denied this, saying the embassy takeover was "a very peaceful exercise. They are dealing with them very nicely."
But television film broadcast in some Western countries showed a few hostages in front of an embassy building who were blindfolded and either bound or handcuffed.
Asked if the students were armed, the Foreign Ministry spokesman said he had heard no reports that they were.
He said a Scandinavian ambassador in Tehran would act as a mediator "to try to convince the students to get out of the compound." He reported an Iranian Moslem religious leader also was trying to talk the invaders into leaving.
The spokesman, who asked not to be named, said he was unsure of the identities of the two mediators.
The State Department said in Washington the Iranian government had "given assurances that our people being held are safe and well."
Tehran Radio said the Marines and other "mercenaries" — not further identified — were safe in a room and "No violent action has been taken against them."
An official at the British Embassy, reached by phone from London, said it appeared "as though the hostages are having to spend the night in the basement. There is no knowing how long they are going to be held."
The Foreign Ministry spokesman said that after the takeover thousands of other Iranians converged on the spacious embassy compound, on a major avenue in central Tehran, and milled around outside, shouting anti-American slogans.
Just hours after the embassy invasion, seven demonstrators chained themselves inside the Statue of Liberty in New York Harbor to protest the ousted Shah Mohammad Reza Pahlavi's presence in New York, where he is hospitalized for cancer treatment. After 3 1/2 hours authorities cut the chains and took them into custody.
Pahlavi went to New York last month on a special medical visa and underwent gallbladder surgery and testing. Doctors recommended he stay in the United States for six months to a year for drug treatment of his cancer. He fled Iran in January and later took up residence in Mexico.
The Tehran broadcasts, some not clearly received, said the students were motivated by a "message" from the leader of Iran's Islamic revolution, Ayatollah Ruhollah Khomeini.
The Iranian Embassy in Washington released a statement issued by the Foreign Ministry in Tehran after the takeover accusing the United States of engaging in an "imperialist plot" to reinstate the former monarch. Iranian officials have claimed the deposed ruler is faking illness.
"The action taken today by a group of our countrymen reflects the natural feeling of the Iranian nation towards the U.S. government's disregard" of an official Iranian protest of Pahlavi's presence in New York, the statement said.
It said the U.S. government ignored the protest and refused to allow two Iranian doctors living in the United States to examine the shah, who could have been treated in Mexico or another country.
"The people of Iran were extremely concerned about any relocation and activities of the shah and … would consider the shah's illness a pretext for his going to the United States in order to have access to better activities against the Islamic revolution in Iran," the statement said.
State Department spokesman Touhy said the U.S. charge d'affaires in Tehran, Bruce Laingen, and two other American officials were at the Foreign Ministry at the time the embassy was seized, and had contacted Iranian Foreign Minister Ibrahim Yazdi. No U.S. ambassador currently is assigned to Tehran.
Touhy said Laingen remained at the ministry, negotiating with officials there, and negotiations were not being conducted with the embassy invaders. He said families of U.S. personnel held in the embassy were being advised that the hostages had not been harmed. He did not release any names of the Americans.
The State Department had issued a statement earlier, saying Laingen "had been given assurances by the Iranian government that it will do its best to resolve the matter satisfactorily. We appreciate the efforts of the Iranian government."
This was the second time the embassy has been taken over since the revolution. Gunmen believed to be renegade revolutionaries invaded the embassy last Feb. 14, killing one Iranian and taking 101 hostages, including Ambassador William Sullivan and 19 Marine guards. Pro-Khomeini forces drove the insurgents from the badly damaged compound after 3 1/2 hours.
A Baghdad Radio broadcast reported that Iraq had lodged a strong protest with Iran over what was described as an attack on the Iraqi Embassy in Tehran Saturday and the abduction of four persons. The Khomeini regime accuses Iraq of aiding autonomy-seeking minorities in Iran.
The Associated Press
@repost Equalization Payments Family Law
Via Types of Custody
source https://toronto.citynews.ca/2019/11/04/ap-covered-it-iran-students-seize-us-embassy-in-tehran/
November 4, 2019
WASHINGTON — Mark Zuckerberg's social network in Washington is shrinking.
Bipartisan hostility against Facebook has been building for months, fueled by a series of privacy scandals, the site's role in Russian meddling in the 2016 presidential campaign and accusations that Facebook crushes competitors.
Now, with the 2020 elections approaching, Democrats especially are homing in on the conduct of the social media giant and its refusal to fact-check political ads and remove false ones.
"When you're the No. 1 monopoly, people are going to come after you," says John Feehery, a veteran Republican communications strategist. The challenge for Democrats, as he sees it: "They're facing a base that is very angry and restive. So they have to be much more aggressive in taking on corporations."
Zuckerberg enjoyed a cozy relationship with the Obama administration. But in the face of growing public outrage, the co-founder of the upstart born under the motto "Move fast and break things" is learning the art of smoothing over and piecing back together.
His new strategy: a personal blitz featuring serial private meetings in Washington with key lawmakers of both parties and President Donald Trump; small, off-the-record dinners at his California home with conservative journalists and opinion makers; and the occasional public address or TV interview.
He's become lobbyist-in-chief for a tech giant that has about 60 people officially playing that role. The company spent an estimated $12.6 million on federal influencing last year.
The political ad issue hits close to home for Democrats. Facebook, as well as Twitter and Google, refused in September to remove a misleading video ad from Trump's reelection campaign that targeted top-tier Democratic candidate Joe Biden. Sen. Elizabeth Warren, another top Democratic contender, chose to hit back by running her own ad and making it personal by falsely claiming that Zuckerberg had endorsed Trump for 2020.
Warren, who has called for breaking up Facebook and other tech giants, acknowledged the ad's deliberate falsity to make her point.
Then came Zuckerberg's speech last month at Georgetown University in which he promoted free expression as the foundation for Facebook's refusal to take down content it deems newsworthy, even if the material violates company standards. The next week, during prickly questioning by Democratic lawmakers at a televised House hearing, Zuckerberg dug in on not fact-checking politicians' speech and the handling of hate speech and potential incitements to violence.
"This really is not about money," Zuckerberg insisted. "It is important that people can see for themselves what politicians are saying." Facebook says political advertising accounts for less than half of 1% of its total revenue.
In the lambasting from Democrats, Rep. Joyce Beatty of Ohio, the vice chair of the Congressional Black Caucus, focused on Facebook's track record on civil rights and diversity. She told Zuckerberg that he had "ruined the lives of many people, discriminated against them."
As part of a legal settlement with civil rights groups, Facebook changed its ad-targeting systems this year to prevent discrimination in housing, credit and employment ads. It had previously allowed such ads to be targeted to people based on age, sex or race, which is illegal.
At some points, friendlier Republican members of the House Financial Services Committee asked Zuckerberg how he was holding up through the six-hour hearing. "I'm doing OK," replied the 35-year-old co-founder, chairman and CEO. He's one of the world's richest individuals, with a net worth currently estimated at $71 billion.
Summing up, Rep. Maxine Waters, the California Democrat who leads the committee, told Zuckerberg, "You have opened up a discussion about whether Facebook should be broken up."
A mandated breakup would be the worst-case scenario for Facebook and the other big tech companies. Facebook says splitting up large tech corporations would make the election system more vulnerable to interference because the companies wouldn't be able to work together to prevent it.
For Zuckerberg and the Democrats, "it may be a nasty divorce," said James Thurber, a professor of government at American University who founded its Center for Congressional and Presidential Studies. "He clearly has taken a stand that's really quite unpopular."
Thurber called Zuckerberg's backstage celebrity approach to lobbying efforts "very dangerous." "You've got to be very careful about that, if you think you can do it yourself," he said.
Rep. David Cicilline, a senior House Democrat who leads the Judiciary Committee's investigation into the market dominance of big tech companies, is working on legislation that may target the profits made by Facebook from political ads it knows are false. The measure likely would also apply to social media rivals Twitter and Google.
On Thursday, Twitter made the unexpected announcement that it will ban all political advertising from its service.
"This is a good first step," Cicilline tweeted. "Your move, Google/Facebook."
Zuckerberg's quick riposte, during Facebook's quarterly conference call on earnings , was to reaffirm the company's commitment to the value of free speech, including for politicians.
It's a sharp reversal of fortune for Facebook from the days of the Obama administration, when the company was hailed as an exemplar of innovation and an engine of economic growth. Campaign money flowed to the Democrats from big tech companies.
At an employees' town hall at Facebook's Silicon Valley headquarters in April 2011, President Barack Obama said: "My name is Barack Obama and I'm the guy that got Mark to wear a jacket and tie."
As they removed jackets and ties in unison and rolled up their shirt sleeves, Obama enthused, "Being here at Facebook is so exciting for me. You guys are at the cutting edge of what's happening."
Marcy Gordon, The Associated Press
@repost Lawyers That Handle Child Support Cases
Via A Domestic Partnership Agreement
source https://toronto.citynews.ca/2019/11/04/from-toast-of-town-to-toxic-facebook-ceo-on-outs-with-dems/
November 4, 2019
BEIJING — Asian stock markets followed Wall Street higher Monday after unexpectedly strong U.S. jobs data helped to soothe worries American factory activity was weaker than forecast.
Benchmarks in Shanghai, Hong Kong, South Korea and Southeast Asia advanced. Japanese markets were closed for a holiday.
The Labor Department said American employers added 128,000 jobs in October, better than the 89,000 forecast. That helped to dilute disappointment after a monthly index of manufacturing by the Institute for Supply Management, an industry group, fell for a third month and by a bigger margin than forecast.
The jobs numbers could help to reassure investors about American household spending, the main driver of the biggest global economy.
"Rolling on from the better than expected headline figure for the U.S. jobs report, Asian markets are likely to start in decent fashion this week," said ING in a report.
The Shanghai Composite Index rose 0.7% to 2,980.11 and Hong Kong's Hang Seng advanced 1.3% to 27,442.20. Seoul's Kospi added 1.3% to 2,127.87.
Sydney's S&P-ASX 200 added 0.2% to 6,682.70 and India's Sensex opened up 0.4% at 40,340.03. Taiwan, New Zealand and Southeast Asian markets also advanced.
On Wall Street, the benchmark S&P 500 rose 1% to 3,066.91 on Friday, hitting an all-time high for the third time in a week.
The Dow Jones Industrial Average gained 1.1% to 27,347.36. It is within 12 points of the record it set in July.
The Nasdaq composite gained 1.1% to 8,386.40.
Friday's employment numbers helped to shore up investor faith that has been shaken by U.S.-China trade tension and Brexit.
The world's largest economies have agreed to at least a temporary truce in what President Donald Trump dubbed "phase one" of a trade deal. Envoys are negotiating the details of that pact, but economists caution major issues have yet to be decided.
U.S. companies are reporting weaker profits compared with a year ago as global economic activity and consumer demand weaken.
Britain's departure from the European Union has been delayed until at least Jan. 31 after the other 27 member governments granted London's request for a three-month extension.
Prime Minister Boris Johnson called an election after parliament blocked his plan to leave on Oct. 31 whether the two sides agreed in advanced on their future trade and other relations or not.
France's minister for European affairs, Amelie de Montchalin, said she is advising French companies to prepare for a scenario in which Britain leaves without a divorce deal. She told broadcaster Europe 1 radio the new date of Jan. 31 "is not negotiable."
ENERGY: Benchmark U.S. crude lost 27 cents to $55.94 per barrel in electronic trading on the New York Mercantile Exchange. The contract jumped $2.22 on Friday to close at $56.20. Brent crude, used to price international oils, fell 29 cents to $61.40 per barrel in London. It surged $2.07 the previous session to $61.69.
CURRENCY: The dollar rose to 108.22 from Friday's 108.18. The euro edged down to $1.1167 from $1.1168.
Joe McDonald, The Associated Press
@repost Divorce and Child Custody Lawyers
source https://toronto.citynews.ca/2019/11/04/asian-markets-follow-wall-street-rise-on-us-jobs-data-2/
November 4, 2019