GEORGETOWN, Ohio — Authorities have charged the husband of a malnourished 11-year-old girl's legal guardian.
WXIX-TV reports 61-year-old Charles Breeze is in custody at a Cincinnati hospital. Breeze was indicted Thursday in Brown County on endangering children, felonious assault and kidnapping charges.
Forty-seven-year-old Margaret Breeze was indicted on those charges last month.
Authorities learned about the girl's mistreatment in September from a teacher administering an online test. The girl, who was homeschooled, said she was hungry and explained she was given just a small plate of rice each day.
The girl weighed just 47 pounds (21.3 kilograms), roughly 30 pounds below the average weight for a girl her age.
Authorities say she lived in deplorable conditions in a locked trailer monitored by a surveillance camera.
It's unclear whether Charles Breeze has an attorney.
___
Information from: WXIX-TV, http://www.fox19.com
The Associated Press
@repost Domestic Contracts
Via Marriage Separation Agreement
source https://toronto.citynews.ca/2019/11/16/husband-of-malnourished-girls-legal-guardian-charged/
November 16, 2019
Diplomat says he overheard Trump call about 'investigations'
WASHINGTON (AP) — A State Department official told impeachment investigators Friday that he overheard President Donald Trump talking with a U.S. ambassador about "investigations" in Ukraine, according to people familiar with the testimony.
David Holmes, the political counsel at the U.S. Embassy in Ukraine, said Trump was talking so loudly that Ambassador Gordon Sondland had to hold the phone from his ear.
Holmes said that allowed others at a restaurant in Kyiv to overhear the call that's now part of the impeachment inquiry, according to one of the people, who were unauthorized to publicly discuss the testimony and were granted anonymity.
The conversation at the Kyiv restaurant came the day after Trump's July 25 phone call with newly elected Ukraine President Volodymy Zelenskiy, in which the U.S. president pressed his counterpart to investigate Democrats and 2020 rival Joe Biden. A whistleblower's complaint about that call sparked the impeachment inquiry.
Sondland opened the July 26 conversation by telling Trump that the Zelenskiy "loves your ass."
___
Ousted ambassador 'shocked' at Trump; he assails her anew
WASHINGTON (AP) — In chilling detail, ousted U.S. Ambassador to the Ukraine Marie Yovanovitch described to Trump impeachment investigators Friday how she felt threatened upon learning that President Donald Trump had promised Ukraine's leader she was "going to go through some things."
Trump was unwilling to stay silent during Yovanovitch's testimony, focusing even greater national attention on the House hearing by becoming a participant. He tweeted fresh criticism of her, saying that things "turned bad" everywhere she served before he fired her — a comment that quickly was displayed on a video screen in the hearing room.
Rather than distract from the career diplomat's testimony, Trump's interference could provide more evidence against him in the probe. Democrat Adam Schiff, chairman of the House Intelligence Committee, said Trump's attacks were intimidation, "part of a pattern to obstruct justice." Others said they could be part of an article of impeachment.
The former ambassador was testifying on the second day of public impeachment hearings, just the fourth time in American history that the House of Representatives has launched such proceedings. The investigation centres on whether Trump's push for Ukrainian officials to investigate his political rivals amounted to an abuse of power, a charge he and Republicans vigorously deny.
Yovanovitch, asked about the potential effect of a presidential threat on other officials or witnesses, replied, "Well, it's very intimidating."
___
Ukraine feels abandoned amid US impeachment drama
Ukraine is at the centre of today's east-west geopolitical battle, but it's feeling increasingly alone and abandoned by its U.S. backers amid the impeachment drama unfolding in Washington.
The U.S. ambassador — who was pushed out earlier this year and testified Friday in Congress — hasn't been replaced. Neither has the influential U.S. envoy tasked with helping Ukraine quell its Russia-backed separatist insurgency. The lower-level U.S. officials remaining in Kyiv are keeping an unusually low profile.
The erosion of Washington's readiness to protect its Eastern European ally leaves Ukraine vulnerable to mounting Russian pressure, just as Ukrainian President Volodymyr Zelenskiy heads into high-stakes talks next month with Russian President Vladimir Putin to try to end the deadly conflict in eastern Ukraine.
Ukrainians increasingly feel the U.S. impeachment inquiry is making their country toxic.
A member of the Ukrainian parliament's foreign affairs committee told The Associated Press that U.S. officials have shown increasing indifference to Ukraine and have been reluctant to attend meetings.
___
California school shooter dies with motive a mystery
SANTA CLARITA, Calif. (AP) — A 16-year-old boy who killed two students and wounded three others at his Southern California high school before turning a gun on himself died Friday without investigators discovering the motive for the attack, authorities said.
Nathaniel Tennosuke Berhow, died from a head wound. His mother was present when he died, according to a Los Angeles Sheriff's Department statement.
Berhow, described by friends as quiet but funny and likable, showed no outward signs of violence prior to the attack. After more than 40 interviews, police still don't know what prompted him to commit such a crime, said Capt. Kent Wegener of the department's homicide unit. He said no manifesto, diary or suicide note had been found.
"It still remains a mystery why," Sheriff Alex Villanueva told a press conference. He said it was "a planned attack, it was deliberate," but "we don't have" the details behind it.
Berhow opened fire around 7:30 a.m. Thursday, his birthday, after being dropped off at Saugus High School in the Los Angeles suburb of Santa Clarita. Video surveillance showed Berhow walk alone to the centre of a quad, drop his backpack, pull out the gun and start firing, police said.
___
Takeaways from Day 2 of House impeachment public hearings
WASHINGTON (AP) — Day Two of public hearings in the House impeachment inquiry of President Donald Trump featured a career diplomat with a soft voice and a powerful story.
Marie Yovanovitch said she felt threatened by the president as she detailed the story of being abruptly recalled from her post as U.S. ambassador to Ukraine. Then the president attacked her with a tweet, which she said was intimidating.
Some key takeaways from Yovanovitch's testimony:
POLITICAL IS PERSONAL
This was no staid, bureaucratic tale told by a distant and removed narrator.
___
Roger Stone guilty of witness tampering, lying to Congress
WASHINGTON (AP) — He was proud of his reputation as a practitioner of political dirty tricks and frequently boasted about the extent of his contacts and the depth of his insider information.
Now Roger Stone, a longtime friend and ally of President Donald Trump, faces a prison sentence for a collection of crimes that essentially amounts to exaggerating how much he knew, then lying and scrambling to keep those boasts from being exposed.
Stone was convicted Friday of all seven counts in a federal indictment that accused him of lying to Congress, tampering with a witness and obstructing the House investigation into whether the Trump campaign co-ordinated with Russia to tip the 2016 election.
He is the sixth Trump aide or adviser to be convicted of charges brought as part of special counsel Robert Mueller's Russia investigation.
Stone has denied wrongdoing and consistently criticized the case against him as politically motivated. He did not take the stand during the trial and his lawyers did not call any witnesses in his defence.
___
Conflicting White House accounts of 1st Trump-Zelenskiy call
WASHINGTON (AP) — President Donald Trump released the rough transcript Friday of a congratulatory phone call he had with the incoming president of Ukraine, holding it out as evidence he did nothing wrong. Instead, the memorandum shows how White House descriptions of Trump's communications with foreign leaders at times better reflect wishful thinking than the reality of the interactions.
As the House opened its second day of public impeachment hearings on Capitol Hill, Trump released the unclassified record of his April 21 call with then President-elect Volodymyr Zelenskiy. The document bears little resemblance to the paragraph-long official summary of the conversation that the White House released the same day as the 16-minute call.
The discrepancy highlights the gulf that often exists between the message that U.S. national security officials want to deliver to world leaders and the one that is actually delivered by Trump.
For years, U.S. officials have stressed the importance of trying to support democratic norms and root out corruption in Ukraine, which has been fighting a war of attrition against Russian-backed separatists since Russia invaded and later annexed Crimea in 2014.
To that end, the official readout of the Zelenskiy call reported that Trump noted the "peaceful and democratic manner of the electoral process" that had led to Zelenskiy's victory in Ukraine's presidential election.
___
Colombia adoptees find family decades after volcano tragedy
BOGOTA, Colombia (AP) — Jenifer de la Rosa was just a week old when Colombia's Nevado del Ruiz volcano exploded, unleashing a wall of mud that buried an entire town and left 25,000 dead.
In the chaotic aftermath of the 1985 disaster the infant was handed over to a Red Cross worker and eventually adopted by a Spanish couple.
Now a documentary filmmaker, she's been on a quest to answer one question that has haunted her: What happened to her biological family?
On Thursday, a genetic institute in Colombia's capital announced it has solved part of the puzzle, with scientists revealing they have confirmed through DNA testing that a woman still living in the South American nation is her sister.
"I thought this can't be true," de la Rosa said. "This could only happen in a movie."
___
AP sources: Epstein jail guards had been offered plea deal
WASHINGTON (AP) — Federal prosecutors offered a plea deal to two correctional officers responsible for guarding Jeffrey Epstein on the night of his death, but the officers have declined the offer, people familiar with the matter told The Associated Press.
The existence of the plea offer signals the Justice Department is considering criminal charges in connection with the wealthy financier's death at the Metropolitan Correctional Center in New York in August. The city's medical examiner ruled Epstein's death a suicide.
The guards on Epstein's unit are suspected of failing to check on him every half hour, as required, and of fabricating log entries to show they had. As part of the proposed plea deal, prosecutors wanted the guards to admit they falsified the prison records, according to the people familiar with the matter. They spoke on the condition of anonymity because they were not permitted to publicly discuss the investigation.
The U.S. attorney's office in Manhattan had no comment on the plea offer.
Both guards were working overtime because of staffing shortages. They have been placed on administrative leave while the FBI and the Justice Department's inspector general investigate the circumstances surrounding Epstein's death. The 66-year-old had been awaiting trial on charges of sexually abusing teenage girls.
___
Email shows Trump's property not among original G-7 sites
WASHINGTON (AP) — A newly released email shows President Donald Trump's private golf resort near Miami was not among the original sites to be considered to host a major international summit next year.
Trump had claimed in August that his Trump National Doral had emerged as a top contender for the Group of Seven summit after Secret Service and other officials visited various locations. But an internal Secret Service email obtained and released Friday by the government watchdog group Citizens for Responsibility and Ethics in Washington shows otherwise.
According to the July 12 email, agents were told to add Trump's resort after they had arrived at a list of four finalists.
The White House did not immediately respond to a request for comment. The Secret Service declined comment, citing "operational security reasons."
The email references the "the original 10 site surveys we conducted at the end of May/beginning of June" and said: "Yesterday was the first time we put eyes on this property," meaning Doral. The author of the email noted that Trump has visited the location in the past and added – without elaboration – that the property presents "some challenges."
The Associated Press
@repost Grounds for Divorce
Via Cost of Divorce
source https://toronto.citynews.ca/2019/11/16/ap-news-in-brief-at-1204-a-m-est-112/
November 16, 2019
TORONTO — A teen boy still cannot address being sexually assaulted by his football teammates in the locker room at a prestigious all-boys Catholic high school last year, a youth court heard Thursday.
The boy could not bring himself to write a victim impact statement because it would force him to relive the experience, the prosecutor said at a sentencing hearing for three former students of St. Michael's College School.
The three pleaded guilty to sexual assault with a weapon and assault with a weapon against two victims. Another teen also pleaded guilty to making child pornography for recording the sex assault with his phone.
The boy's parents wrote a victim impact statement, which was read out in court by Crown attorney Erin McNamara. They said the teen has struggled since he was sexually assaulted with a broom handle by a group of boys on Nov. 7, 2018.
"He now feels he carries a very heavy stigma," they wrote. "We have had to carry this burden alone."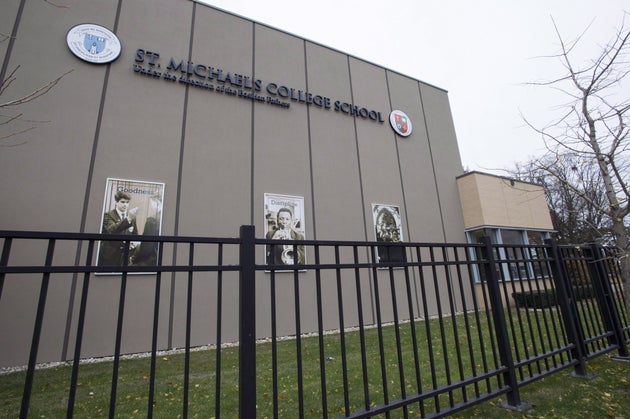 But his parents said the teen is struggling, as is his sibling.
"They feel very helpless," the parents said through the prosecutor.
They said they can't tell what's normal teenage emotion and what's related to the trauma of being sexually assaulted.
McNamara said the other victim and his family declined to give a statement.
The Crown is seeking a sentence of 12 to 15 months in jail for two teens and 10 to 12 months for the third boy. The lawyers for each teen have asked for two years probation with no jail time.
The charges stem from two separate incidents that happened in October and November of last year. None of the accused or the victims can be identified due to provisions in the Youth Criminal Justice Act.
The allegations sparked a national conversation about bullying when they surfaced last year.
Court heard at the guilty plea that the three boys were part of one of the school's football teams. In one incident in Oct. 17, 2018, court heard, the boys took down their teammate in the school's locker room, ripped his pants off and inserted a broom handle into the boy's anus.
WATCH: A timeline of how the St. Michael's scandal unfolded. Story continues below.
A similar incident occurred on Nov. 7 after a football game when a teen who wasn't on the team came into the locker room looking for a ride home and was jumped by a group of boys.
The group pulled the teen's pants down and two teens sexually assaulted him with a broom handle. That incident was captured on video and shared widely on social media.
On Thursday, the judge viewed the video in a separate courtroom with the Crown attorney and the three teens' lawyers.
"What the Crown sees is a willing escalation of risk-taking behaviour and violence," McNamara said. "I am asking you to denounce this unlawful conduct. What we're trying to do here is hold these young people accountable."
Society doesn't benefit in any way by sending any of these three youth to jail.Lawyer
Court heard that all three underwent medical and psychological evaluations, which found the risk for all three to re-offend is low.
One of the teens' lawyers said her client had been abused by his father at a young age, yet was able to excel both academically and athletically. Rachel Lichtman said his life would be ruined if he is sent to jail.
"Society doesn't benefit in any way by sending any of these three youth to jail," she said, adding that the teen is remorseful.
"It turned into something it shouldn't have, I'm really sorry for what I've done and I'm willing to face the consequences," the teen told a doctor that was part of a pre-sentence report.
Jeff Mazin said the teen he represents is also remorseful and hopes the victims can and their families can recover.
"But he appears he didn't realize the gravity of the situation until he got in trouble," Mazin said.
The other teen's lawyer echoed the other defence lawyers, who partially blamed a "culture of bullying" at St. Michael's.
"These boys are taking a bullet for what existed, an environment that was created ripe for them to act to the point they did act, and we're all trying to make sense of it because it doesn't make sense," said Rocco Loccisano.
The sexual assault and assault charges against a fourth student were withdrawn in August.
The cases of two other students accused in the scandal have concluded, but the Ministry of the Attorney General has refused to disclose those outcomes.
But court heard Thursday that one of those students pleaded guilty and received a two-year probationary sentence with no jail time. It remains unclear what he pleaded guilty to.
The charges against the other teen were dropped, court heard. 
A seventh teen is set to go to trial next March.
The judge is expected to sentence the trio on Dec. 19.
This report by The Canadian Press was first published Nov. 14, 2019.
@repost I Need a Lawyer for Child Support
source https://www.huffingtonpost.ca/entry/st-michaels-teen-assault_ca_5dce066de4b01f982eff329a
November 16, 2019