CONCORD, N.H. — In September, Amer Fakhoury closed his New Hampshire restaurant to take his first vacation in years to visit family in his native Lebanon — a country he hadn't been to for nearly two decades.
He hasn't returned to the United States. Soon after his arrival in Lebanon, the 57-year-old American citizen was detained by authorities and remains jailed there. Doctors report that he is in poor health and that his condition is life-threatening, his family said.
No charges have been filed against Fakhoury. His lawyer, Celine Atallah, said it remains unclear why he's being held. Fakhoury, however, was once a member of the former Israeli-backed South Lebanon Army. He also worked at a former prison described by human rights groups as a centre for torture.
His family insists he had no direct contact with prisoners and never abused anyone, and there was never an abuse allegation against him.
They feel he's being used as some sort of pawn in a country that has endured weeks of anti-government protests that led to the prime minister's resignation last month. Banks, businesses, schools and roads closed for some time.
The protesters have been demanding an end to widespread corruption and mismanagement by politicians that have ruled the country for three decades. The leadership has been ignoring demands by the protesters to leave and continues to cling to power.
Fakhoury's family and Atallah accuse authorities of torturing him. In early visits, Atallah and Fakhoury's wife, Michelle, saw scratches on his face and marks on his neck. He also appeared to have lost a lot of weight.
His family said this week that his health has gotten much worse; doctors told them his condition is grave and life-threatening, including a bad infection, a bleeding disorder and other problems. A court session that was to be held this week has been postponed because of his illness.
"We're very scared right now," said Guila Fakhoury, the oldest of his four daughters, from her New Hampshire home. "We don't know when we're going to see him again. This is a nightmare for us."
A State Department spokesperson said the U.S. embassy conducted its most recent consular visit with Fakhoury on Nov. 7. No details were provided.
"We take allegations of mistreatment seriously and whenever we receive credible reports of mistreatment we raise our concerns directly with the host government," the spokesperson said.
Fakhoury's lawyer is not aware of other cases involving American citizens similar to his. State Department officials said they had "nothing further" in response to the question.
In New Hampshire, Fakhoury ran a Middle Eastern/Mediterranean restaurant, where he struck up friendships with patrons and community members. Interested in Republican politics, he once met Donald Trump on a presidential campaign visit. He also hosted fundraisers for a GOP congressional candidate.
Phyllis Woods, chair of the Strafford County Republican Committee, described Fakhoury as "a very caring, open, compassionate person" who was concerned about the lack of affordable housing available in the area.
About 30 family and friends held a rally at the restaurant in September to bring attention to Fakhoury's case. A handwritten sign posted on the shuttered restaurant asked patrons to pray for his release.
Richard Riemer, of Newmarket, a regular patron, said he's seen through the years how hard the family works. "You see the unity there," he said, adding, "They're still a little piece of my life."
Fakhoury was one of many South Lebanon Army members who fled after Israel withdrew from Lebanon in 2000 following an 18-year occupation, fearing reprisals if they stayed in Lebanon. Others stayed and faced trial, receiving lenient sentences. The countries have been at war since 1948.
Fakhoury's family says he came to the United States in 2001, where he started the restaurant with his wife and put his four daughters through the University of New Hampshire. But Lebanon was still home.
"My father, he's the epitome of the American dream," daughter Zoya Fakhoury said. "He came here for a better life for his family and he worked, he built a business, a successful business." She said her family doesn't deserve what's happened to them.
Fakhoury started looking into a visit after President Michel Aoun last year encouraged former SLA members to return home. Like many others in the army, Fakhoury faced a charge in 1996 of collaborating with Israel, but that was dropped, Atallah said.
"He was actually granted assurances from the government, who reviewed his file and told him, 'Your file is clear. Come back, you can come back to your country,'" she said.
He arrived in Beirut in mid-September, along with his wife and two of his daughters.
Security officials held onto his passport for a routine check and let him go. When he returned about a week later to retrieve it, a newspaper close to the militant Hezbollah group published a story accusing him of playing a role in the torture of inmates at the former Khiam prison. He was arrested a day after it appeared.
Scores of protesters outside a military court connected to Fakhoury's case carried signs dubbing him the "butcher of Khiam"; some demanded he get the death penalty. A sign said "Just one bullet," on a family picture, the daughters said, adding that they've received death threats online.
Fakhoury's family and lawyer said he worked at the prison from 1989 to 1996. He handled paperwork, cleaned the prison and made sure inmates got their food.
"There's no legal basis for his arrest," Atallah said. "There's no legal basis for his detention. … He's an American citizen, an innocent American citizen who's being illegally detained."
Given the current instability in Lebanon, it was unclear who could address Fakhoury's case. Before the mass anti-government protests started, the Lebanese General Security Directorate said Fakhoury had possessed an Israeli passport. But Atallah said U.S. records show he didn't have one. Lebanon's laws prevent its citizens from dealing with or making any contacts with Israel.
Fakhoury's family said they are working with Sen. Jeanne Shaheen and the U.S. Embassy in Lebanon. They also wrote to the White House but haven't received a response. The White House referred questions on Fakhoury's case to the State Department.
Fakhoury's wife visits him and the daughters received a brief phone call from him during which he asked about his granddaughter and began to cry.
"It's just such a sad time," daughter Macy Fakhoury said. "The holidays are coming and both of my parents aren't here."
___
Associated Press writer Bassem Mroue in Beirut contributed to this report.
Kathy McCormacK, The Associated Press
@repost Divorce Spousal Maintenance
source https://toronto.citynews.ca/2019/11/24/us-citizen-jailed-in-lebanon-as-country-deals-with-crisis/
November 24, 2019
HALIFAX — Donald Trump's national security adviser has issued a dire warning to Canada about Chinese telecom giant Huawei, saying Ottawa should reject the company's plan to deploy its 5G network because the technology would be used as a "Trojan horse" to undermine national security.
"When they get Huawei into Canada … they're going to know every health record, every banking record, every social media post — they're going to know everything about every single Canadian," Robert O'Brien said at an international security conference in Halifax.
"What the Chinese are doing makes Facebook and Google look like child's play, as far as collecting information on folks."
He said the Chinese state could use data scraped from its 5G mobile network to "micro-target" Canadians with personalized texts aimed at undermining elections.
The national security adviser, who was appointed to the job in September, says the fallout from such an intrusion into personal data would have an impact on Canada's participation in the Five Eyes alliance, which includes the intelligence agencies in Australia, New Zealand, the United Kingdom and the United States.
"The Huawei Trojan horse is frightening, it's terrifying," O'Brien said on the first full day of the Halifax Security Forum, which has attracted more than 300 delegates from government, the military and the academic community. 
"I find it amazing that our allies and friends in other liberal democracies would allow Huawei in … I'm surprised that there's even a debate out there."
Last Friday, Beijing's new representative in Canada dismissed the notion Huawei could compromise the security of 5G users by installing "back-door" channels in mobile devices.
Chinese ambassador Cong Peiwu said that was a "groundless accusation."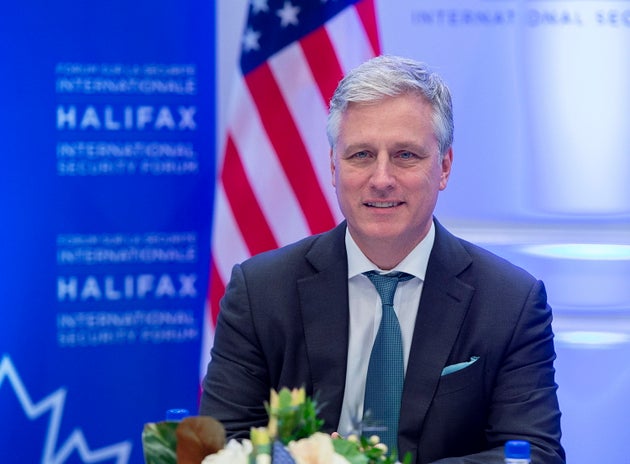 "So we do hope the Canadian side will provide a fair, just and non-discriminatory business environment for Chinese companies, including Huawei," he told reporters during a roundtable discussion in Ottawa.
For its part, Huawei has stressed it is not a state-controlled enterprise and that it would never spy on behalf of China or any other country.
Canadian Defence Minister Harjit Sajjan later issued a statement saying the security of Canadians remains Ottawa's No. 1 priority.
"We have been extremely mindful in protecting our current 4G technology and the decisions that we make regarding 5G will make sure that these systems are as strong as our current system, if not stronger," Sajjan said.
"We have the appropriate process and regulations in place to protect our infrastructure and Canadians. We are going to take our time so that we can appropriately examine all potential threats."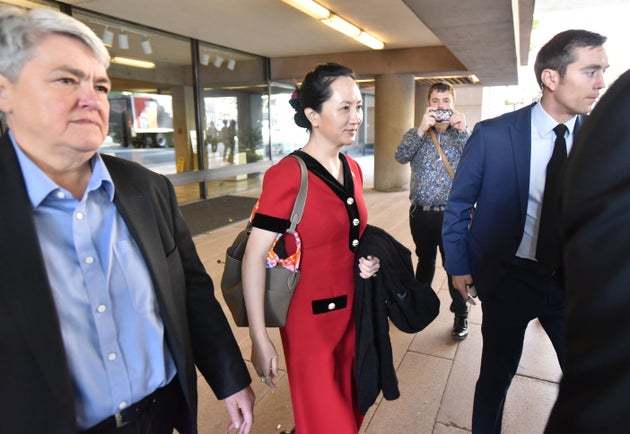 At the Halifax conference, which has attracted delegates from 70 democratic countries, O'Brien wasn't the only U.S. official taking aim at Huawei.
Earlier in the day, Republican Senator James Risch, chairman of the Senate committee on foreign relations, told reporters that Canada should think twice before getting involved with a company that he said is little more than an arm of the Chinese Communist party.
"When any information goes to Huawei, the Chinese Communist party will have access to that information," said Risch, who is from Idaho.
"Is it worth it, to save a bit of money by buying a cheaper system? My conclusion is a resounding no. I would hope that the Canadian government would reach the same conclusion."
U.S. Senator Angus King from Maine, who sits on the Senate intelligence committee, said if Canada allows Huawei to deploy its network, "it would make it very difficult to have full intelligence sharing … with a partner who has installed a direct line to Beijing."
I find it amazing that our allies and friends in other liberal democracies would allow Huawei in … I'm surprised that there's even a debate out there.Robert O'Brien, U.S. National Security advisor
Relations between Canada and China have been difficult since last December, when Canadian authorities took Huawei executive Meng Wenzhou into custody over American allegations the company violated sanctions on Iran.
Wenzhou's extradition case is before a Canadian court. She remains under house arrest in Vancouver. 
Soon after she was arrested, Beijing detained two Canadians, businessman Michael Spavor and former diplomat Michael Kovrig, on allegations of undermining China's national security.
The arrests are widely seen in Canada as retaliation for the detention of Meng.
O'Brien said the U.S. administration feels the same way.
He said Canada shouldn't consider approving a Huawei network until China releases Spavor and Kovrig.
"The way that they're treating the two Michaels is not right," O'Brien said. "It's a wrongful detention in order to gain leverage."
On Friday, Cong demanded Meng's release, and the ambassador said her arrest and pending extradition to the U.S. amount to arbitrary detention.
This report by the Canadian Press was first published Nov. 23, 2019
@repost Separation Before Divorce
Via Divorce Petition
source https://www.huffingtonpost.ca/entry/huawei-national-security-canada_ca_5dd9d56ce4b0913e6f6d90c5
November 24, 2019