CHICAGO — One day in May of 1970, an 11-year-old boy and his disabled sister were sitting on the curb outside a Chicago tavern, waiting for their mother to come out. When a priest with crinkly eyes and a ready smile happened by and offered the family a ride home, they could not have been happier.
The boy, Robert J. Goldberg, now 61, would pay dearly for the favour, enduring what he describes as years of psychological control and sexual abuse he suffered while working as a child valet for the late Rev. Donald J. McGuire. He remained in the Jesuit's thrall for nearly 40 years, even volunteering to testify on McGuire's behalf during criminal trials that ultimately resulted in a 25-year prison sentence for the priest.
But today, Goldberg says he has finally broken the hold McGuire once had on him. And he has begun to tell his story, in interviews with The Associated Press and in a lawsuit he filed Monday in California state court in San Francisco.
The lawsuit charges that McGuire, a globe-trotting Jesuit with ties to Saint Teresa of Calcutta, abused Goldberg "more than 1,000 times, in multiple states and countries," during sojourns to spiritual retreats throughout the United States and Europe.
On these trips, the lawsuit says, McGuire referred to Goldberg as his "protégé." All the while, the suit says, the boy carried his briefcase, ran errands and often endured daily abuse that included "sexual touching, oral copulation and anal penetration."
The lawsuit filed Monday doesn't currently name any defendants, but Goldberg's attorneys say the defendants will include the Jesuit religious order in the United States and the order's top leader in Rome, among others. They also say that Goldberg's abuse occurred at a time when powerful church officials — including Mother Teresa, who was elevated to sainthood by Pope Francis three years ago — knew that McGuire had been repeatedly accused of sexually abusing boys. Church officials went to great lengths to cover up his crimes, the suit alleges.
In the nearly two decades since the clergy abuse scandal erupted, thousands of survivors have stepped forward to tell their painful stories. Hundreds more revealed their abuse in lawsuits earlier this year, when the state of New York opened a one-year window that allows survivors to file child sex abuse lawsuits without regard to the statute of limitations. And hundreds more, including Goldberg, are expected to step forward as a similar window opens Jan. 1 in California.
But many victims still suffer in silence, often taking decades to step forward, if they ever do. Advocates say that Catholic priests, as representatives of God and respected members of their communities, are often able to exert control over the children they target, especially when they are helping the child or their families overcome poverty or other obstacles.
Terence McKiernan of BishopAccountability.org, which tracks the abuse crisis and maintains a data base of accused priests, said abusers in the Jesuit religious order are well-equipped to exercise psychological control over their victims because of the order's reputation as administrators of dozens of colleges and high schools in the United States alone.
"Everyone knows the Jesuits are smart and the Jesuits are sophisticated," he said. "And they often bring enormous sophistication to the abuse they perpetrate."
___
AGAINST ALL ODDS
Goldberg's journey from supporter to accuser took years to complete. The final stretch began last fall, on a cold October night in the suburbs of Chicago.
Tyrone Cefalu, another former assistant to McGuire, was watching TV at his home when he got an unexpected call from Goldberg and his sister. Cefalu and Goldberg had bonded over the years, discussing their time with McGuire and what they knew about the priest's dark side.
Goldberg, a scruffy former dog breeder, and his older sister Debbie, who has Down syndrome, had been living in southwest Virginia's coal country. But they had fled their home because Bobby feared a Virginia social service agency was trying to take Debbie away from him.
Now they were holed up at a nearby gas station, wondering if Cefalu could meet them and help them out. After some missed signals, Cefalu found the pair huddled under blankets in the back of a U-Haul cube truck, parked behind a church in Forest Park, Illinois — out of gas, out of money, and out of luck.
For Goldberg, it could have been the end of the road. Years of hard living had left him with a variety of ailments, including tumors in his throat and the loss of several teeth, which made it difficult for him to speak.
But that evening, against all odds, marked a new beginning. Goldberg and his sister followed Cefalu home, and Cefalu and his wife made beds for them in their living room. Over the next several weeks, the two one-time McGuire supporters explored their shared history, recalling McGuire as a messianic retreat leader able to instil loyalty in his victims and their families, many of them wealthy, devout Catholics.
"He was very controlling. I had no say whatsoever," Goldberg told the AP, recalling the years he spent working and living with McGuire. "Whatever he told my mother he wanted me to do, I had to do it."
The key to Goldberg's slow transformation was Cefalu, who was once so devoted to McGuire that he spent six years working full time on the celebrated priest's defence, through two criminal trials and various appeals. His labours included scanning documents for McGuire's attorneys, drumming up witnesses, and investigating McGuire's accusers.
"McGuire asked me to find the dirt on those guys, and I found the dirt," he told the AP.
Like Goldberg, Cefalu met McGuire when he was a boy, but his circumstances were different. Goldberg was being raised by a single, Catholic mother of limited means — his Jewish father had recently died. Cefalu, by contrast, was part of a middle-class family and was headed for Loyola Academy, a prestigious Jesuit prep school where McGuire had been a teacher.
McGuire was a family friend who frequently appeared at the family home for dinner, Cefalu said. His family attended weekly Mass to hear McGuire sermonize and took part in his spiritual retreats, events where McGuire began to acquire a cult-like following.
"When he said Mass he would give a sermon that would go on for 45 minutes and everybody loved it," Cefalu recalled. "He'd been all over the world and could tell stories. He could sing. The guy was mesmerizing."
McGuire also won supporters by doing favours. "He'd tutor poor kids and help them get into good schools and graduate from good schools," Cefalu said. "If your family had problems, he would be there for you, and almost every family had some kind of serious problem that he could deal with."
During those years, Cefalu recalled, he began helping at his father's print shop, which produced McGuire's personal Christmas cards, a measure of his growing reach. "We started out printing 200 cards and that went up to 5,000," Cefalu said. "The guy had a following."
___
ROVING MINISTRY
After Goldberg and his family met McGuire that fateful day in 1970, the priest quickly ingratiated himself with Goldberg's mother, persuading her that Goldberg would be better off living under his supervision, according to the lawsuit.
During this time, Goldberg would spend evenings at McGuire's living quarters and sometimes would return to his family's home with McGuire, who would sleep with him in his bed. Meanwhile, Goldberg's mother came to rely on the funds that McGuire paid Goldberg for working as his assistant, $300 to $500 a week.
If Goldberg rebelled, by running off with his friends or refusing to have sex, McGuire punished him by locking him in a room for hours, Goldberg said.
McGuire also used sex as a punishment, he added. He said that once, when he got into an accident with McGuire's car, the priest ordered him to make amends by performing a menu of sexual favours.
Goldberg and his family followed along in 1976 when McGuire moved to San Francisco to assume a teaching assignment at the University of San Francisco, a Jesuit school, and promote a roving ministry in which he presided over religious retreats for wealthy Catholics, collecting large donations along the way.
It was during this time that McGuire developed ties with Mother Teresa, becoming her spiritual adviser while vetting nuns seeking to join the religious order she founded, the Missionaries of Charity.
In 1981, following new accusations of inappropriate relationships with boys — part of a series of accusations that had begun in the early 1960s — McGuire lost his teaching assignment and returned to Chicago. Once again, Goldberg and his family followed him, and Goldberg continued to give in to McGuire's sexual demands.
In 1990, Goldberg's family moved to Virginia. Even after the move, Goldberg said, he continued to rely on McGuire for financial support, especially during a three-year prison term for a drug conviction.
"There's a lot of things I remember, and a lot of things I try not to remember," he said.
___
A PREDATORY HISTORY
Shortly after McGuire was ordained, in 1961, the Chicago Province of Jesuits (now part of the Midwest Jesuits) began hearing from church officials concerned about the young priest's relationships with boys. The complaints would keep coming for the next half century, continuing even after McGuire was defrocked and sentenced to prison.
They started when McGuire was living in Europe, in the early '60s, when church officials in Germany and Austria sent alarming reports of McGuire's activities. One official in Austria wrote that McGuire had "much relations with young boys, particularly some boys who work in our kitchen and who used to go to his room."
As a result, the Jesuits recalled McGuire from Europe but assigned him to a teaching position at Loyola Academy, where he molested students who would later file lawsuits and receive significant monetary settlements.
Each time the Jesuits received complaints that McGuire was sexually abusing boys, they would move him to another post, where he would continue his predatory behaviour. Even after a psychiatric evaluation showed McGuire was sexually attracted to underage boys, the Jesuits continued to insist he was a priest in good standing, in part due to the urging of Mother Teresa.
In a letter dated Feb. 2, 1994, after McGuire had been released from a residential treatment centre, the future saint wrote to the leader of the Chicago Jesuits, saying she had received a letter from McGuire and believed that the accusations lodged against him were untrue. "I have confidence and trust in Fr. McGuire and wish to see his vital ministry resume as soon as possible," she wrote.
Mother Teresa got her wish, and McGuire continued his world-wide ministry, "openly travelling with young boys as his companions," according to Goldberg's lawsuit.
In 2002, after yet another complaint, the Jesuits restricted McGuire's ministry to the Chicago Archdiocese. In 2003, the first of several lawsuits against McGuire and his Jesuit superiors were filed.
Months later, a Wisconsin district attorney began investigating allegations that McGuire had abused two Loyola students during a trip in the late 1960s to the Lake Geneva resort area. The investigation led to a trial where nuns from Mother Teresa's religious order, wearing their distinctive white and blue habits, packed the courtroom. They wore buttons that said: "I support Fr. McGuire."
Despite that outpouring, McGuire was convicted. And while he was free on appeal he was charged by federal authorities with molesting another boy on trips to Austria and Switzerland. Once again, McGuire was convicted while protesting his innocence, leading to his 25-year prison term.
Officials in the Jesuits' Midwest Province could not be reached for comment Monday.
In 2012, the Chicago Jesuit official who received Mother Teresa's letter, the Rev. Bradley M. Schaeffer, issued a statement apologizing for failing to rein McGuire in. "I deeply regret that my actions were not enough to prevent him from engaging in these horrific crimes,'' he said.
Last year, when the Midwest Jesuits released a list naming 65 accused Jesuits, including McGuire, Provincial Brian G. Paulson issued a similar apology. "We are painfully aware that in earlier decades, some Midwest Jesuits were not removed from ministry quickly enough," he said. "We are deeply sorrowful."
___
TOO MUCH TO BEAR
It was only after McGuire began serving his 25-year federal prison sentence, in 2009, that Cefalu began to doubt his innocence. The turning point, he said, came when he was sorting McGuire's belongings and discovered a colour slide that captured him as a naked 13-year-old, changing into his underwear during a trip to Canada with McGuire and another young teen.
"That really pissed me off," he said.
When he confronted McGuire during a visit to the federal prison in Texas where he was serving his sentence and McGuire denied taking the photo, Cefalu said, he knew the priest was lying. Back home in suburban Chicago, as he pored over more than 40 boxes of McGuire's records, his skepticism only grew.
Reading the documents was unsettling, Cefalu said, because he'd been one of McGuire's chief supporters, to the point where McGuire had appointed him to be his legal representative while in prison. In addition, Cefalu had known several of McGuire's victims while attending Loyola Academy, the Catholic prep school, during the late 1960s and early '70s.
The experience made Cefalu rethink the "horse bites" McGuire would sometimes give him, pinching him hard on his upper thigh and then placing his hand over his groin, exclaiming, "Gotcha!" Cefalu provided details of his alleged abuse by McGuire and another Jesuit in a lawsuit he filed five years ago, without the help of an attorney, in Cook County Circuit Court.
After reading the records McGuire had entrusted to him, Cefalu began reaching out to McGuire's other victims, hoping they might answer his many questions. And as McGuire's victims began filing lawsuits, they reached out to him.
Goldberg also knew McGuire's victims, not as an alumnus of Loyola Academy, but through the years he'd spent working as McGuire's assistant.
After the former priest was sent to prison, Cefalu and Goldberg occasionally talked on the phone and began to reassess their histories with the charismatic priest they had known. Their conversations continued after McGuire died behind bars in 2017, at age 86.
But it wasn't until Goldberg's desperate call to Cefalu in October 2018 that Goldberg's decision to go public with his allegations against McGuire and the church began to take shape.
___
MAKING PEACE
After Cefalu found Goldberg and his sister huddled in the back of their U-Haul in late 2018, Goldberg began revealing more details of his abuse to Cefalu. Cefalu came to believe that Goldberg had been abused over a longer period than any of McGuire's other victims.
Yet when Goldberg said he was ready to file a lawsuit, Cefalu hesitated.
Since discovering the nude photograph of himself in McGuire's files, he has nursed a growing antipathy for the Jesuits and the role they played covering up McGuire's crimes.
But his disdain for lawyers is nearly as great. "I have found that the lawyers, the psychiatrists, the therapists, have turned this whole thing into an industry," he said. "They're not interested in healing the people."
On the other hand, Cefalu understood that, without legal and financial help, Goldberg and his sister would likely remain homeless.
So, he grudgingly introduced them to a trio of lawyers with experience representing McGuire's victims: Chicago attorneys Marc Pearlman and Melissa Anderson, and Jeff Anderson, the Minnesota attorney who has represented clergy abuse survivors since the 1980s.
"They have a success rate, and Bobby needed a success," Cefalu said.
Today, the Goldbergs and their bullmastiff, Boss, remain inseparable, living in a modest duplex outside Chicago with help from a nearby nondenominational church and a generous individual who befriended Debbie while she was hospitalized for a staph infection.
During hours of interviews conducted with the AP over two days, Goldberg said his feelings about McGuire began to change after hearing victims testify at McGuire's criminal trial in Chicago, where he was scheduled to testify on the priest's behalf but never was called to the witness stand. In his head, he recalls, he imagined saying to McGuire: "I'll pray for you. You have no remorse for what you did to me or the others."
Goldberg was often tearful as he told his story, while his older sister looked on. He said he felt a sense of relief and connection with other people while unburdening himself, and that he has started to make peace with his memories of the priest who, he says, dominated his life and his family for so long.
"I have to forgive him, so I can get into heaven," he said.
Michael Rezendes, The Associated Press
@repost Custody Mediation
Via Lawyers That Handle Child Support Cases
source https://toronto.citynews.ca/2019/12/31/lawsuit-famed-jesuit-abused-boy-1000-times-around-world/
December 31, 2019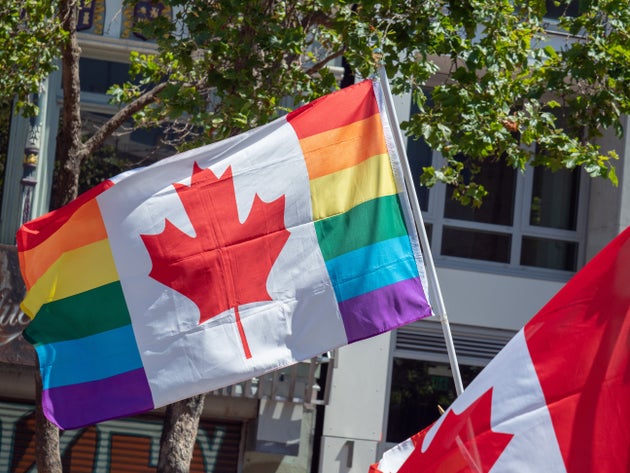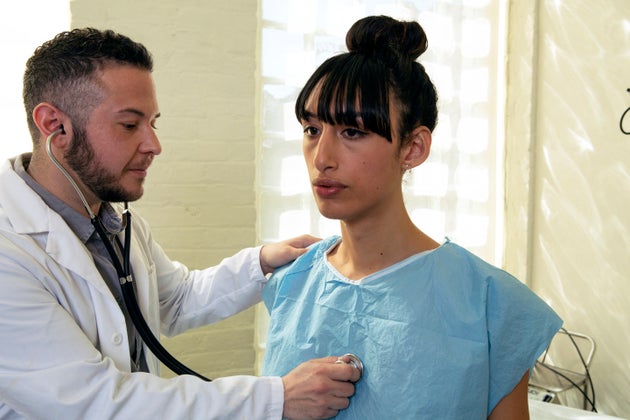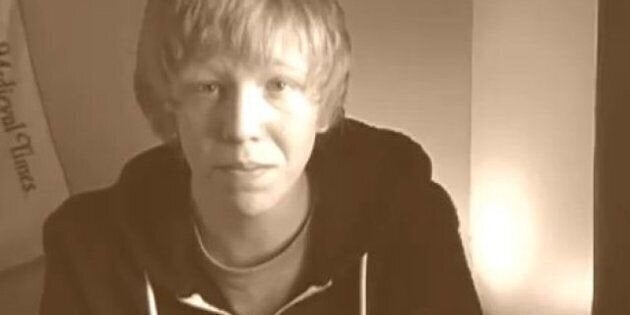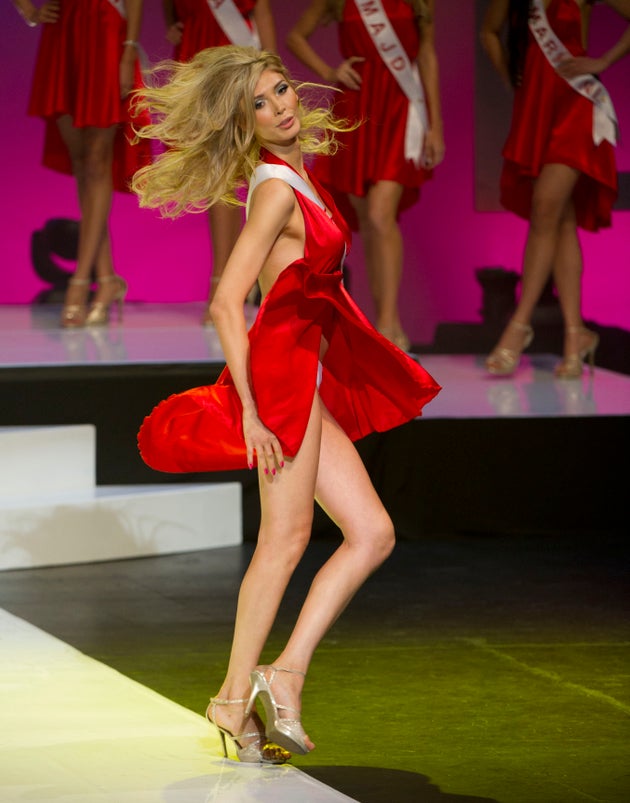 2012: Miss Congeniality wins hearts 
Vancouver model Jenna Talackova made history as Miss Universe Canada's first trans contestant. Talackova was at first disqualified for being trans, but successfully lobbied to return to the event. She made it to the top 12 and was crowned Miss Congeniality by her fellow contestants. 
Other 2012 moments: 
Nova Scotia

and

Ontario

became the first two provinces to explicitly add gender identity and expression as protected grounds in their human rights acts.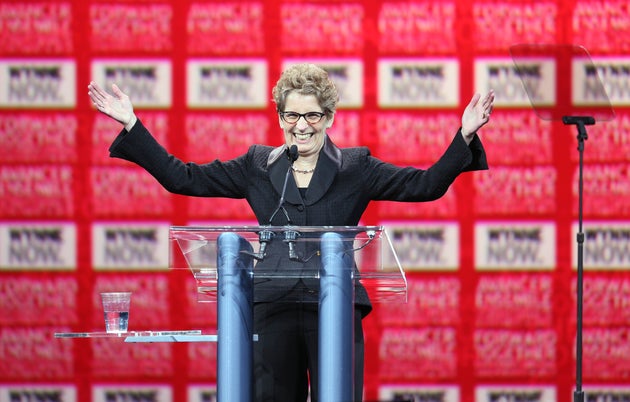 2013: Kathleen Wynne makes history
Kathleen Wynne's Ontario Liberals won the  2013 election, making her Canada's first openly gay premier. At times unpopular, the political leader was still seen as an LGBTQ+ role model.
Other 2013 moments: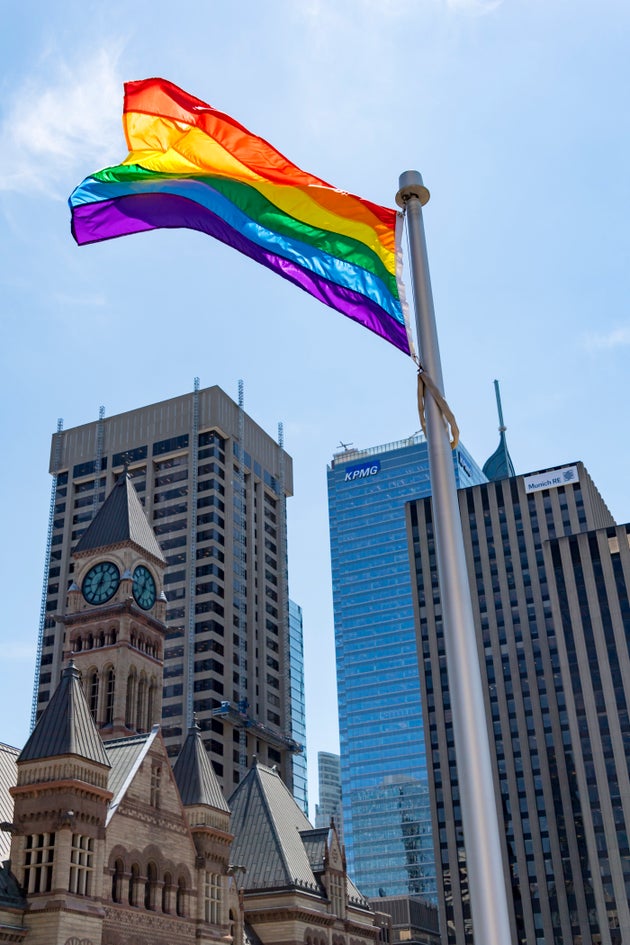 2014: Canada stands with LGBTQ+ athletes 
In protest of Russia's anti-gay laws, several Canadian city halls raised rainbow flags during the 2014 Soichi Olympics. Former mayor Rob Ford campaigned to remove Toronto's flag, but eventually gave up. 
Other 2014 moments: 
Toronto hosts Canada's first

World Pride

. 

Canadian actor Ellen Page

comes out as gay

in a speech at a Human Rights Campaign conference.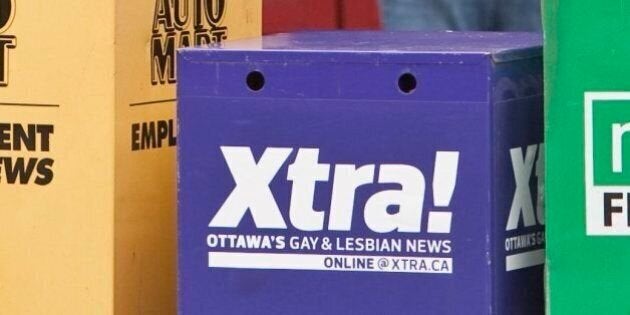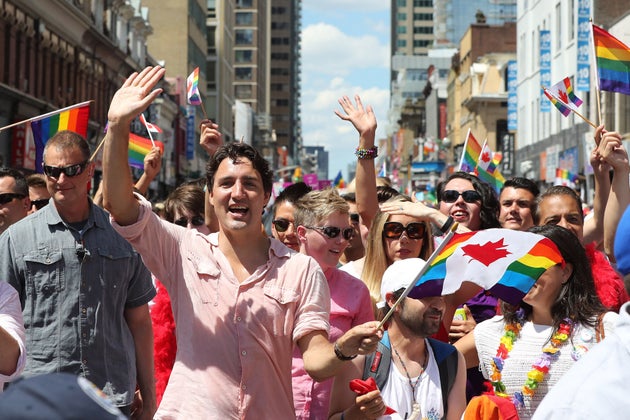 2016: Prime minister marches
Justin Trudeau became Canada's first sitting prime minister to march in a Pride parade, appearing in the Toronto procession.
 Watch: Trudeau Joins Canada's Largest Pride Parade in Toronto. Story continues below.
At the same parade, Black Lives Matter Toronto brought the procession to a standstill, as they staged a sit-in criticizing Pride Toronto as failing marginalized communities. 
Other 2016 moments: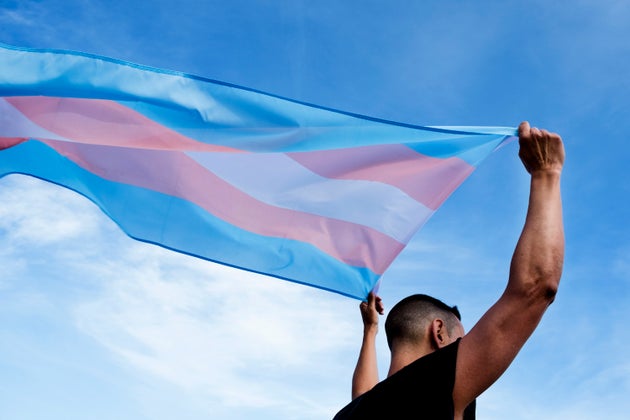 2017: Canada enshrines trans rights
Transgender rights were finally recognized with the passing of Bill C16, also known as the gender identity rights bill, which amended the Canadian Human Rights Act and the Criminal Code to protect "gender identity" and "gender expression." By law, trans Canadians now cannot be discriminated against because of who they are or what they look like. 
Watch: MP's Passionate Speech In Support Of Trans Rights Bill. Story continues below.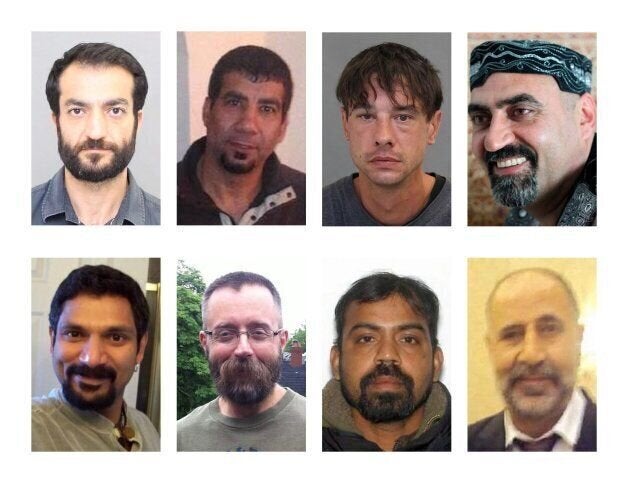 2018: Toronto serial killer Bruce McArthur arrested  
After years of speculation over vanished men from Toronto's gay village, police arrested Toronto landscaper Bruce McArthur.  who was eventually charged with first-degree murder. For killing his eight known victims — Selim Esen, Andrew Kinsman, Majeed Kayhan, Dean Lisowick, Kirushna Kumar Kanagaratnam, Abdulbasir Faizi, Skandaraj Navaratnam, and Soroush Mahmudi — McArthur received concurrent life sentences with no chance of parole for 25 years. The earliest he can apply for parole is when he is 91 years old. 
Watch: What We Know About Serial Killer Bruce McArthur. Story continues below.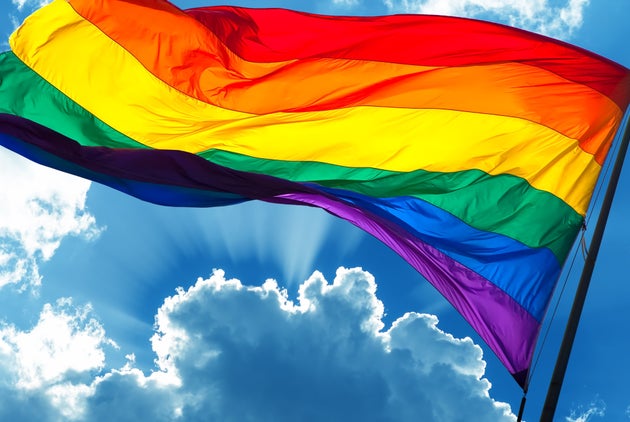 @repost Qualify for Alimony
source https://www.huffingtonpost.ca/entry/lgbt-canadian-decade-moments_ca_5e0a593be4b0b2520d19ba64
December 31, 2019
OTTAWA — Former Conservative leadership candidate Erin O'Toole held a five-hour meeting in the Toronto area Monday to suss out a plan to make another bid for the party's top job.
About 20 people from across the country gathered to present O'Toole with a plan to win the upcoming contest, The Canadian Press has learned.
O'Toole placed third in the 2017 leadership race that ended with Andrew Scheer beating Maxime Bernier by a hair.
But Scheer announced earlier this month he's resigning, a move that came after weeks of intense criticism of how he handled the October election.
Fred DeLorey, a veteran conservative organizer, said an accomplished group is ready to help O'Toole lead the party to victory in the next one.
"These are people who understand that we need Erin to keep our conservative coalition united and know he can win a leadership and ultimately defeat Justin Trudeau in a general election," DeLorey said.
DeLorey ran O'Toole's 2017 campaign, and has helped run several others, including get-out-the-vote efforts for Ontario Premier Doug Ford.
O'Toole's ability to communicate in French and the fact he has "real life" experience were key themes in the meeting, one source in the room said.
O'Toole served in the Royal Canadian Air Force, and went on to become a corporate lawyer. He entered politics in a 2012 by-election for the seat in the Toronto-area riding of Durham.
WATCH: Case of Canadians held in China raised in Parliament on eve of anniversary. Story continues below. 
He went on to serve in cabinet in the last Conservative government.
O'Toole effectively handed Scheer his win in the 2017 race. Bernier had been in the lead until O'Toole's name dropped off the ballot after the 11th round of voting. More of O'Toole's supporters had selected Scheer as their next choice, so he won the race by less than a percentage point.
While a preferential ballot will again be used for the upcoming leadership vote, several other key elements have yet to be determined, including when it will be held. 
A committee charged with figuring out the logistics around the race was only put together late last week. The leadership election organizing committee, as it is known, is being run by Lisa Raitt, another former leadership candidate and Conservative MP, and Dan Nowlan, who ran the 2017 contest.
We need Erin to keep our conservative coalition united and know he can win a leadership and ultimately defeat Justin Trudeau in a general election.Conservative organizer Fred DeLorey
Among the issues they're wrestling with are the requirements to enter the contest. In 2017, candidate had to pay $100,000 and get signatures from 300 party members from at least 30 electoral districts in at least seven different provinces and territories.
Thirteen people met those requirements and debate is ongoing about whether setting the bar — financial or otherwise — higher would make for a smaller field, something many party members are hoping to see.
The timing of the race is also up in the air. A Conservative party policy convention scheduled for April has been pushed back to November. Some party members want the leadership vote held before, while others want a longer contest to allow for better debate.
Several potential candidates have been actively testing the waters for a leadership bid since Scheer stepped down.
Three of them — current MPs Pierre Poilievre and Gerard Deltell, and former cabinet minister Peter MacKay — all made an appearance at a high-profile Conservative Christmas party in Boucherville, Que., two weeks ago, shaking hands and posing for photos with party members.
Former Quebec premier Jean Charest is also considering a run, as is former interim party leader Rona Ambrose.
Meanwhile, Bryan Brulotte has stepped back from his job as CEO of the employment firm MaxSys to explore a bid. He has historic connections to the party, having worked for the Progressive Conservatives in the short-lived government of Kim Campbell.
Another potential candidate is Aron Seal, who is fashioning a campaign under the banner of being a "millennial conservative." He worked as director of policy for former finance minister Jim Flaherty.
This report by The Canadian Press was first published Dec. 30, 2019.
@repost Family Law Lawyers
source https://www.huffingtonpost.ca/entry/erin-otoole-conservative-leadership-bid_ca_5e0a7e2ae4b0b2520d1a168a
December 31, 2019
VANCOUVER — The British Columbia government and a former social worker in Kelowna, B.C., are facing a new civil lawsuit by a former child in care who accuses the social worker of stealing her money to pay off his mortgage and other personal expenses.
The allegation is just one of a string of accusations in the legal action by the one-time foster child, who details a series of failures by the authorities charged with her care, forcing her into homelessness and exposing her to sexual exploitation.
The woman, who is now 19 and living in Vancouver, cannot be named as a former child in care.
Documents filed with the B.C. Supreme Court on Dec. 20 allege she was apprehended from her mother at age three, placed in a series of unsafe and abusive homes and then had her own two children apprehended.
The statement of claim says the failure of the social worker, Robert Riley Saunders, and other provincial officials to respond to the risks and harms she faced in a timely way was "reprehensible and outrageous."
None of the allegations have been proven in court.
Saunders could not be reached for comment and the Ministry declined to comment as the matter is before the court.
However, the Ministry pointed to a statement it issued in December 2018 in response to a separate court action filed on behalf of a different, unnamed, plaintiff that accused Saunders of siphoning off thousands of dollars in financial benefits from children in care.
In that statement, the Ministry admitted "vicarious liability" and said it had offered services and supports, including counselling, to Saunders' clients. 
The 2018 statement says there are a number of separate but related court actions underway. 
The young woman's lawsuit filed this month also alleges she is one among many victims.
"Saunders engaged in the same or similar unlawful and inexcusable activities in respect to dozens of other children in his care, most of whom were Indigenous," the lawsuit says.
The allegations against the government contained in the notice of civil claim, include that the girl was placed with a family for five months, whom she alleges used violence and excessive force against her and exposed her to alcohol and to another child who was known by the family and by Ministry staff to have a pattern of sexually inappropriate behaviour.
Although provincial authorities discovered the girl was being abused in August 2003, they failed to transfer her out of the foster family's custody until December of that year, "thereby prolonging and exacerbating the abuse," the lawsuit alleges.
The documents say she was then placed in custody with her biological father for 12 years, even though he had a criminal history of domestic violence, and he also violently abused her.
The province failed to assess his fitness as a parent, including a criminal record check, the lawsuit alleges.
"The abuse was actually known or ought to have been known" to the province by January 2013, but she wasn't removed until two years later, and was not assigned a foster home, so she became homeless, the legal action says.
When she was placed with new foster parents who had "severe and chronic substance use disorders," she reported them and asked for help leaving the home, but the Ministry failed to act, the lawsuit says.
She ran away and when she asked for funds for food and shelter, and an independent living arrangement, the social workers assigned to her "accused her of being greedy, self-serving and manipulative," the suit says.
After giving birth to her first child of two, the baby boy was apprehended and placed with the same foster family she had fled, she alleges.
When Saunders was assigned as her social worker in 2016, he verbally abused her and told her she was not his problem and there was nothing he could or should do for her, the statement of claim says.
He opened a joint bank account on the pretext that he would use it to provide her funds, the document say. Instead, the documents allege, he deposited cheques in her name intended to provide her with food, clothing and shelter, then transferred the funds to his own account to pay for trips, vehicles and his own mortgage.
This report by The Canadian Press was first published Dec. 30, 2019.
Amy Smart, The Canadian Press
@repost Family Law Divorce
source https://toronto.citynews.ca/2019/12/30/former-child-in-care-sues-ministry-social-worker-for-reprehensible-treatment/
December 31, 2019
Close to 30 more units at a North York highrise devastated by a deadly fire in November have been cleared for re-occupancy today amid concerns about whether all health and safety issues are being properly addressed.
Last week, 45 units at 235 Gosford Boulevard were deemed to be habitable and on Monday, tenants of another 28 units were also permitted to return to their homes.
The decision to allow tenants back in came after the landlord, Ronkay Management, hired an independent contractor to conduct air quality testing and Toronto Building deemed the complex to be structurally sound.
But Caryma Sa'd, a lawyer representing a group of tenants in the building, said some do not feel enough has been done to protect residents from exposure to carcinogens or other contaminants that remain in the building following the Nov. 15 fire, which left one person dead.
"The primary concern right now is that no testing has been done on the surface of any contents to see if there is soot," Sa'd said Monday.
"This is not how people want to return home, as desperate as everyone is, as anxious as everyone is to go back to normal life. That can't happen when there is a big question looming. The health implications of soot are not to be underestimated."
She added that tenants would like access to the air quality report.
"Up to code doesn't encompass safety from all of the angles that one would think are important after an incident like the fire," she said.
"It goes really to air quality and testing for soot and the isolated air samples that have been taken. We want to know more about that process. It is important for everyone to understand that this isn't a two-party arrangement between the city and the landlord, residents should also be involved and participating at this stage of the process."
Speaking to CP24 on Monday, Jeffrey Villacorta said his fifth-floor unit was cleared for re-occupancy on Friday but he and his wife decided not to return home.
He said they plan to continue to pay for a hotel with their own money to avoid putting their three children in a potentially dangerous environment.
"We don't want to go back because I don't feel comfortable bringing my kids in the unit with that kind of situation," he said.
"It is too dusty in the hallways. The carpet is not even done yet."
He added that building management didn't allow his family time to get into the unit to clean before the landlord stopped paying for the hotel.
In a statement, Ronkay Management said people are responsible for cleaning their own contents and added that those who moved back in without cleaning first did so "at their personal request/choice."
"We went above and beyond requirements to have air quality testing done on the building – including areas that were not directly impacted by the fire. Our independent contractor, T. Smith Engineering, has reported that no air quality concerns were found," the landlord's statement read.
"There is no soot, smoke or water damage in any of the apartments that are released for occupancy."
In an open letter released over the weekend, Sa'd said there is still "the odour and residue of smoke" on some floors in addition to soot marks which "appear to have been painted over."
She noted that it is not clear if ducts have been cleaned to make sure that soot from other units doesn't migrate.
She added that Ronkay Management should pay for temporary accommodations "in excess of what rent would normally cost." 
@repost Getting a Divorce
Via Separation Property Settlement
source https://toronto.ctvnews.ca/more-units-cleared-for-re-occupancy-at-north-york-highrise-devastated-by-deadly-fire-1.4747613
December 30, 2019