KARACHI, Pakistan — A prominent Pakistani novelist and New York Times columnist said on Tuesday that security agents raided the offices of his publisher and confiscated all the copies of his book about the country's former military dictator Ziaul Haq.
The raid took place on Monday in Karachi, the largest city and key port in Pakistan, according to the novelist, Mohammad Hanif.
Hanif, whose acclaimed "A Case of Exploding Mangoes" is a parody about the former dictator, killed in a plane crash in 1988, blamed the Pakistani spy agency, the Inter-Services Intelligence or ISI, for the raid.
However, an official at the agency described Hanif's claim as a "cheap attempt to gain popularity by hurling false accusations on a national institution." The official spoke on condition of anonymity under ISI regulations.
The agents who arrived at the publisher's offices identified themselves as being from the ISI, said the author, an air force pilot turned journalist. His Karachi publisher had released the Urdu translation of the novel last October.
"They asked about my book and took all copies of it," he said, adding that he was consulting his lawyer about filing a complaint with the police.
Hanif rose to fame when the novel was first published in 2008 in English, two decades after Haq who was killed when his plane went down in eastern Punjab province. Authorities never released the results of their investigation or say what had caused the crash, which also killed U.S. Ambassador Arnold Raphel and then-ISI chief Gen. Akhtar Abdur Rahman.
Hanif also alleged the raid came after members of his family sent a note to his publisher complaining that the novel tarnished the image of Haq, who seized power in a coup in 1977. It was unclear his relatives would complain about his work so many years later but Hanif speculated they were unconcerned when it was only available in English but became worried once it was translated, presumably because many more Pakistanis would read it in Urdu.
The book cites a rumour that a bomb had been planted inside a crate of mangoes that were gifted to Haq and that was also aboard the plane.
Pakistan has witnessed an intensified crackdown on human rights defenders, activists, journalists and members of civil society over the past years. Journalists, who have taken on military dictators and been beaten and jailed in the pursuit of a free press, say they now face a form of censorship that is more subtle but no less chilling, spearheaded by the security services and the ISI, to quash critical coverage.
___
Associated Press writer Munir Ahmed in Islamabad contributed to this report.
Adil Jawad, The Associated Press
@repost Marriage Lawyer near Me
source https://toronto.citynews.ca/2020/01/07/pakistani-writer-says-his-novel-on-ex-dictator-confiscated/
January 7, 2020
CORUNNA, Mich. — Michigan State Police on Monday revealed details in the slaying of a man whose mutilated body was found last year in the home of his suspected killer.
The naked body of Kevin Bacon of Swartz Creek on Dec. 28 was found hanging from the ceiling in the Bennington Township home of Mark Latunski, according to 66th District Court records. The records show Latunski admitted to stabbing Bacon, 25, in the back, slitting his throat and eating parts of his victim.
Michigan State Police received a call for assistance from Clayton Township Police Department to conduct a welfare check at the home, according to the court documents. Latunski allowed officers to enter and search his home. During the search, officers questioned Latunski, who admitted to killing Bacon, hanging him by the ankles, removing his testicles and later eating them, court documents said.
Latunski, 50, was arraigned Dec. 30 on one count of open murder and one count of disinterment and mutilation of a dead body.
Bacon's roommate, Michelle Myers, told police the victim met Latunski on Dec. 24 after connecting with him on a dating app. His family reported him missing the next day.
"It's gut-wrenching to hear the details and we're beside ourselves," the victim's father, Karl Bacon, said Monday. "I'm going to remember him how everyone else remembers him, that he's a good person who was passionate and cares for people."
Divorce, custody and criminal records from the 66th District and 35th District Circuit courts show a history of complaints about the mental health of Latunski. He was known to stop taking the medication prescribed to treat his mental health illnesses.
Latunski was appointed a public defender. A probable cause hearing is set for Latunski on Wednesday, with another hearing set for Jan. 14.
The Associated Press
@repost Divorce for Men
source https://toronto.citynews.ca/2020/01/06/michigan-police-release-grisly-details-in-mutilation-death/
January 7, 2020
RALEIGH, N.C. — Thousands of formerly confidential documents and emails that influenced the outcome of a partisan gerrymandering lawsuit have been made public. A judge has yet to decide whether others should stay confidential.
The documents and emails belonging to the late Thomas Hofeller were placed on a website over the weekend by his daughter, Stephanie Hofeller. Hofeller said she first discovered them while visiting her parents' home in Raleigh shortly after her father's death in August 2018.
Stephanie Hofeller was estranged both personally and politically from her father at the time of his death and was critical of his work. Last year, she contacted lawyers for the non-profit organization Common Cause North Carolina to tell them about the documents.
The group, along with state Democrats, subpoenaed the files for use in a lawsuit that accused Republican lawmakers of illegal racial and partisan gerrymandering in the redrawing of state legislative districts.
A very small number of the documents were used by the lawyers; a state court put the rest under a confidentiality order. A Wake County judge ruled in November that more than 100,000 of the documents were no longer subject to the order because they were Thomas Hofeller's individual work.
Attorneys, including one representing Hofeller's business partner, are still fighting over which of the remainin g files should stay secret. But Stephanie Hofeller, who was not subject to the order because she isn't a party in the lawsuit, signalled weeks ago that she would be making many of the documents she obtained public.
"They belong to everybody, as they are evidence that concern The People, their right to franchise and their access to shared resources," she wrote in a statement on the website.
Thomas Hofeller had a nearly 50-year career in redistricting and had worked extensively over the past decade on North Carolina maps that helped pad and retain Republican majorities in the General Assembly. Court rulings last year struck down dozens of North Carolina General Assembly districts.
The documents Stephanie Hofeller retrieved from external hard drives contain redistricting work her father did in several other states and also revealed his role in the Trump administration's efforts to include a citizenship question on 2020 census forms. Courts struck down including the question on the census.
The files released on the website include statistics, tables, maps and other paperwork related to redistricting in North Carolina and other states including Arizona, Missouri, New York, Texas and Virginia.
They also show extensive data collected on behalf of Republican lawyers defending a 2013 state law that narrowed voting access with provisions such as requiring a photo ID.
Asked whether the documents that appear on the website are the same as those held by Common Cause, a spokeswoman for the organization declined to comment Monday. A lawyer for Stephanie Hofeller, Tom Sparks, said he was confident that the files she uploaded are authentic.
State judges already have cited Hofeller's previously released files as evidence that 2017 legislative districts pushed by North Carolina Republicans were designed to maximize GOP advantage by "drawing Democratic voters into districts where their votes would be diluted, and in many cases where their votes would not matter."
In a 2019 deposition before the partisan gerrymandering trial, Stephanie Hofeller said she was looking for family photos at her parents' house when she happened upon her father's work and told Common Cause about it.
The uploaded documents contain photos, but also personal files and other sensitive material, including those related to Stephanie Hofeller. North Carolina GOP legislators had wanted a court to order the subpoenaed files destroyed, saying they were improperly obtained.
Hofeller wrote in her online statement that she decided to offer it all in part to prove its authenticity: "So, when it comes to myself, I have the right to sacrifice a certain amount of my own privacy."
Gary D. Robertson, The Associated Press
@repost Child Support Chart
source https://toronto.citynews.ca/2020/01/06/daughter-of-late-redistricting-guru-reveals-more-of-his-work/
January 7, 2020
WASHINGTON — North American residents of Iranian descent and their advocates were sounding the racial-profiling alarm Monday after scores of them were subjected to intensive questioning and long delays while trying to cross the Canada-U.S. border over the weekend.
Len Saunders, an immigration lawyer whose practice in Blaine, Wash., specializes in cross-border issues, said several of his clients — some living in Canada, all of Persian descent — were made to wait for upwards of five hours and answer unusually intrusive questions Saturday before being allowed into the U.S.
They include an Iranian-born naturalized U.S. citizen and a Canadian resident who holds a green card in order to work south of the border, Saunders said in an interview.
″'The room was full of Persians — people like me,'" Saunders quoted one of his clients as telling him. "I said, 'What do you mean, people like me?' She goes, 'Iranians. We're all talking and we're all being asked the same questions.'"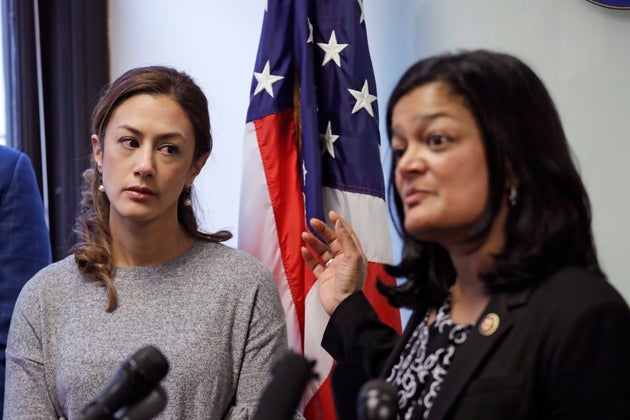 At one point, she asked to be allowed to leave and return to Canada, where she had been visiting family members in Vancouver. She was told she was not allowed to leave the building, he said.
"She goes to me, 'I'm an American. What was the point of me naturalizing and becoming an American? Do I have no rights here?'"
Posts on social media reported delays that lasted as long as eight to 10 hours. 
Rep. Pramila Jayapal, a Democrat who represents a district in Washington state, said she believes the delays were fallout from last week's seismic U.S. airstrike in Baghdad, which killed Maj.-Gen. Qassem Soleimani, a senior Iranian military leader whose death triggered vows of retaliation, an outpouring of Middle East fury and renewed fears of deadly conflict involving U.S. troops.
Jayapal hosted a news conference in Seattle with Negah Hekmati, a Seattle-area interior designer and mother of two, who was held up at the border for five hours on Saturday on her way home from a family holiday in Canada.
Hekmati, 38, a regular visitor to Canada who usually cruises past the border kiosk with the help of her Nexus card, described spending five hours at the Peace Arch crossing, her children fearing all the while that they might be taken to jail.  
"My daughter was saying, 'Please don't speak Farsi. If you don't speak Farsi maybe they won't take you,'" Hekmati said. She said she decided to speak out for the sake of her kids, who she fears could face backlash at school if the U.S. goes to war with Iran.
"For me as an immigrant, I'm used to it, unfortunately, but for my kids it shouldn't be OK and I'm afraid that's the slippery slope," she said. "My kids should be proud of their ancestors, their heritage."
My daughter was saying, 'Please don't speak Farsi. If you don't speak Farsi maybe they won't take you.'
Hekmati, who has Iranian, Canadian and U.S. citizenship, lived in Canada for eight years before moving to the United States in order to enjoy what she thought would be even more freedoms in the American "melting pot." She said she was asked to share her Facebook and email login details and pressed about uncles and cousins living in the U.S.
U.S. Customs and Border Protection officials at the Peace Arch attributed the long delays to staff shortages, Hekmati said — a claim she dismissed because employees did not appear to be overly busy. And she praised the patience and tolerance of others who were made to wait, noting that there was little complaining or outcry.
"This is not what it means to be a U.S. citizen," Jayapal said. "You have to make it clear from the beginning that this is unacceptable. We have to stand up and say what we stand for as a country."
WATCH: A brief history of U.S.-Iran relations. Story continues below. 
Customs and Border Protection has denied detaining or refusing entry to any Iranian-Americans at the border as a result of their country of origin. It does, however, acknowledge operating under an "enhanced posture" as a result of the current threat environment.  
Saunders, who visited the facility on Saturday afternoon and saw between 75 and 100 people waiting to be processed, said he doesn't believe anyone was denied entry to the U.S. But Customs and Border Protection may be splitting hairs when it comes to what constitutes being detained, he suggested.
"I don't think anyone was denied entry. But that there was not people being detained — when you're held for eight to 10 hours and you're told as an American citizen that you can't leave the building — that's detained, in my mind."
Bruce Heyman, a former U.S. ambassador to Canada, said in an interview Monday that U.S. border personnel operate under broad guidelines and have a lot of latitude when it comes to deciding who is allowed into the country.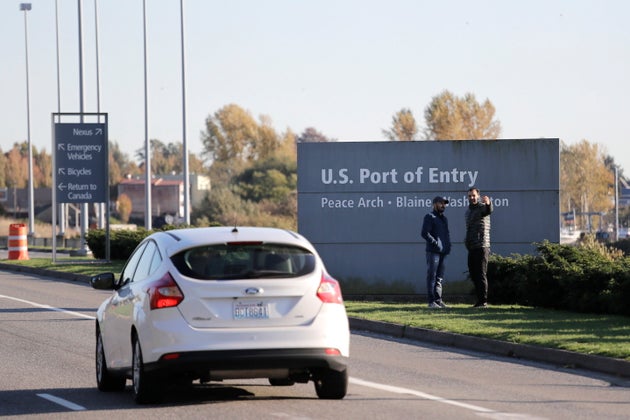 "I think that given the circumstances over the last week I think that they're probably operating at a heightened sense of concern right now relative to activities that might take place," Heyman said. "I wouldn't be surprised if there were additional interviews, additional time taken to understand the background of everyone who crosses the border at this moment.
"That's just, unfortunately, the outcome of what has taken place in Iraq."
Jayapal said she will be re-introducing an access-to-legal-counsel bill to better protect the rights of all American citizens to representation when they're being held for hours without probable cause.
This report by The Canadian Press was first published Jan. 6, 2020.
— With files from Mike Blanchfield in Ottawa and Camille Bains in Vancouver

@repost Getting a Divorce
Via Family Law Attorney near Me
source https://www.huffingtonpost.ca/entry/iran-border-detained-questioned-canada_ca_5e13a541e4b0843d36173851
January 7, 2020