GOP senators seek to acquit Trump without condoning conduct
WASHINGTON (AP) — There is no question, Sen. Lamar Alexander said, that President Donald Trump actions were "inappropriate" when he asked Ukraine's leader to investigate Democratic rival Joe Biden.
But not bad enough, he said, to warrant Trump's removal from office, or even to hear from witnesses or other evidence.
That distinction has been embraced by other Republicans as the trial moves toward a near-certain acquittal of the president in the coming days. It's also in line with arguments from Trump's legal team, which after initially asserting that the president did "absolutely nothing wrong" moved toward insisting that Trump had done nothing impeachable — and attacked the trial as a partisan exercise.
The evolving arguments have allowed Republicans to cite political and historical grounds for acquitting Trump without feeling compelled to condone his behaviour, a split-the-difference judgment that avoids a clean break with the president as he stands for reelection.
Alexander, who is retiring from office at the end of the year, was the most vocal, saying he did not need to hear more evidence to conclude that Trump was wrong to ask a foreign leader to investigate a rival.
___
Trump acquittal now likely Wednesday; Senate nixes witnesses
WASHINGTON (AP) — The Senate narrowly rejected Democratic demands to summon witnesses for President Donald Trump's impeachment trial late Friday, all but ensuring Trump's acquittal in just the third trial to threaten a president's removal in U.S. history. But senators pushed off final voting on his fate to next Wednesday.
The delay in timing showed the weight of a historic vote bearing down on senators, despite prodding by the president eager to have it all behind him in an election year and ahead of his State of the Union speech Tuesday night.
Trump and Senate Majority Leader Mitch McConnell spoke by phone to lock in the schedule during a tense night at the Capitol as rushed negotiations proceeded on and off the Senate floor. The trial came to a standstill for about an hour. A person unauthorized to discuss the call was granted anonymity to describe it.
The president wanted to arrive for his speech at the Capitol with acquittal secured, but that will not happen. Instead, the trial will resume Monday for final arguments, with time Monday and Tuesday for senators to speak. The final voting is planned for 4 p.m. Wednesday, the day after Trump's speech.
Trump's acquittal is all but certain in the Senate, where his GOP allies hold the majority and there's nowhere near the two-thirds needed for conviction and removal.
___
WHO says prepare for local outbreaks; China slams US control
BEIJING (AP) — China's death toll from a new virus rose to 259 on Saturday and a World Health Organization official said other governments need to prepare for"domestic outbreak control" if the disease spreads in their countries.
Beijing criticized Washington's order barring entry to most foreigners who visited China in the past two weeks.
Australian Prime Minister Scott Morrison announced similar measures on Saturday, following Japan and Singapore.
Meanwhile, South Korea and India flew hundreds of their citizens out of Wuhan, the city at the centre of an area where some 50 million people are prevented from leaving in a sweeping anti-virus effort. The evacuees went into a two-week quarantine. Indonesia also sent a plane.
The number of confirmed cases in China rose to 11,791, surpassing the number in the 2002-03 outbreak of SARS, or Severe Acute Respiratory Syndrome. The virus's rapid spread in two months prompted the World Health Organization on Thursday to declare it a global emergency.
___
2020 candidates brace for frenzied, final weekend in Iowa
DES MOINES, Iowa (AP) — Democratic presidential candidates kicked off a final, frenetic weekend of campaigning ahead of the Iowa caucuses, which will begin the battle to take on President Donald Trump in November.
Former Vice-President Joe Biden and Pete Buttigieg, the former mayor of South Bend, Indiana, returned to the campaign trail a day after knocking each other and progressive rival Vermont Sen. Bernie Sanders.
Sanders, along with Sens. Elizabeth Warren, Amy Klobuchar and Michael Bennet, who were stuck in Washington for Trump's impeachment trial, can finally get back to wooing voters after the Senate pushed final voting on the president's fate until Wednesday.
Warren, a Massachusetts senator, missed her scheduled events but flew to Iowa late Friday night, after impeachment wrapped up for the week, and headed straight to a packed Des Moines brewery to briefly address a cheering crowd before lining up to take "selfies." That came hours after her husband, Bruce Mann, spoke to about 700 supporters in her stead and invited anyone interested to cross the street and have a late-night beer with her.
Warren also began airing television and online ads arguing she's the most electable candidate in a crowded primary field — capable of uniting the party and defeating Trump while silencing doubts that sexism could prevent a woman from winning the White House.
___
Jury foreman regrets convicting teen in girl's 2002 death
NEW YORK (AP) — Citing a recent Associated Press investigation, the foreman of the jury that sent a Minnesota teen away for life in the 2002 death of an 11-year-old girl said Friday he regrets voting to convict.
"I do feel badly," jury foreman Joe McLean told the AP. "I feel, for lack of a better word, that we were misled."
"Maybe we should have taken more time," he added. "Maybe we should have said we couldn't decide."
No gun, fingerprints or DNA were ever recovered, and the 2003 trial of Myon Burrell centred on the testimony of one teen rival who offered conflicting stories when identifying the triggerman, who was standing 120 feet away, mostly behind a wall.
McLean said he and other jurors did the best they could with the evidence presented and were unaware of information turned up in the AP review of the case — in part because his co-defendants were not allowed to take the stand. Both have since said Burrell was not even on the scene. One of them, Ike Tyson, admits to being the shooter.
___
Now for the hard part: EU-UK trade talks to be complicated
LONDON (AP) — If you thought the drawn-out battle over the U.K.'s departure from the European Union was painful, wait until you see what comes next.
While Britain formally left the EU at 11 p.m. local time Friday, the hard work of building a new economic relationship between the bloc and its ex-member has just begun. There are difficult negotiations ahead as the U.K. goes its own way while trying to preserve links with its biggest trading partner, covering everything from tariffs and product standards to British industry's ability to recruit foreign workers and the EU's access to U.K. fishing grounds.
"There's a massive agenda to be agreed: trade in goods, trade in services, data protection, security co-operation, aviation, road haulage, fishing, you know the list is endless," said Jill Rutter, a senior research fellow at U.K. in a Changing Europe, a think-tank that studies Britain's relations with the now 27-nation bloc. "It is unprecedented."
For now, little has changed. The two sides agreed on a transition period that keeps current rules and regulations in effect until Dec. 31. But that gives the U.K. government just 11 months to negotiate a comprehensive trade deal that could decide the prospects of British businesses for decades to come. The EU accounted for 54% of Britain's imports and 43% of its exports in 2016, according to the Office for National Statistics.
Industry groups are already lining up to protect their interests.
___
Trump State of the Union won't be 1st delivered amid turmoil
WASHINGTON (AP) — Two decades ago, President Bill Clinton addressed a nation transfixed by impeachment. He didn't use the I-word once in a State of the Union address that ran on for 78 minutes.
Now, President Donald Trump prepares to address the nation under similar circumstances, with the added pressure of a looming presidential election thrown into the mix. And no one expects him to follow the Clinton model by ignoring the elephant in the room — especially since he now appears likely to be acquitted the day after the speech.
Trump is hardly the first president to deliver a State of the Union address in a time of turmoil. Abraham Lincoln delivered a written report during the Civil War, Richard Nixon spoke while embroiled in the Watergate scandal. Gerald Ford declared "the state of the union is not good." But Clinton's 1999 speech offers the most obvious parallels.
A Republican-controlled House impeached Clinton in December 1998 on grounds that he had lied to a federal grand jury and obstructed justice about his relationship with White House intern Monica Lewinsky.
Just hours before Clinton delivered his State of the Union address, White House lawyers opened their defence of the president in his Senate trial. They argued he was innocent of the charges and "must not be removed from office."
___
Alexa, read me a story: Audio content for kids on the rise
NEW YORK (AP) — Melanie Musson in Belgrade, Montana, does a lot of driving with her four girls. Juggling a broad age range, 1 to 9, she's forever searching for ways to keep them all entertained without relying entirely on video.
While she still adores paper and tablet books for her kids, Musson said: "I think when they hear without seeing, they have to make up visuals in their heads. That's so good. They have to be engaged and get more out of it."
There are plenty of quality audiobooks, podcasts and music for the young, she noted, but weeding through thousands of selections and jumping from platform to platform is a challenge since audio content has exploded over the last few years.
Dad blogger Balint Horvath in Zurich agreed after trying to make sense of kid options for his 14-month-old daughter.
"I couldn't find any resource that would organize podcasts according to different criteria. Information without proper searchability is like looking for a needle in a haystack," said Horvath, who works as a productivity coach for research and development teams.
___
Author Mary Higgins Clark, 'Queen of Suspense,' dead at 92
NEW YORK (AP) — Mary Higgins Clark, the tireless and long-reigning "Queen of Suspense" whose tales of women beating the odds made her one of the world's most popular writers, died Friday at age 92.
Her publisher, Simon & Schuster, announced that she died of natural causes in Naples, Florida.
"Nobody ever bonded more completely with her readers than Mary did," her longtime editor Michael Korda said in statement. "She understood them as if they were members of her own family. She was always absolutely sure of what they wanted to read — and, perhaps more important, what they didn't want to read — and yet she managed to surprise them with every book."
Widowed in her late 30s with five children, she became a perennial bestseller over the second half of her life, writing or co-writing "A Stranger Is Watching," "Daddy's Little Girl" and more than 50 other favourites. Sales topped 100 million copies and honours came from all over, including a Chevalier of the Order of Arts and Letters from France or a Grand Master statuette back home from the Mystery Writers of America. Many of her books, like "A Stranger is Watching" and "Lucky Day," were adapted for movies and television. She also collaborated on several novels with her daughter, Carol Higgins Clark.
Mary Higgins Clark specialized in women triumphing over danger, such as the besieged young prosecutor in "Just Take My Heart" or the mother of two and art gallery worker whose second husband is a madman in "A Cry in the Night." Clark's goal as an author was simple, if rarely easy: Keep the readers reading.
___
Lakers return after Bryant's death, lose 127-119 to Blazers
LOS ANGELES (AP) — Kobe Bryant's resonant voice echoed through the darkened Staples Center while images from his life and career flickered on the scoreboard above.
LeBron James' heartfelt pregame speech honouring his friend then left Lakers fans and players alike cheering through tears.
The Lakers and the Portland Trail Blazers somehow had to play a basketball game after a wrenching pregame ceremony honouring Bryant and the other eight victims of the helicopter crash just five days earlier.
And Damian Lillard gave a performance that nudged aside the basketball world's collective heartbreak for just a moment.
Lillard scored 48 points and the Trail Blazers beat Los Angeles 127-119 on Friday night in the Lakers' first game since Bryant, his 13-year-old daughter Gianna and seven others died in a helicopter crash.
The Associated Press
@repost Family and Divorce Lawyer
Via Divorce and Property Settlement
source https://toronto.citynews.ca/2020/02/01/ap-news-in-brief-at-604-a-m-est-2/
February 1, 2020
As the lumbering ferry left behind the coast of France, its bow cutting through the inky darkness of the English Channel, the United Kingdom — its destination that would soon loom large through the mist and rain — was still part of the European Union.
But by time the ship docked less than two hours later, the UK was out, its 47-year membership of the EU now a thing of the past.
Because of Brexit, this particular crossing of the English Channel felt like crossing the Rubicon. The Cote des Dunes ferry was about midway through its journey from the French port of Calais to the English harbour of Dover when the EU shrunk from 28 members to 27 — at 11 p.m. on Friday in Britain, midnight in France.
That transition turned this otherwise wholly routine passage into something remarkable, even poignant, more of a journey from one dimension to the next than just one of many trips that cross-Channel ferries make every day.
"It's a very strange day. It's a very sad day. It feels like the end of an era, really. It feels like a step into the unknown," said passenger Audrey Sentinella, who was heading home to Britain from her job managing a care home in Switzerland.
"Even though the EU has its flaws, I feel that we are better standing with Europe," she said.
There was zero fanfare aboard at Brexit hour. Many passengers were snoozing. There were no takers in the canteen for the "Great British fish and chips." The ship's captain, Antoine Paquet, said: "It's business as usual. Concretely not much changes."
Still, passenger Alessio Bortone said he felt depressed by the possibility that travelling back and forth between Britain and the continent will become a headache after the post-Brexit transition period, during which not much is meant to change.
The Italian, who described himself as "European and proud of it," lives in Britain with his British wife and their children who are now all getting Italian passports, so travel in Europe will remain hassle-free for them.
"A lot of people losing the ability to move freely across 27 countries, it's depressing," he said. "Just this afternoon, I was travelling back from Germany and, you know, you cross four borders. You don't even think about it. From the Netherlands, Belgium, France, you just cross."
"Walls are going up instead of going down," he said.
German passenger Mohammad Dawood Majoka said Brexit felt like saying goodbye to an old friend and he was "a bit sad" to be aboard one of the first boats to dock in the newly divorced Britain.
A Muslim, he also said he fears that Britain is becoming less hospitable for foreign visitors and that Brexit is an expression of "xenophobia."
"We have a lot of populism going on, not only in Europe but also across the Atlantic and elsewhere," he said. "This is not a good sign for the future."
John Leicester, The Associated Press
@repost Common Law Spousal Support
source https://toronto.citynews.ca/2020/01/31/brexit-turns-sea-crossing-into-journey-through-dimensions/
February 1, 2020
It has finally happened – more than three-and-a-half years after voters backed Brexit in the 2016 EU referendum, the UK has officially left the European Union. 
At 11pm GMT, the UK's 47-year-long membership to the EU came to an end.
In an address to the nation on Friday night to mark the moment, Boris Johnson – who was a key figure in the Vote Leave campaign – said the UK's exit from the EU was "not an end but a beginning". 
Despite "all its strengths" and admirable qualities, "the EU has evolved over 50 years in a direction that no longer suits this country", the prime minister said. 
"This is the dawn of a new era in which we no longer accept that your life chances – your family's life chances – should depend on which part of the country you grow up in," Johnson added.  
Brexiteers gathered in a Union Jack-lined Parliament Square for a party led by Nigel Farage to celebrate the UK leaving the EU.
Revellers – who chanted "bye bye EU" and sang Rule Britannia – were addressed by a number of Brexit Party figures, including former MEP Ann Widdecombe, chairman Richard Tice and Farage himself. 
With Big Ben undergoing repairs and unable to ring to mark Brexit, revellers brought their own 'Little Ben' – a modified Victorian cart featuring a small church bell.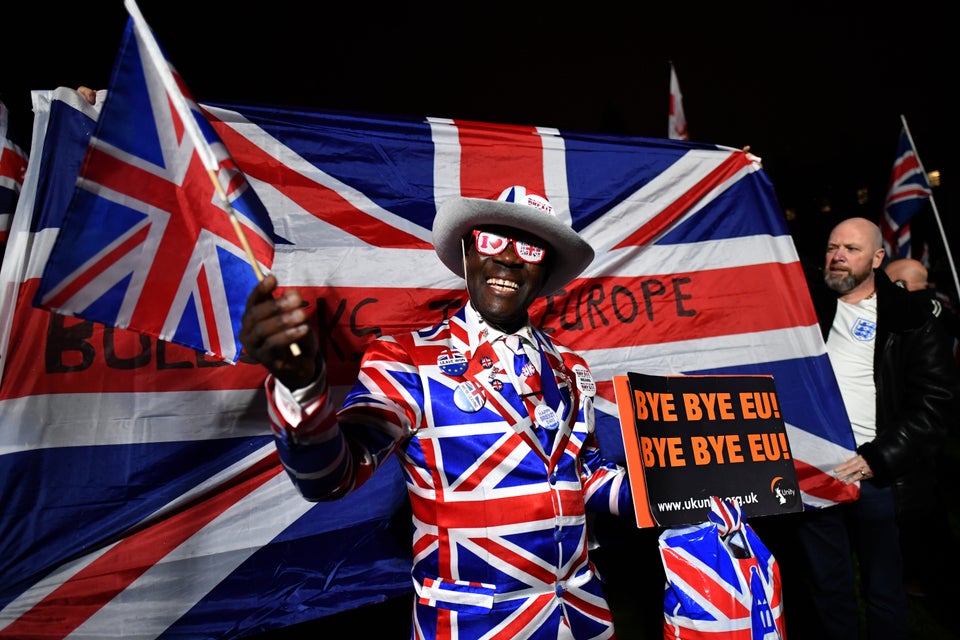 A 'celebratory reception' was also held at Number 10 – where a light show projected onto the building counted down to 11pm – for senior ministers, officials, and supporters of the Leave campaign. 
According to the BBC, Johnson's guests were served English sparkling wine, beef and Yorkshire pudding canapés, fillet of lamb on toast and Shropshire blue cheese.
But not everyone was celebrating the UK's departure. Hundreds of pro-EU campaigners gathered at the Angel of Peace Statue in Hove. Carrying EU flags, demonstrators lit candles and sang Ode to Joy, the European anthem. 
In Scotland – where 62 per cent of voters backed Remain – rallies and candlelit vigils took place across the country, while government buildings St Andrew's House and Victoria Quay were lit up in the colours of the EU flag.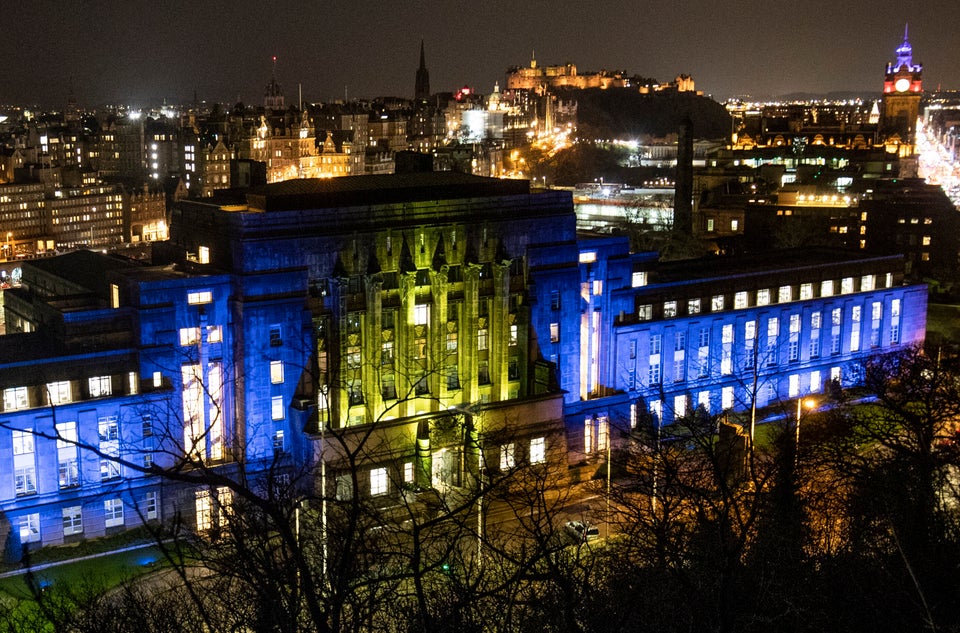 While Jan. 31 will go down in the history books as the moment Brexit officially happened, very little will change in the day-to-day lives of people in Britain in 2020. 
This is because the UK has now entered the 'transition period', which is set to last until Dec. 31.
Read more: Here's what will happen in Britain now Brexit has happened. 
During this 11-month period – which has been designed to allow the UK and EU to negotiate what their future relationship will look like – the UK will remain in the European single market and customs union. 
Meanwhile, EU laws will also still apply until the end of the transition and freedom of movement will continue. The UK will still be bound by the continent's sweeping free trade deal with Canada on goods and services, known as the Comprehensive Economic and Trade Agreement, or CETA.
However, UK leaders will be able to start negotiating free trade deals with other countries. Britain will also no longer have seats in the European Parliament, Commission or Council.
Canada in preliminary talks
Canada and the EU have completed what has been billed as informal preliminary talks about rolling over elements of CETA into a bilateral deal, but no date for formal negotiations has been set.
"Any future trade agreement between Canada and the U.K. would be influenced by the U.K.-EU trade relationship, as well as any unilateral U.K. approaches," said Ryan Nearing, a spokesman for Canada's International Trade Minister Mary Ng.
The British High Commissioner to Canada, Susan le Jeune d'Allegeershecque, said her country is now free to negotiate with whatever country it chooses, but formal talks with Canada aren't ready to start just yet.
"I think very much depends on how fast we can move ahead with the discussions with the EU, about our future relationship with the EU because. That's obviously a crucial element in whatever we work out with Canada," she said
"I wouldn't want to put a date on it."
On Friday night, the British flag was removed from its pole outside the European parliament in Brussels and replaced with an EU flag. 
In a tweet, former PM Theresa May – whose own Brexit deal was rejected three times by parliament – said: "After more than three years, we can finally say we have delivered on the result of the 2016 referendum and have kept faith with the British people."  
French president Emmanuel Macron said Brexit was an "alarm signal" which should be heard across the EU. 
"At midnight, for the first time in 70 years, a country will leave the European Union," he said. "It is a historic alarm signal that must be heard in each of our countries."
Meanwhile, former European Council president Donald Tusk tweeted: "My dear British friends. We were, we are, and we will always be a community. And no Brexit will ever change that." 
Prime Minister Justin Trudeau said Friday he was confident that Britain's departure from the EU would be marked by "an orderly transition" with minimal disruption to Canadian trade and investment.
"The greatest threat was on a so-called no-deal Brexit. They've avoided that," Trudeau told reporters Friday in Montreal.
"We are very confident that we will minimize any disruptions to investment, to trade, to people-to-people ties with the United Kingdom."
With a file from the Canadian Press
@repost Divorce Advice for Women
source https://www.huffingtonpost.ca/entry/brexit-official_ca_5e34b6fec5b6f26233294f37
February 1, 2020
OTTAWA — Britain's envoy to Canada says she's personally sad about her country's decision to leave the European Union.
But at the same time, High Commissioner Susan le Jeune d'Allegeershecque said she's professionally excited by the possibility of being at the forefront of deeper foreign policy engagement with allies such as Canada now that her country doesn't have to leave some of that work to the EU.
Britain's Brexit divorce from the EU after a 47-year partnership formally ended on Friday, sparking a range of emotions, and le Jeune d'Allegeershecque's response personified a particularly broad spectrum.
"Personally, I feel quite sad. This has been part of my life for almost as long as I've been alive. I'm married to a fellow European. I have two children who have joint nationality with another EU member state. So personally, I'm quite sad about it," the 56-year-old said during an interview.
"I'm still a European and I will remain a European. We're not part of the EU, but that doesn't mean we're not European anymore."
She and her Belgian husband have been married for 29 years.
"But professionally I find it quite an exciting moment because I do think it's a time where the opportunities for us as diplomats and us as the U.K. are enormous. It's quite an exciting prospect to be involved in something as revolutionary, if you like, as this is to us."
That includes deeper engagement with Canada on international trade issues, now that Britain no longer cedes responsibility for that to the European Commission in Brussels.
Britain wants to join the Canada-led initiative to reform the World Trade Organization, and it wants to learn more about Canada's legislation, known as the Magnitsky Act, that allows it to impose sanctions on human rights abusers.
A properly functioning WTO is an important part Britain's "vision of a liberal free-trading world," she said.
The fact that Foreign Secretary Dominic Raab has visited Canada twice in the last six months should be taken as a sign of the value Britain places on its relationship with Canada, she said.
"He is looking very closely at Canada's Magnitsky legislation as a model for what he wants to achieve."
Britain also wants to move forward with its co-operation with Canada on protecting media freedom after hosting a joint conference last year in London, she said.
This report by The Canadian Press was first published Jan. 31, 2020.
Mike Blanchfield, The Canadian Press
@repost Divorce Alimony
source https://toronto.citynews.ca/2020/01/31/british-envoy-personally-sad-about-brexit-professionally-excited-by-new-era/
February 1, 2020