Prince Andrew is "back."
Less than three months after he stepped back from royal duties, the disgraced royal has quietly started representing the Queen at official events again. He recently visited the Chinese ambassador to the U.K., where he celebrated Lunar New Year and passed on Queen Elizabeth's message of support to the Chinese people suffering under the threat of coronavirus.
The Palace is being cagey about whether or not he was there "officially" or not, telling an ITV reporter that it was a "private visit." You know, the kind of private visit you make to a politician, in front of cameras, to deliver a message from the Queen.
No matter how they characterize it, it certainly looks like Prince Andrew is on his way to being a working royal once again.
The meeting happened on Saturday, with very little fanfare or objection from the press. "Prince Andrew delivers 'Message of sympathy from the Queen' to China over coronavirus," was The Independent's headline, which was virtually identical to the way other outlets covered the meeting.
His brief exit from his royal duties was referred to euphemistically as a "scandal," as though he had a wardrobe malfunction or had too many drinks in public.
It's hard to believe that this mild reaction comes from the same ruthless British press machine that criticized Meghan Markle so relentlessly that she quit the royal family. 
(Only Markle's number-one tormenter, the Daily Mail, appeared to question Andrew's involvement: "Chinese ambassador reveals Prince Andrew is STILL representing the Queen after delivering a message expressing her sympathy for coronavirus victims.")
Most of these articles make mention of the fact that Prince Andrew stepped down less than three months ago, but few take the time to explain why in any significant detail.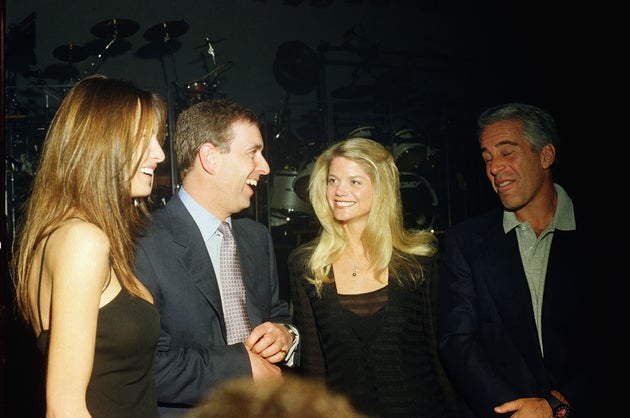 Here's a quick refresher: a woman who alleges she was trafficked by late U.S. financier Jeffrey Epstein also alleges she was raped by Prince Andrew when she was 17. There's a photo of them together from that time, which he says may have been faked. Prince Andrew has repeatedly denied the allegation that they had any sexual contact, and says he doesn't remember meeting her.
But here's what Prince Andrew admitted to: he does not regret his friendship with Epstein, because knowing him had "some seriously beneficial outcomes." He described the sex trafficking charges as Epstein "conduct[ing] himself in a manner unbecoming." He remained friends with Epstein, and stayed in his New York mansion, even after Epstein was convicted of sex trafficking.
Prince Andrew has also refused to cooperate with the FBI as they continue to investigate Epstein's crimes, among them the allegation that he was running a "vast network" of underage girls he trafficked for sex.
He needs to be held accountable, by the public and especially by the press.
This all just happened. Remember the BBC interview that went so badly for him? That was in November. Yes, the news cycle moves quickly — but is this really something we've already forgotten? Are we really going to let Prince Andrew creep back into public life, where he receives a cushy salary estimated to total nearly $400,000, to represent the Queen while he rubs shoulders with the rich and powerful? And what would happen if he were sent, on the Queen's behalf, to a charity that worked with vulnerable people, something working royals are often expected to do? We already know that schools and children's charities he's been affiliated with are choosing to cut ties with him, including the private school in Ontario that he used to attend.
Prince Andrew has started performing what look like minor gestures of repentance, maybe in an effort to rehabilitate his image ahead of his daughter's wedding this spring, where he will walk her down the aisle. He reportedly turned down the automatic military promotion that would otherwise be granted to him on his 60th birthday next week. The occasion might not even grant him his customary birthday flag ordinarily flown in U.K. government buildings. (But before you worry he's making an unreasonable amount of sacrifices, fear not: he will still get his traditional birthday bells at Westminster Abbey.)
Part of the reason it's so frustrating to see Prince Andrew get let off the hook so easily by the palace — and, to a lesser extent, by some of the press — is that we've seen this cycle play out before, so many times. A powerful man does something shameful, he lays low for a while, and then, when enough time has passed, he's welcomed back, fairly uncritically. It happened with Mel Gibson. It happened with Louis C.K. Even Harvey Weinstein showed up at a young performer's showcase in New York in October — and when a female comedian and rape survivor called him out, she got booed and then thrown out of the venue.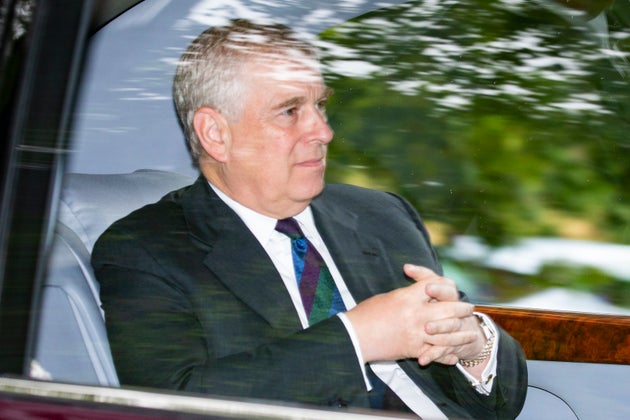 We can't let that happen with Prince Andrew. He needs to be held accountable, by the public and especially by the press. News sources reporting on a public appearance he makes — at his daughter's wedding, on behalf of the Queen, at a posh event that very few people are granted the opportunity to attend — should remind readers of the disturbing allegations and/or the facts of his ties to Epstein.
He was born into enormous wealth and privilege, and he used those advantages to, at the very least, befriend and uncritically lend credibility to a man he knew had been accused of trafficking teenage girls for sex.
We have to make sure his return to public life isn't easily accepted. It should be uncomfortable for him, because he should be reminded of the incredible harm Epstein caused, that didn't bother him while he was enjoying the "seriously beneficial outcomes" that accompanied his friendship. He should be pressed be reporters and questioned by the public. He shouldn't be welcomed back with open arms.
Equally disturbing is the fact the Royal Family appears to be standing by him.
Meghan Markle, whose only "crimes" were 1) not enjoying constant scrutiny and 2) being Black, hasn't received as warm a welcome as Prince Andrew seems to be receiving. The press that claimed that her fondness for avocados contributed to draught, called her "demanding" for emailing her staff, and tracked down her eighth cousin to publish his claim that their family was distantly related to a 19th-century serial killer doesn't have an ounce of criticism to spare for someone who palled around with a known sex trafficker?
Equally disturbing is the fact the Royal Family appears to be standing by him. He doesn't appear to have been cast aside, in the way Princess Diana was after her divorce from Prince Charles. Unlike Harry and Meghan, who allegedly felt alienated from the rest of their family, Prince Andrew spent Christmas at the Queen's Sandringham Estate, where he was pictured attending church service and talking at length with his brother Charles. He was also seen riding horses with his mother, Queen Elizabeth.
The British monarchy has no real power anymore — their role is purely symbolic. And while the brutal force of imperialism are undoubtedly a part of their legacy, today's royals largely perform charity work and bring attention to social, environmental and cultural causes. That's their brand — and if they accept Andrew back into their fold, the rest of the world will have an even better reason to view the Royal Family as a damaged and untrustworthy institution.
One of the most memorable parts of that BBC interview was when journalist Emily Maitlis asked him why he didn't stop being friends with Jeffrey Epstein, even after his alleged crimes became public knowledge.
Rather than admit he had made a mistake, or talk about the complexity of ending a friendship with an abuser, Prince Andrew chalked the whole thing up to being too good a person.
"I admit fully my judgement was probably coloured by my tendency to be too honourable," he said.
Prince Andrew clearly isn't someone willing to take on any degree of responsibility. So, let's make sure we don't forget this.
Have an opinion you'd like to share on HuffPost Canada? You can find more information here on how to pitch and contact us.
Also on HuffPost:
@repost Temporary Custody
Via Attorneys for Child Support Cases
source https://www.huffingtonpost.ca/entry/prince-andrew-jeffrey-epstein_ca_5e42eb49c5b6b70887086d12
February 19, 2020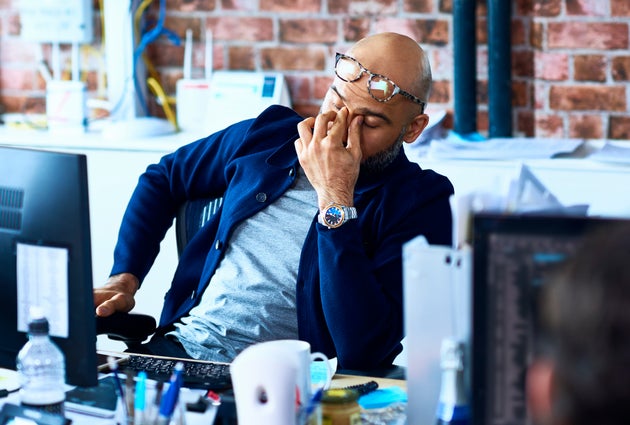 TORONTO — Most Canadians will be celebrating Family Day on Monday, a much-needed day off for workers in the middle of winter. 
It isn't a statutory holiday across the country, but some say it should be. Workers argue they'd be happier and healthier with an extra day off to spend with family and friends, and they'd come back to work feeling refreshed and more productive.
But adding an extra statutory holiday to the calendar isn't that easy.
"It is a lot more complicated than you might think," employment lawyer Stuart Rudner told HuffPost Canada. "It's easy to add a day, but I think you've got to look at the much bigger picture here."
In Ontario, there are only nine public holidays per year:
New Year's Day
Family Day
Good Friday
Victoria Day
Canada Day
Labour Day
Thanksgiving Day
Christmas Day
Boxing Day
There are none in March or November. Before Family Day was introduced in 2008, Ontario workers had no public holidays between New Year's Day and Good Friday, a three-month period that happens to include some of the coldest days of the year.
Watch: It's easier to get rich in Canada compared to the U.S., but it comes at a cost. Story continues below. 
That's a long time between holidays, especially when talk of four-day work weeks, the rise of automation and mental health challenges are dominating the debate about the modern labour market. 
"I think one a month would be ideal," said Suzi Whitehead, an insurance worker in southern Ontario. 
Compare the province to other places around the world. Cambodia leads the world with the most public holidays at 28. There are 16 public holidays observed in Japan, a developed country where workers make similar wages to those in Canada. Adjusted for purchasing power, GDP per person was around $5,400 less in Japan than in Canada in 2018, according to the World Bank.
Things are different in Canada as provinces and territories have their own public holidays. But before governments institute another day off for workers, businesses want to have their say, too. 
'Difficult cost to swallow' 
"It's definitely a cost to business," said Emilie Hayes, senior policy analyst at the Canadian Federation of Independent Business (CFIB).
Even though workers don't have to work statutory holidays, they still get paid for them. Companies can either stay open and pay working employees time and a half, or shut down for a day and lose productivity.
One additional paid stat holiday could cost as much as $3.6 billion per year to the Canadian economy, according to a preliminary estimate from the CFIB based on Statistics Canada data. 
"They really do see it as an extra cost, and it's a difficult cost to swallow," Hayes said of businesses. "It is a lot of money. It isn't something that's free."
The added cost is especially burdensome on smaller businesses, according to Hayes. "Just because they're smaller, it's a lot harder for them to absorb the cost."
Rudner says he remembers the business community being up in arms over the addition of Family Day in Ontario, but that doesn't mean most of society wouldn't benefit from an extra day off. 
"I think there is some merit to the fact that at some point, some people are so overworked," he said. "People work longer hours now than they did in previous generations." 
There's no simple solution to this complicated dilemma. Business owners want governments to think long and hard before making a decision that will hurt the economy. 
"The government is in a tough spot. They're trying to balance two very competing interest groups," Rudner said.
In Ontario, the Civic Holiday actually isn't a holiday at all. It's not enshrined in legislation, but a lot of employers give it.Stuart Rudner, Ontario employment lawyer
But the Markham, Ont., attorney says he might have a solution for some companies who may not be familiar with the rules.
"The reality is a lot of those businesses who are complaining that they can't afford another statutory holiday are actually giving workers a holiday that they don't have to," he said. "In Ontario, the Civic Holiday actually isn't a holiday at all. It's not enshrined in legislation, but a lot of employers give it."
Last year, the federal government nearly passed a bill that would have created a new statutory holiday to recognize Indigenous people. A private member's bill called for Sept. 30 to be the National Day For Truth and Reconciliation, but it died in the Senate last year and was not enacted.
The day would have coincided with Orange Shirt Day, an annual event to recognize residential school survivors by wearing orange in honour of a six-year-old First Nations girl who was stripped of her orange shirt at a residential school.
@repost What Is Equalization Payment
source https://www.huffingtonpost.ca/entry/stat-public-holidays-canada_ca_5e455415c5b62b85f82fa81b
February 19, 2020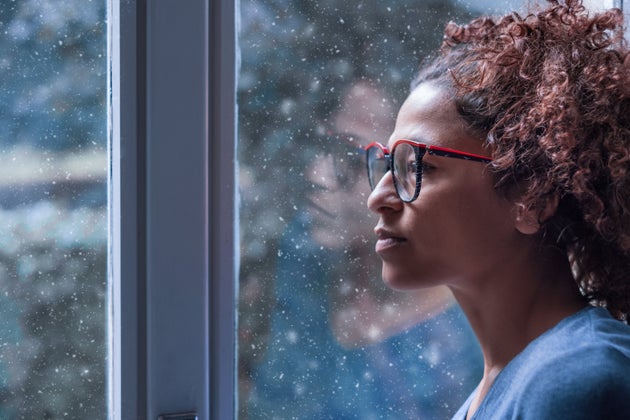 Days shy of my 19th birthday I lost my mom to esophageal cancer. Three months after she was diagnosed, she was gone, and I went from having a present mother in my life to not having one at all.
To cope with my grief I talked to anyone who would give me the time of day and spilled my guts to them. I distracted myself with work, school, friends, boys, alcohol — anything to keep myself busy. 
WATCH: Things they don't tell you when you lose a parent. Story continues below.
For D'Arcy McGrath, talking was also a way of coping after losing his mom to breast cancer when he was 18 years old. 
McGrath, 50, who lives in Calgary, said the loss of his mother made him "grow up in a minute." "You had to look at life so much differently than how you would've otherwise," he told HuffPost Canada. "You saw life for what it was. What did and didn't matter."
McGrath recently went through his own cancer battle, which he says was exactly the same as his mom's.  He went into remission last year. "It was huge," he said. "Being a man that has breast cancer is quite a shock, especially when it kills your mom, then it's even harder for everyone."
"It changed who I was. I think I would've been a different adult if I didn't go through it," said McGrath.
Grieving looks different for everyone
How a young person deals with the grief that comes with losing a parent looks different for everyone, depending on the nature of their parent's death and what the child-parent relationship looked like.
"People experience things in quite different ways, but I would say that depression and anxieties are almost universal," John Neumin, a registered psychotherapist based in Toronto, told HuffPost Canada.
Neumin says when a person experiences the loss of a loved one, it can start a process where they now have to grapple with mortality. "People feel like one of their primary supports is gone and they're not sure how to get through life or how to live yet."
Watch: How to help a friend grieving the loss of a parent. Story continues below.
According to Healthline, different symptoms of depression can include: a loss of interest in activities you'd normally enjoy, increased fatigue, sleep problems, anxiety, and changes in appetite.
Symptoms of anxiety can include excessive worrying, feeling agitated, restlessness, fatigue and difficulty concentrating. 
Anxiety is so prevalent in someone who's grieving that The Washington Post reported that anxiety should be included as a stage of grief, because of how common it is.
Claire Bidwell Smith, a Los Angeles-based therapist, wrote that, "Grief and anxiety are inextricably linked. We experience anxiety after a loss because losing someone we love thrusts us into a vulnerable place.
"It changes our day-to-day lives. It forces us to confront our mortality, and facing these fundamental human truths about life's unpredictability causes fear and anxiety to surface in profound ways."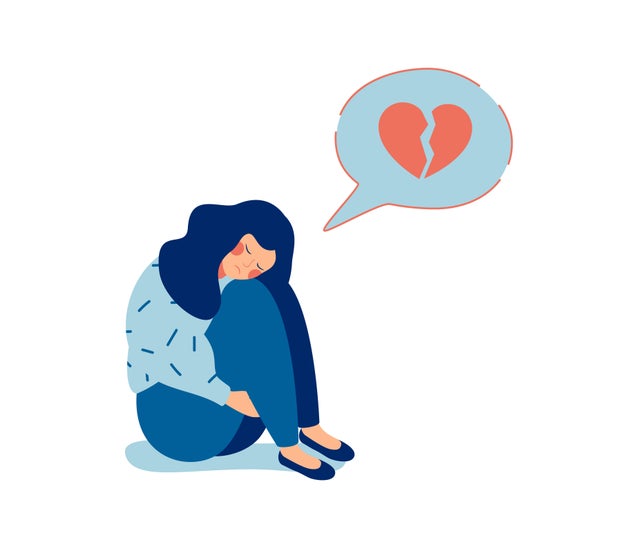 Jess Erb, a registered psychotherapist based in Toronto, told HuffPost Canada that there is a big difference between losing someone at a young age versus losing a parent when you're older.
The No. 1 difference is the loss of a future with that person, says Erb. "A parent is our caregiver and at a young age we're still getting that care," she said. "When you lose someone that young you really don't have a sense of support anymore." 
Even if a child wasn't close with their parent, Erb says they still have to process the fact that they won't have the opportunity to rebuild a relationship with that person.
Different ways we cope
There's no wrong way to cope with losing a parent, but some ways can be more beneficial than others. Common unhealthy ways people cope can be summed up as distractions, said Neumin. Distractions can manifest themselves in many ways and can take the form of keeping busy or as addictiona, he adds.
While we often associate alcohol and drugs as the more common types of coping mechanisms, Neumin says compulsive sexual activity or even compulsive video game playing can also be ways of distracting yourself from what you're really feeling. 
Young people will often come up with a number of different coping strategies to push away the pain, says Erb.
"When we're young and we have our future ahead of us, focusing on the future rather than the immediate loss of the present is a major coping mechanism," said Erb. "It's an adaptive one."
You've now pushed that loss aside. It's not gone — if anything, it's kind of beside you.Jess Erb, registered psychotherapist
Erb says a common coping mechanism a lot of people do is keeping busy, in an effort to avoid their grief.
"You've now pushed that loss aside. It's not gone — if anything, it's kind of beside you. But it's certainly not in your forefront. And what happens is you get better and better at not looking that way. It's almost as if it becomes this kind of taboo site."
McGrath says the big thing young people have to grapple with after loss is accepting the sadness that comes with it. "You're going to be sad and you can't avoid it," he said.
"The sadness is actually something you embrace after you've been through the pain, because it brings you closer to the person that you can't be close to anymore. And that's the best thing you can do going forward."
The sadness is actually something you embrace after you've been through the pain, because it brings you closer to the person that you can't be close to anymore.D'Arcy McGrath
Losing a parent you had a difficult relationship with
Julia, 21, who asked to be identified by only her first name for privacy reasons, lost her dad to suicide when she was 16 years old.
Julia and her father were not close; her parents divorced when she was 14 years old. "I saw [my dad] once a month at the most and I hated his guts," she told HuffPost Canada. "He was awful."
Yet, the Niagara Falls, Ont. native says she empathized with her father after his death. "I resented him in life, but not in death." 
The main thing that Julia says helped her get over the sudden loss of her father was resisting the urge to isolate herself. A self-proclaimed introvert, Julia had grown up loving being alone.
"Even if that's the temptation, you're better off being around other people," she said. "Be selective of who you want to be around. If you don't feel comfortable being around your family and talking with your family about it then don't pressure yourself to, even if that's what they're expecting of you."
A challenge can be getting hung up on the 'What ifs' or the 'What could have beens,' which can get in the way of them being able to accept the reality of the loss.Dan Wolfson, psychologist
Dan Wolfson, a psychologist and clinical director of Experience Camps for Grieving Children based in New York City told HuffPost in a previous interview that when someone who you're not close to dies, you experience two separate losses. 
"There's the finality of there no longer being any room for repairing a relationship the person may wish could have been different. That is very different from grieving the loss of the person themselves."
A challenge can be getting hung up on the "What ifs" or the "What could have beens," which can get in the way of them being able to accept the reality of the loss, said Wolfson. 
In the month leading up to his suicide, Julia's father texted her asking her to go for lunch. She dodged the offer. After his death, she couldn't help but think that the lunch could have been a possible excuse masqueraded as a way to say goodbye.
"I might have been reading too much into it, but that's the last time he would have seen me and I didn't give him that opportunity," she said. "For a long time that really weighed heavy on me."
Where to get help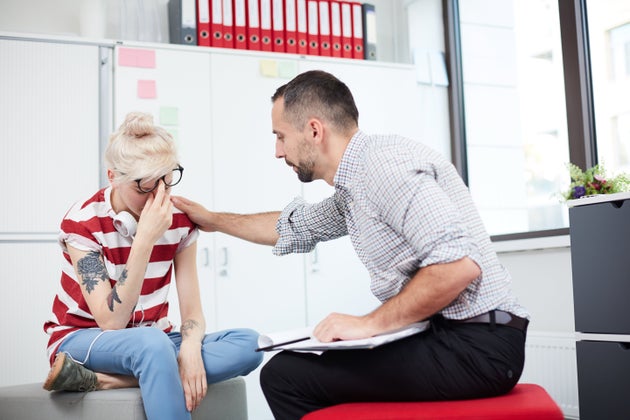 After losing a parent, one of the things young people may face is loneliness, says Erb. "If you've lost a parent that young you may be one of the only people that you know that had that happen to you," said Erb.
Finding people you trust who you can talk to is important. Neumin says a primary step in coping is building relationships instead of retreating and isolating yourself.
Seeing a professional, such as a counsellor, a psychologist, or a social worker, has its benefits because they are trained in how to handle grief. If there isn't someone in your life you feel like you can turn to, seeing a therapist can be a great way to talk about things you don't feel comfortable talking to anyone else about.
If a therapist isn't an option, there are free support services available, too, which can usually be found through your local hospital's mental health services website.
The Canadian Mental Health Association offers an adult bereavementprogram in Windsor and Essex County, Ont., which includes therapy, at no cost. 
Dr. Jay Children's Grief Centre in Toronto and Hospice Toronto provide free support for children, youth, and parents.
The Dinner Party is a grieving support group that can be found in cities across Canada, and is designed specifically for young people aged "20- and 30- somethings" who have lost someone. A yearly membership fee of $35 applies.
Private Facebook groups are also a great way to meet and talk to other people who are going through the same issues.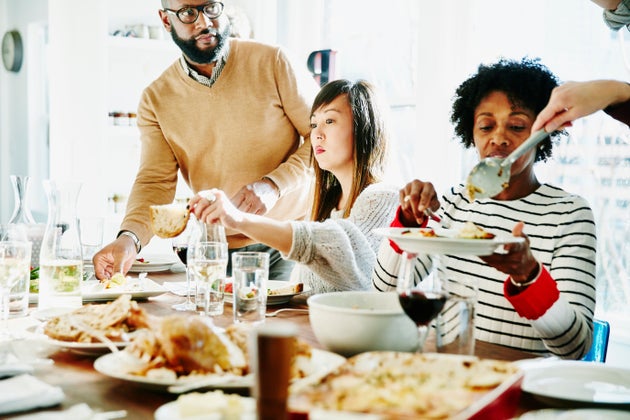 Neumin says even though life can be incredibly difficult and complicated after the loss of a parent, it's what we do with our situation that makes all the difference.
"The tragedy of losing a parent at a young age can take a person in different directions depending on what they do with that loss," he said.
"You can grow from it, you can have a better understanding of life and it's value and its importance in our lives or you can withdraw or get more frightened and let it damage you. They make a difference. A huge difference."
@repost Custody Evaluation
source https://www.huffingtonpost.ca/entry/losing-parent-young-coping_ca_5e387c52c5b66c4eafd86f41
February 19, 2020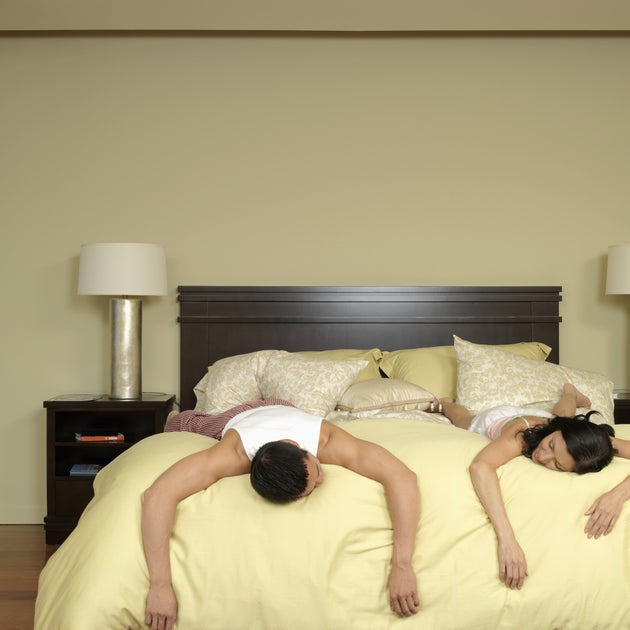 After the birth of her second child, Sherley Joseph remembers feeling overwhelmed. Although her husband was raring to go, she found that the everyday stress of raising kids regularly took precedence over getting frisky. 
"Whether you're a working mom or a stay-at-home mom, kids can get in the way," the 42-year-old Torontonian told HuffPost Canada. "I was neglecting my relationship when it comes to intimacy."  
New parents may deal with a more physical set of challenges, as body pain and breastfeeding can reduce a mother's inclination to fool around.
There are some risks to letting desire go unchecked. Daily Mail columnist Rowan Pelling wrote that parents who haven't had sex in a while may have an unspoken agreement to ignore their intimacy issues. Pelling warns that upholding this pact of silence can leave both parties unsatisfied or at risk of infidelity.  
But just because it's been ages doesn't mean you can't get back in the sack with each other. For parents going through a dry spell, here's how to break it: 
Talk (or text) dirty
Flirting might elicit groans from kids and cringing from teens, but all those cheesy pick-up lines are healthy. Married couples report flirting kindled their sexual desire for their spouse and created a "private world" between them in small ways. 
If you find yourself getting tongue-tied, therapist Dr. Chris Donaghue told Fatherly that texting can fan the flames between parents who've lost their erotic groove, as it is "a resource for maintaining romanticism and closeness."
Should sexting be new territory, describing fantasies or recounting wild bedroom memories are great thread-starters. 
 Watch: Suck at sexting? Here's how to do it right. Story continues below.
Not only do phones give partners time to compose their filthy correspondence and are discreet enough to allow flirting to happen anywhere (yes, even during daycare drop-offs or on a grocery run), getting an intimate text reminds lovers that they're desirable even when they're not close by.  
There's also no knocking good old-fashioned courtship. Research from the University of Kansas suggests there are five types of flirting styles. Some may be more receptive to playful teasing, but others get hot around the collar when they're treated with polite, sincere emotional interest.   
Words not getting your message across? A tasteful nude's worth a 1,000 words. Just make sure you're protecting your privacy and please don't cloud-share. 
Treat old flames like new lovers, make time for them
Joseph and her husband Clove host "Chonilla," a podcast chronicling their life as an interracial couple parenting three kids. As high school sweethearts who've been going steady for over 20 years, they've had lulls in bedroom fun — as well as spikes in desire when they couldn't keep their hands off each other.
What those adrenaline-pumping sessions have in common? The spouses felt like they were exploring their counterpart's turn-ons, all over again.
"You have to re-introduce yourself every seven years or so. Your views, ideas, and how we move in the world can change, which can affect your intimacy," she says.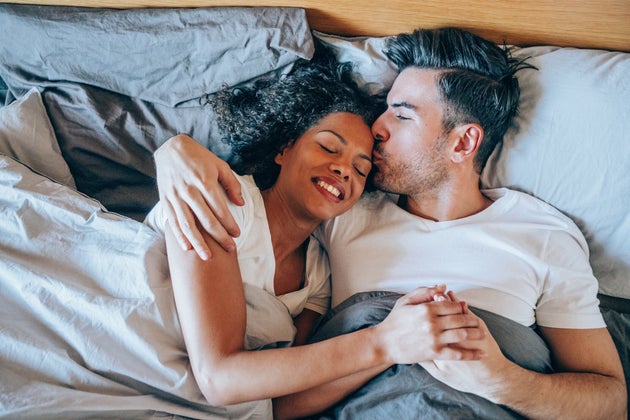 Joseph notices that it makes a big difference when she and her husband schedule their intimacy. It builds anticipation and gives them time to make the necessary preparations, like sending the kids for a visit to grandma's and finding a hotel (or even a nice, secluded outdoorsy place) for a romp. Outdoors sex out of public view isn't illegal, FYI …  
But don't over-schedule it 
While date nights are great intimacy instigators, parents may be distracted by babysitter updates or too fatigued by the daily grind to woo each other. Over-scheduling intimacy can overbook you and turn love-making into a chore. 
Research indicates that many parents aren't keen on intercourse and have pretty terrible sex when they do: a survey of almost 977 heterosexual couples found that 46 per cent say sex got worse after they had kids. While only 30 per cent of men say they had a lowered libido, nearly double that number of women experienced a decrease in sexual desire.
After months of no action, new moms may feel more pressure to have sex again: a HuffPost Canada survey found that new moms may take up to two years to feel ready for sexual intimacy.
So don't force yourself to go through with the act just because you put the effort in. If desire doesn't come naturally, there's always next time. 
Come hither > all the way
It can be nerve-wracking to have sex after not doing the deed for ages. In that case, it might be time to re-define what sex is between you and your partner, psychotherapist Esther Perel suggests. 
"You can do the act in [five] minutes, done, and it has zero effect on you," she told Fatherly. "If people had a less narrow definition of what sex is, there would be an ability to feel much more sexually connected after having kids."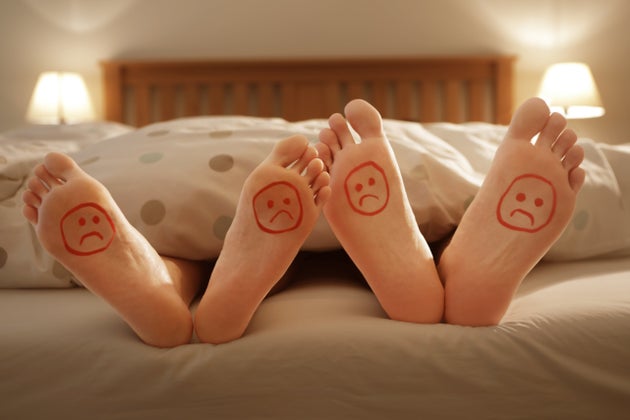 Expanding that definition can look like upping the ante on (fairly appropriate) foreplay. Lingering shoulder squeezes when you greet each other and footsie under the dinner table are ways you can build anticipation through physical contact. 
Other sex acts beyond penetrative intercourse or genital-to-genital contact are worth considering: the Leesa study of almost 1,000 parents shows a rise in oral pleasure and manual stimulation after having kids.
Toys, toys, toys
A helping, vibrating hand can help reignite sparks, especially for those who need time to climax. A poll by American sociologists found that over half of couples over 50 use sex toys. There are plenty of erotic aids on the market, but they all have a common benefit: a study of vibrator use posits that when couples share toys, their desires feel more accepted. This leads to having sincerely satisfying sex. 
Read: 10 mind-blowing sex toys to try. Story continues after slideshow. 
Having problems? Always talk it out 
Your partner's into role-play, but playing boss-and-secretary is not your fantasy. Or maybe your partner thinks you're gorgeous, but you feel incredibly unattractive.
Communicating your needs is key to figuring out how to make sex something you both crave, as opposed to an act you both put off until the last-minute.
Clinical psychologist Dr. Natalie Rosen and the Halifax-based Couples & Sexual Health Laboratory launched #postbabyhankypanky to help new parents communicate their sexual needs with each other. 
"For some, maintaining a sex life is part of how they still connect as a couple, separate from now being parents," Rosen told HuffPost Canada in an earlier interview. "For others, it might be less important as they focus on their new role as parents … both parents' sexual needs are important — and those sexual needs include both the need to have sex and the need NOT to have sex." 
See a professional 
There are some dry spells that are too difficult to face alone. If it's been an incredibly long time or if the awkwardness feels impossible to overcome, consider booking an appointment with a qualified sex therapist.
They're well-equipped to clear the floor between you and your partner so you'll be back to dancing the horizontal tango once more. 
@repost Division of Assets in Divorce
Via Divorce Alimony
source https://www.huffingtonpost.ca/entry/sex-advice-parents_ca_5e45a133c5b6e095c6bc9dcd
February 19, 2020
THE HAGUE, Netherlands — Ongoing uncertainty about the effects of Brexit is pushing an increasing number of foreign companies to set up offices in the Netherlands, the Dutch government said Wednesday.
Since the 2016 referendum on Britain leaving the European Union, 140 businesses have established a presence in the Netherlands, with 78 shifting operations there last year, according to the Netherlands Foreign Investment Agency.
The agency said in a statement that business uncertainty is increasing despite Britain's departure from the EU because of unanswered questions over the country's future trading relationship with the bloc. London and Brussels have until the end of the year to agree a pact on their post-divorce relationship.
The agency said it is in talks with around 425 companies considering moving or expanding to the Netherlands because of Brexit.
The companies come from Britain, but also include businesses from the Americas and Asia that are reconsidering the structure of their European operations in the aftermath of Brexit.
"For these businesses, 2020 will be an important year," said Jeroen Nijland of the foreign investment agency.
While some businesses are waiting to see how the new UK-EU economic relationship pans out, "more and more companies are choosing the certainty and stability our country offers in the European market," Nijland said.
The Associated Press
@repost Joint Custody Lawyer
source https://toronto.citynews.ca/2020/02/19/brexit-pushes-growing-number-of-businesses-to-netherlands/
February 19, 2020