A hotel in a Baltimore suburb on Thursday cancelled the reservation of the Yeshiva University men's basketball team over fears of novel coronavirus, the coach of the Maccabees told The Associated Press.
Later Thursday, Johns Hopkins University in Baltimore said the games on campus involving Yeshiva and other teams in the NCAA Division III basketball tournament would be played without fans in the stands because of three confirmed cases of coronavirus in Maryland.
Yeshiva coach Elliot Steinmetz said the DoubleTree by Hilton Hotel in Pikesville cancelled the reservation, forcing the team to book rooms at a different hotel. A student at the Orthodox Jewish university has tested positive for the virus.
"I made it very clear to the hotel that it's discrimination," Steinmetz said. "I basically said to them: 'Do you have a checkbox on your website that says that you've been in an area with suspected coronavirus?' And they said no. So I said: 'Is it just for the guests of Yeshiva University?' And they said yes. I told them that that's called discrimination."
Hilton spokeswoman Laura Ford said the hotel in Pikesville is an independently owned and operated property. Hotel management did not immediately return a call seeking comment.
The team is scheduled to play Worcester Polytechnic Institute Friday in the first round of the Division III tournament. The winner would advance to play the winner of the later Friday game between Johns Hopkins and Penn State Harrisburg on Saturday.
"In light of Maryland's recently confirmed cases of COVID-19, and based on CDC guidance for large gatherings, we have determined that it is prudent to hold this tournament without spectators," Johns Hopkins said in a statement late Thursday.
The decision followed Maryland Gov. Larry Hogan's announcement that three people in the state had tested positive for coronavirus after travelling abroad. Hogan said the three, all of whom live in the Washington suburbs, were isolated in their homes and in good condition.
New York Gov. Andrew Cuomo announced Wednesday that the wife, two children and a neighbour of a New York lawyer who is hospitalized in critical condition with COVID-19 have also tested positive for the disease. One of the lawyer's children is a student at Yeshiva University.
The family and the neighbour have been self-quarantined at home.
The institution has cancelled classes at its upper Manhattan campus.
Josh Joseph, the university's senior vice-president, said the infected student is not a member of the basketball team, has not participated in any team events and has not been on campus since Feb. 27. He added that the New York City Department of Health has "cleared" the team to participate in the tournament.
The best team in the school's history won the Skyline Conference title on Sunday, its second conference championship in three years, to qualify for the NCAA Division III tournament. The Maccabees have won 27 straight games.
___
Garcia Cano reported from Washington and Henao from Princeton, New Jersey.
Regina Garcia Cano And Luis Andres Henao, The Associated Press
@repost Lawyers for Children
Via Child Support Lawyer for Non Custodial Parent
source https://toronto.citynews.ca/2020/03/05/yeshiva-u-team-hotel-cancels-reservation-over-virus-fears/
March 6, 2020
TORONTO — A 14-year-old boy was abducted on his way to school as retribution for a massive "cocaine heist" executed by his stepbrother, Toronto police alleged on Thursday as they issued a plea for the teen's safe return.
Supt. Steve Watts said the Amber Alert issued in relation to the disappearance of Shammah Jolayemi remains in effect nearly 36 hours after he was heard crying for help as he was forced into a vehicle near his home.
He said there has since been communication from his alleged abductors and police believe the boy is still alive, but offered no further details.
Watts said that while the teen's stepbrother is suspected of involvement in high-level drug trafficking, Shammah himself had no such connection.
"This is a 14-year-old, innocent child," Watts said at a news conference. "He is not a part of that business, he is not a part of that lifestyle."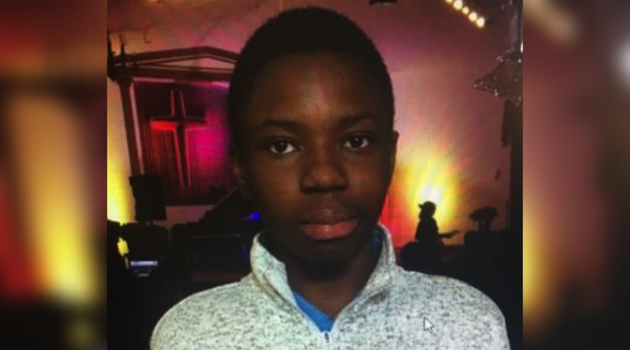 Police said Shammah was last seen at 8:30 a.m. near Jane Street and Driftwood Avenue in the city's northwest corner where his family lives. Investigators previously said he was heard screaming "help me, help me" as he was forced inside a Jeep Wrangler.
Watts said a burned-out vehicle located near the town of Caledon, Ont., northwest of the city, is believed to be the Jeep in question.
Watts said bystanders reported Shammah's cries for help to police, who launched an investigation, but the incident was not connected to an alleged abduction until the teen's parents reported him missing shortly after 5:30 p.m.
The boy's high school failed to notify his family of his day-long absence because his teachers missed an attendance reporting deadline, the Toronto District School Board said.
Spokesman Ryan Bird said four staff members at Newtonbrook Secondary School have been put on "home assignment" because their attendance data wasn't submitted before 11 a.m. as required.
"We're looking to confirm details right now, but what is clear is that attendance was not entered as it should have been," Bird said.
Watts provided few details about the drug "rip" that allegedly triggered Shammah's abduction, but said it occurred in the summer of 2019 and involved approximately 100 kilograms of cocaine.
He said the boy's stepbrother, Olalekan Osikoya, is suspected to have fled the Toronto area some time after the drugs were taken. He said officers have since made contact with Osikoya and he is co-operating with investigators.
News of Shammah's disappearance came as a shock to Rita Smith, who helps run an entrepreneurship program for local high school students in which the teen has been participating since October.
Smith described Shammah as an outstanding participant who never misses a class and always asks "the best questions." He is involved with other activities too, she said, including violin lessons and French immersion studies at Newtonbrook.
"He stood out in our class like a gem," Smith said.
Shammah is described as about six feet tall, with a slim build. He was wearing a grey hoodie, grey track pants with a thin orange stripe, shiny black puffy coat, and black and yellow Air Jordan shoes.
The suspects who were last seen with him are described as men between 18 and 22 years old, who were wearing bandanas and black jackets.
Watts urged the suspects to release their captive alive and unharmed, saying the full weight of the Toronto police force has been thrown into the search.
"Drop him off at a safe place, contact a lawyer and turn yourselves in," he said.
This report by The Canadian Press was first published March 5, 2020.
Also on HuffPost:
@repost Divorce in Canada Spousal Support
source https://www.huffingtonpost.ca/entry/amber-alert-toronto-boy_ca_5e60df3ec5b62d548c9e0446
March 6, 2020
"I don't want to walk into my 40s with a paunch. I want to look good in my clothes. I don't want to wade into the pool at the community centre with my love handles!" declared my husband one morning.
That extra bit of body peeking over the waistband of his swim shorts? I didn't say it aloud, but I thought at the time that he was being vain. My husband had been grumbling about losing weight for some time now. I understood — I could stand to make a few lifestyle changes myself, but I'd fallen into a pattern of excuses.
If he wanted to commit to his health, I was with him one hundred per cent. But while I was prepared to see my husband attempt to turn his life around, what I wasn't prepared for was how I'd feel when he actually achieved what he had set out to do.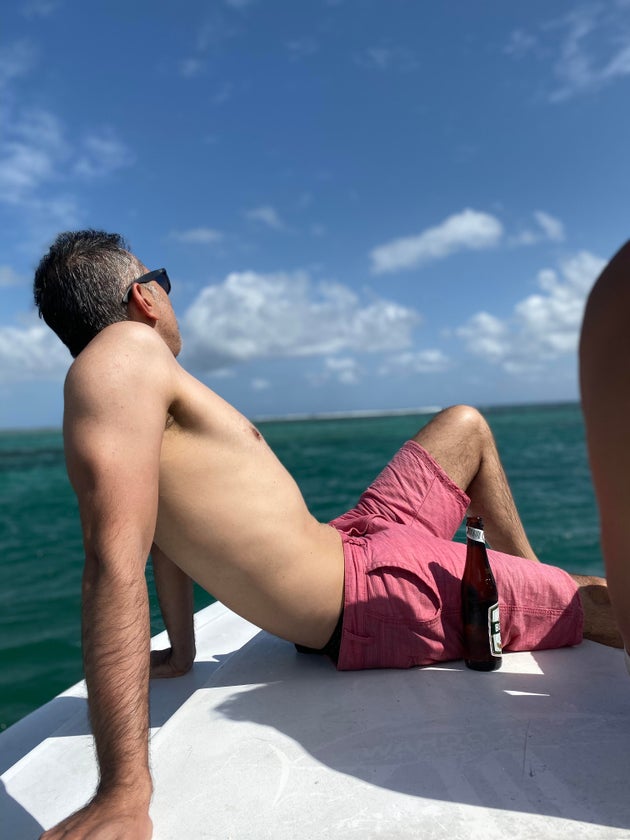 It was unsettling to see my husband suddenly doing "better" than I was, personally and professionally. He was coming into his own in his 30s. Meanwhile, after a successful and ambitious youth, I worried I was plateauing. 
We started dating almost two decades ago. We shared a love of bingeing Netflix, watching cricket matches for hours, sleeping in mornings and enjoying food. As in-sync as we seemed, we were also very different. It's one reason we fell in love. Back then he was reserved, I was loquacious. He thought things through, I charged headfirst. He was always self-analyzing, I had supreme confidence. We brought out the best in one another.
I felt our relationship shift when our daughter was born in 2008. My husband became more social, and read up on religion, politics and women's rights. He experimented with new recipes, learned to ski and struck up an interest in stand-up comedy. I, on the other hand, slacked off writing that book I'd wanted to pen since Grade 10, and dutifully put off salsa or bharatanatyam dance classes.
I felt like he had raced past me in life.
One day, my husband walked right past a formerly substantial colleague, now as lithe as a teenage ballerina. He spent a week raving about how much weight his friend had lost, and wanted to give the Keto diet a shot.
It bears noting that my husband's version of the low-carb, high-fat diet didn't include any of my favourite foods: Twix bars, kettle chips and that delish double-layered chocolate cake from Metro. He stocked up on cauliflower rice, while I remained loyal to the plain white stuff. As he conscientiously grilled chicken or fish for his lunch, I'd watch sucking on just one spoonful of Nutella. Before leaving for work in the morning, he'd make two glasses of a rose-tinted breakfast smoothie in the new blender we swore we'd use together.
I can't tell you how many times I wanted to use that blender as a bludgeon.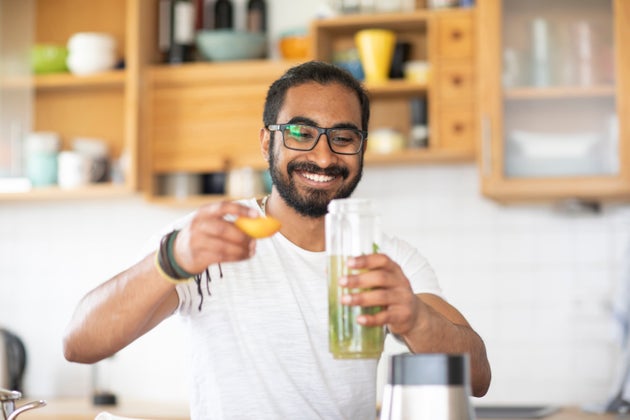 He did this every day for months. While I admired his growth into a woke, fit and sexy man, I paid scant attention to my own. I felt like he had raced past me in life.
Two years later, he's 20 pounds lighter, his clothes fit a bit too sexily for my liking and he doesn't burp as much (it's the little things). Two years later, I'm still struggling to come to terms with what it was really all about: my lack of discipline and fear of change. 
Letting go of my resentment
My initial reaction to my husband's changes was indignation. I may have snapped "Don't you like me just the way I am?" at my bewildered husband on more than one occasion. He had reason to be confused — he had never asked me to change. I fumed he couldn't see that the healthier he pushed himself to be, the more my own self-doubts came into focus. I was projecting my insecurities onto him, but this self-realization hadn't yet dawned on me. 
For example, if there's one thing I live for, it's cuddle time. We've long savoured those 20 minutes before our daughter launches herself into our bed, every morning, wiggling in between us and declaring her presence in our lives. In my resentment, I felt that he had taken that special time away from me — you'd find him at the gym every morning, sometimes even on weekends, instead. I've done my bit to sabotage his routine, faked illness, the blues and even diarrhea to get him to skip. He fell for it (once!), but quickly wised up to my sulking, fake tears and occasional threats of divorce. 
"We can work out together, you know," my husband reminded me one day.
Something clicked. He was right, of course.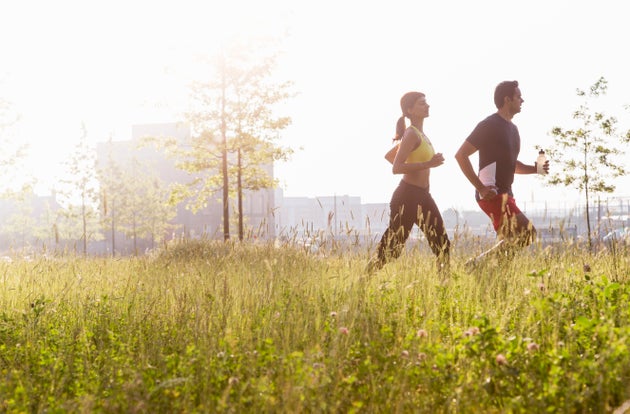 As I marvel at my husband's discipline and focus, I increasingly recognize that I am an individual apart from him. It's important to have a marriage that challenges you to be your best self, and challenge me is exactly what my husband did, although unwittingly. I'm working on letting go of my resentment before it turns into full-blown animus towards a sweet man who was just trying to look good in board shorts.
These days, I'm trying to meet my husband halfway. My meals have become healthier. I lug myself to the gym at least thrice a week (and binge watch Netflix on the Stair-master… because let's face it, it's BORING!). I've switched to egg whites, and there's no sugar in my coffee or tea. I still refuse to ski. And it feels… good.
My husband's doing his part to keep things even-keeled in our relationship, too. He's loved me, and more importantly lived with me, for far too long to know not to disregard my feelings — that saint of a man has been accommodating them for over 18 years and counting. Cuddle time is back. He never tells me what to eat or not to eat. It's always "us." I appreciate that.
But I may have spoken too soon. Last week, he sauntered into our kitchen looking a bit too thoughtful about — what else? — bread.
"We need to go to Costco. That bread? The low-carb one with the protein? We need to load up. I need to put some weight back on!"
@repost Spousal Support Lawyer
source https://www.huffingtonpost.ca/entry/fitness-transformation_ca_5e614c29c5b647a5bd2eaffb
March 6, 2020