DALLAS — Lawyers for a man charged with shooting scores of people in a racist attack at a Texas Walmart say their client has diagnosed mental disabilities that should be a "red flag" for federal prosecutors considering whether to seek the death penalty.
Patrick Crusius "has been diagnosed with severe, lifelong neurological and mental disabilities" and was treated with antipsychotic medication following his arrest moments after the massacre in El Paso, his attorneys wrote in a court filing.
The shooting left dozens wounded and ultimately killed 23 people. Soon after it, Crusius' lawyers say, jail mental health staff found the 21-year-old to be in a "psychotic state."
Crusius' mental health conditions, which have not been previously reported, were revealed in a request by his lawyers for more time to investigate these "mitigating themes" because of the coronavirus pandemic.
The court record also states Crusius was in special education for much of his schooling, but does not elaborate on his mental health. A lawyer for his family, Christopher Ayres, declined to comment.
Crusius was arrested soon after the Aug. 3 shooting. Police later said he confessed to driving to border city from his home near Dallas to target Mexicans. Soon before the attack, he posted a racist screed online that railed against Hispanics coming to the U.S., according to prosecutors.
Crusius pleaded not guilty in a state case where prosecutors are seeking the death penalty but has not entered a plea to the scores of hate crime and gun charges he faces in federal court. A trial date has not been set in either case.
Conviction on the federal charges could also come with a death sentence, and Crusius' lawyers said in their Saturday court filing that prosecutors said they'll proceed with a decision about what sentence to seek by July 30.
David Lane, a Colorado-based defence attorney, wrote that this schedule would violate Crusius' constitutional rights because the virus has stalled their investigation of issues the government must consider.
Lane, who is 65, said safety concerns have blocked the defence team from doing in-person interviews since mid-March, including with Crusius, who is jailed without bond. He asked the judge to schedule a discussion of these issues for October.
Federal prosecutors are opposing the request and have said the Attorney General will decide whether to seek the death penalty. They not immediately respond to a request for comment.
Lane declined to comment, saying the "the motion speaks for itself."
Jake Bleiberg, The Associated Press
@repost Equalization Payments Divorce Canada
source https://toronto.citynews.ca/2020/07/13/lawyer-el-paso-shooting-suspect-has-mental-disabilities/
July 13, 2020
Kyle Lowry has been a big contributor to the NBA's return to the court as part of the players' association restart group. He strongly believes it will work.
Speaking to the media for the first time since the NBA shut down on March 11 due to COVID-19, the Toronto Raptors veteran was feisty. He chastised one reporter for having bad WiFi. He pretended not to hear another. He said the best thing about the four month layoff was not having to "talk to any of you guys."
But the 34-year-old guard was serious when it came to the coronavirus, which is raging across the U.S. like a prairie grass fire. He's confident in the safety of the NBA's campus at Walt Disney World.
"Protocols are unbelievable, I think our protocols and our health and safety measures have been top-notch, I think this thing will work perfectly," Lowry said. "I think the league, the players' association has done a phenomenal job of making sure that we're doing everything that we can possibly do to make sure that we're healthy, we're safe and we're in an environment where we can be successful and to do our jobs at a high level."
In the time since the NBA chose to play at Disney World, Florida has become a COVID-19 hot spot, setting a record by topping 15,000 new cases on Sunday.
Major League Soccer also chose Disney World for its MLS is Back tournament, but stumbled out to a rocky start, with two teams withdrawing due to positive tests, and numerous game delays.
Lowry is a "big fan of how everything has come together" for the NBA, and said the weeks spent on a cruise ship with the U.S. basketball team at the 2016 Rio Olympics — the team opted not to stay in the athletes village — helped prepare him for the Florida campus and its restrictions.
"That experience was pretty awesome, being around those guys, but it kind of really prepared me for this type of living," said Lowry, wearing a backwards blue baseball cap on a Zoom call Monday. "To live on a boat and be in a smaller room and not have as many amenities, that time really prepared me for this."
He has no complaints about the living arrangements, which could be home to the Raptors for nearly three months.
"Listen, I'm living good," he said. "I'm healthy, my family is good, I get to play basketball, I can't really complain. I get meals and I'm happy. I'm able to do my job and provide for my family and to get out there and entertain and try to give some enthusiasm back into the world with our basketball abilities."
Raptors coach Nick Nurse said the fact Lowry was a big part of the team's restart plans trickles down to the rest of the team.
"Having him as the guy who's kind of setting the example, he'll say to these guys, 'Take this stuff seriously, take these protocols seriously, let's be smart and let's do it," and I think it certainly resonates with the rest of the team," the coach said.
"Let's be smart" will be key to the restart's success. New broke Monday that Houston Rockets forward and former Raptor Bruno Caboclo inadvertently broke quarantine and must now self-isolate in his room for eight days.
Nurse praised Lowry both for his leadership in the restart and on the court.
"It's clearly Kyle's team. His care factor is way up there, his intelligence factor is way up, we're in good hands with him being the leader of this team," Nurse said. "When a guy plays the way he does, the leadership by example — that phrase is probably over-used, but it's certainly the case. For basketball in general, the way you play is like the first kind of characteristic of being a great leader."
Lowry, who has two young sons Karter and Kameron, said it will "suck" to be away from them for the next few weeks — families aren't permitted at Disney World until the second round of the playoffs.
But he said his boys understand the sacrifices required right now to play basketball.
"They understand that their dad has to go to work," Lowry said. "The one thing I always say is FaceTiming technology, as you guys see on this Zoom thing, it's changed the game, so I can talk to my kids every single day. They can FaceTime me, they call me to talk, it's kind of interactive, we make sure that I know what's going on with their day, they're consistently asking me questions, and asking me to buy them Roblox (an online game).
"That's all they really care about is Roblox, and my money and spending it."
The four-month break gave Lowry the rare chance to be home with his sons, and he cherished the time with them, and the opportunity to be able to tuck them into bed at night.
"That was the longest time I've ever been able to enjoy my actual home (in Philadelphia), my family, my friends," he said. "But it was different. Times were different. You wanted to be more careful, you wanted to be in a situation where you want it to be safe, and understand that you have to be safe with your family.
"But right now, it feels great to be able to get back on the basketball floor with your guys, your teammates, getting the camaraderie back together, and knowing that you're about to do your job."
The Raptors know that loneliness will be one of the biggest challenges of these unprecedented next few weeks, and so the team put up family photos in each player's room. They've all be appreciative, including Lowry, who said it was reminiscent of the family wall in the Raptors' locker room at Scotiabank Arena, which is plastered with photos of players' kids, spouses, parents and grandparents.
"That's just one thing that the Raptors organization has always kind of implemented is family, your family," Lowry said. "So it's cool. Nice gesture."
A theme of the NBA's restart will be social and racial justice. The Raptors arrived at Disney World in two buses painted with "Black Lives Matter" in big block letters. Lowry participated in a huge protest last month in Philadelphia.
"We are in a time where we need to keep that conversation going. We need to be heard from. We need to speak loud and clear," he said. "We need to understand that things need to be done for the situation to be changed, laws to be changed.
"For me to be a part of that, that's who I am. I grew up a Black man in America. It's definitely a tough thing to grow up that way, because you never know what could possibly happen to you. You never know if you're going to make it out. For me to be able to talk to you guys is a blessing. So for me to be able to do that, it's my right, my duty and my honour to represent the Black culture."
This report by The Canadian Press was first published July 13, 2020.
@repost Primary Custody
source https://toronto.ctvnews.ca/raptors-veteran-kyle-lowry-believes-the-nba-restart-will-work-perfectly-1.5022431
July 13, 2020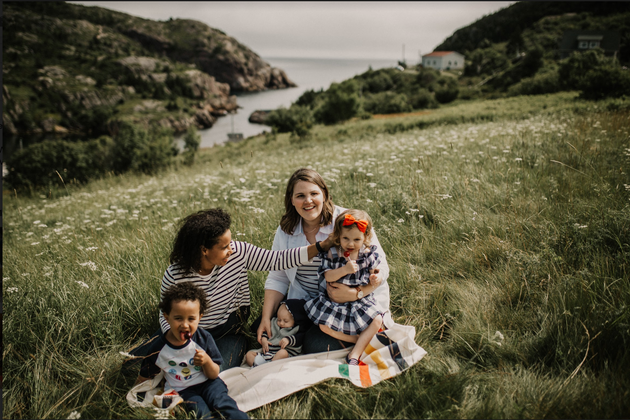 Katie and Megan Pearson are a married couple living in Toronto. They have three kids: Duke, 4, Poppy, 3, and Dermott, 1. Megan carried Duke, and Katie carried the other two, although their third child was made with Megan's egg. 
They were happy to share their story, because they know how complicated it was to navigate the fertility process as a same-sex couple. "Finding information about where to get sperm isn't super accessible. You really have to dig," Megan said. "It's kind of a weird secret society."
HuffPost Canada: What's the process of choosing a sperm donor like?
Megan: There's many, many decisions that come with every step. What kind of sperm? How much do you get? What do you care about in terms of a donor? I'm mixed-race, Black and white, and Katie is white. So we discussed race and what kind of sperm to get.
Katie: When Megan was pregnant with our first, we picked a Caucasian donor, because we were trying to best represent me. We went with an anonymous donor: I think legally and logistically, an unknown donor is a little bit simpler.
When you pick a donor, they have to come from the U.S. It's illegal to buy and sell sperm in Canada. Our clinic was affiliated with three firms in the States who will ship it up to Canada. So you can import it, but you can't purchase it here.
Megan: It's just bizarre to have to jump through these hoops. You don't think about it until you have to do it.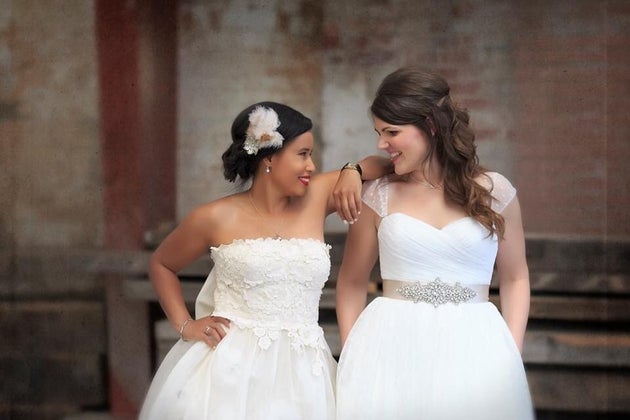 Megan: And we weren't sure whether it was important to have the same donor at the time…
Katie: For us it was important to pick an open ID donor. That means that if you successfully get pregnant and register the birth with the sperm bank, when our children turn 18, they can request the contact information of their donor. We thought it was important that they have the option.
HuffPost Canada: How did you choose who carried the pregnancies?
Katie: Megan was pregnant first, strictly because Megan is four years older than me. Our first, Duke, was IUI, intrauterine insemination. Every month we would list our top three sperm choices, and the clinic managed ordering it from the U.S. They would monitor Megan's cycle and on the day she ovulated, they would put sperm in her uterus and let nature do its thing. 
Megan: IUI is basically a turkey baster.
Katie: We got pregnant on the second try, which I understand is pretty lucky.
HuffPost Canada: Did it weigh on you, all the added hoops you had to jump through as a same-sex couple?
Megan: I don't think the equity piece weighed on me. Growing up as a Black queer woman, there's a lot of inequity. I'm no stranger to that. 
What was weighing most for me was that it was all very invasive. At the clinic you have someone looking at your body constantly, and you're constantly writing down your cycle. I think one of the challenges is that for medical professionals, it's something that they do all the time. I think practitioners can often forget how little first-timers know.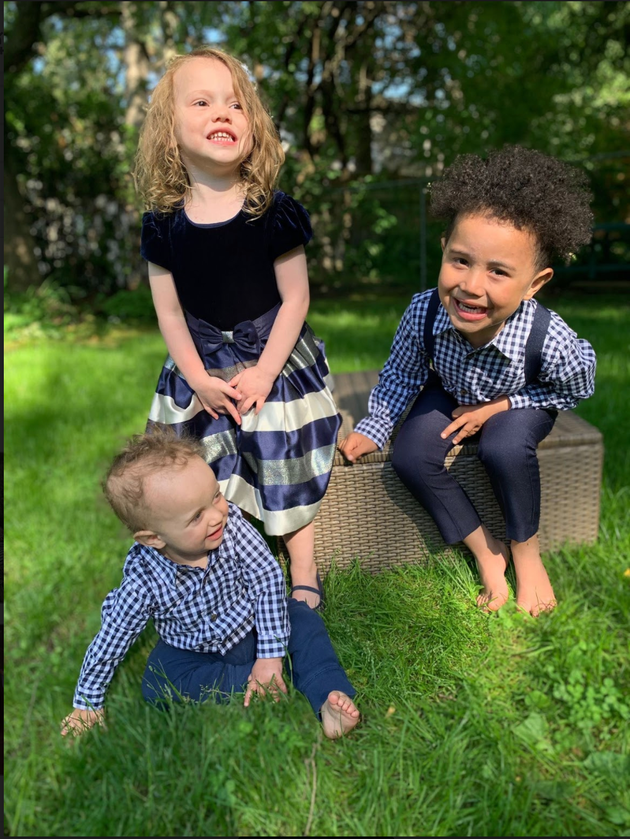 Katie: We needed to provide a medical reason for why we were at the clinic. I think I remember saying, 'Lack of sperm?' It seemed so obvious. 
Megan: Looking back, we didn't quite understand how much autonomy we could have had. Most fertility clinics are for straight couples who have trouble getting pregnant. For us, it was like, 'You have to get this test done to see if your fallopian tubes are open.' Well, did I actually have to do that test? A woman who has struggled to get pregnant needs to figure out why she can't get pregnant, but we're not here to figure out why we can't get pregnant. We're here because someone needs to help us get sperm into our bodies.
The decision that all the kids would have the same donor
Katie: I think our initial thought was that when it was time for me to get pregnant with our second child, we would look for a Black donor to kind of represent Megan. 
But we started thinking, what would our family look like if years from now we end up with three or four children who all have different donors? Is there a Christmas dinner table that includes four different men? We wanted to simplify, and we wanted there to be some sort of thread between the children.
The high financial cost of having a baby
Katie: We went back to the fertility clinic and we bought the last four units of sperm that were available from Duke's donor.
Megan: But that cost money.
Katie: That cost money. A unit of sperm is about $1000. And apparently you can get three to five units of sperm from one donation.
HuffPost Canada: Wait, so a unit is —
Katie: A unit is not one ejaculation! A man goes in and ejaculates into a cup and someone is making five grand. The finances of having children —
Megan: It's a rich person's endeavour for sure.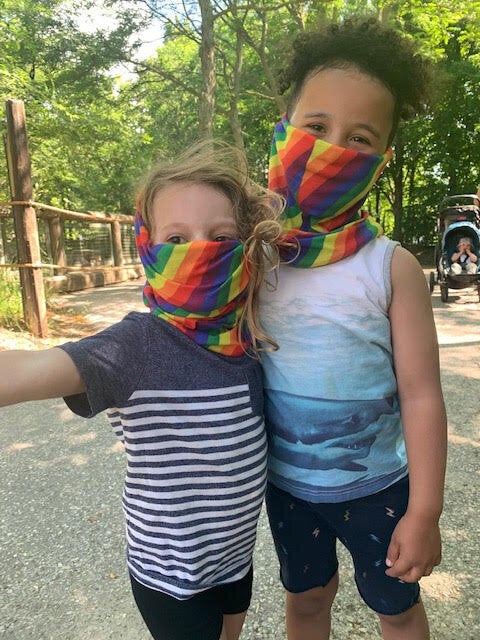 Katie: We were very, very lucky to have some pretty incredible benefits through work. 
Megan: We're lucky that we're highly educated, resourced people who have the wherewithal to navigate this system. I think that if you don't have those things, having a baby becomes a lot less joyful. And there's less of a chance that you can even have one. 
I was listed on the birth certificate as father-slash-second-parent.Katie
Katie: At the time Duke was born, Megan was listed as mother. And I was listed on the birth certificate as father-slash-second-parent. But I could be listed directly on the birth certificate, which meant, no question, Megan and I are equal parents. We were advised by a lawyer at the time that we could kind of close up loose ends and go through an official adoption, but we didn't really feel it was necessary, and it hasn't come back to be an issue in any way. 
I took parental leave, and it took me four months to get my EI benefits. I remember having to explain multiple times that I was taking parental leave and not maternity leave. [On the forms] I had the choice of biological parent or adoptive parent, and I was not either.
HuffPost Canada: What was the process for your second pregnancy?
Katie: We got pregnant again when Duke was about nine months. It was closer than we wanted, but Ontario introduced funded fertility treatments. It could be one round of IUI [intrauterine insemination] or one round of IVF [invitro fertilization]. IVF increases your chance of a successful pregnancy, and if you're only getting one paid round, you might as well go with your highest chance.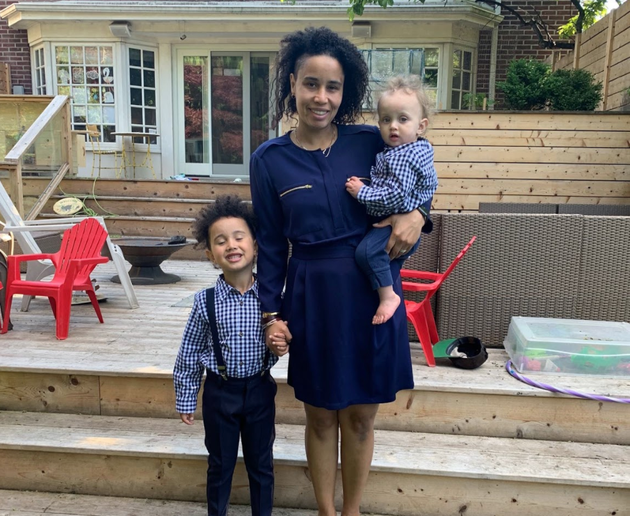 Megan: [With IVF], you can use just one vial of sperm and potentially get many embryos. Once you get the embryos, then you can freeze them and then those are your chances for IVF. 
Katie: So the actual IVF treatment for our second child was paid for. Now, IVF comes with significantly higher medication costs, because for the first trimester, you have to artificially support the hormones, which means you're on estrogen and progesterone and all kinds of medications for three-and-a-half to four months. 
Megan: All those medications cost a ton of money. Plus you have to get needles every day. It's very emotionally exhausting.
Katie: I think ballpark figure, medication for the full three or four months could be $5,000 to $10,000, depending on how much you need.
When you do IVF, they give you hormones to produce as many eggs as your body can produce. Instead of maturing one egg like you do on a regular period, you produce lots and lots of eggs. And at the time of ovulation, which is chemically controlled with the medication, the doctor goes in with a large needle through your vagina.
Megan: It's horrible. 
Katie: (Laughing) We have differing opinions on it, but they go into your vagina with a large needle and suck out all of the mature eggs.
Megan: It's the worst thing in the world.
Katie: I disagree with that, but to each their own.
Megan: To each their own with a needle in your vagina.
Katie: No, it is invasive. You're in stirrups, almost completely naked, with at least four or five medical professionals in the room and an entire laboratory of people behind this open window.
You have the option of just putting the eggs in a petri dish with sperm and hoping the sperm can permeate the egg and fertilize it. I think we paid an extra thousand dollars, and they would inject a single sperm into every egg to increase the number of healthy fertilized eggs you end up with. 
I got pregnant with Poppy, our second, on our first try.
HuffPost Canada: And baby number 3?
Katie: Our first, Duke, was Megan's egg and the sperm donor. Our second, Poppy, I carried, and she was my egg and the same donor. And then we switched it up and with our third I carried, but it was Megan's egg and the same sperm donor. 
Megan: I think it was always the plan, that Katie would use her egg and the sperm donor. And then with the third — I don't want to be pregnant ever again, so we knew that she would carry.
Pregnancy was magical for so many reasons; creating human life is indescribable. But I did not enjoy my pregnancy or delivery at all. I was sick almost the whole time, had a long labour that ended with a traumatic C-section, and had postpartum depression. It's important that women understand that it's OK not to enjoy pregnancy.  
Katie: I loved being pregnant. I most loved the feeling of never being alone, always having someone with me. I love the pregnant belly, and the excitement, anticipation and wonder. For all the worst parts of being pregnant, I think I would always be willing to do it again.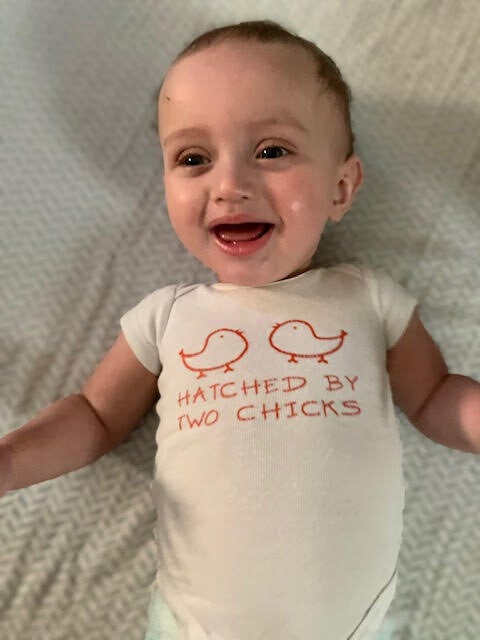 Megan: I'm so grateful that Katie had the positive experiences she did.
Katie: When we got pregnant with our third, we thought that we could qualify for another funded round of IVF, because a woman can choose to use her funded round with the use of a surrogate. Originally we thought that I would qualify as Megan's surrogate, but we found out part way through that I don't.
I think it was kind of a nice way for us to both be involved, to be closely connected. Dermott has lived in both of our bodies, which is kind of neat.
HuffPost Canada: Have you thought about how you'll explain all of this to your kids?
Katie: Oh, they know it. 
Megan: In developmentally appropriate ways, they know whose body each kid was in and all about how they came out. We're very open and candid with the kids. We want them to be proud of where they came from. We want them to have no shame, to be able to speak about it with confidence and curiosity when the time comes. There's no secrets.
Katie: They know that mommies had to use a doctor to help because we only have eggs and we needed sperm. 
Duke was delivered by C-section, and he knows that he came out of Mommy's tummy. Poppy knows that she came from Mama's vagina. Duke knows that he didn't want to come out — he was a 36-hour labour, so he knows he was cosy and he didn't want to come out. Poppy knows that she was excited to get in the world and she came out really fast. Dermott has no understanding yet, but the older two know that Dermott came from Mommy's tummy and then was born from Mama's tummy, that he spent time in both.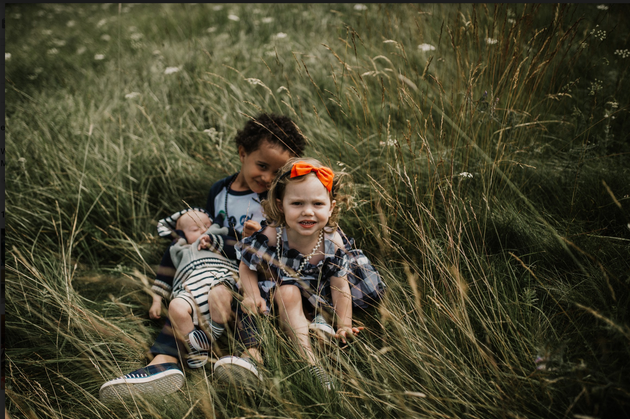 To Megan's point, we want them to be proud of their story. But I think it's just a reminder that we are different, and we have to really, really battle our own — would it be our own insecurities?
Megan: Internalized homophobia?
Katie: Internalized homophobia, or shame, or something. Our kids all look different, and we've had situations where even when we're out as a family, it's assumed that Megan is my nanny —
Megan: In my own neighbourhood.
Katie: It's shocking what people feel comfortable asking. I could be on the subway, and people are asking me if I adopted or, 'Where did he come from?' Or 'Are they related?' The assumption is they're not related, but Duke is somehow just a friend I'm bringing along. 
So you find yourself having to discuss your sexuality with strangers on the subway, and it's in front of the kids, so you don't want to brush it off. We don't want to teach our kids that there's something wrong with the way that their family is designed. A lot of people assume that children don't understand, but they are tiny but smart, and they put things together. 
It's dramatically affected the way in which Meghan and I force ourselves to live in the world. It can be uncomfortable. You want them to experience that discomfort and to know it's OK to correct people, even if it makes the other person uncomfortable, because there's nothing wrong with how our family is built. But you're constantly weighing it with: Is this a safe situation? And are there allies around me that would protect me if something happened?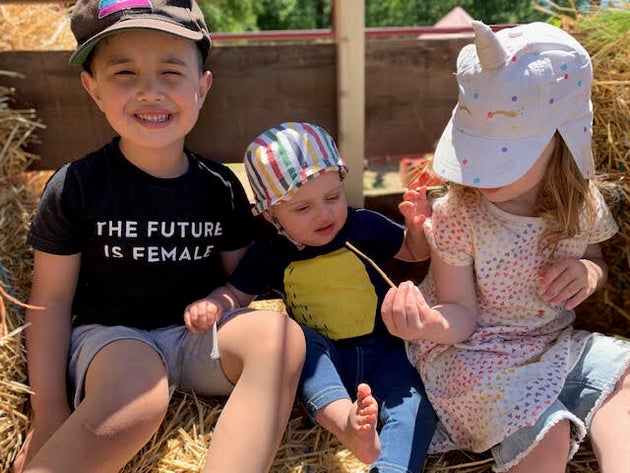 Megan: We're talking about intersectionality, too — how race plays into it. And our sexual orientation is always at the forefront of our experiences. 
Katie: Our lives are incredibly normal, but also our kids are exposed to a lot of different identities. In a lot of ways, they're in this little bubble. But they'll go into the world, and we're holding our breath for the time that someone, at some point, will say something derogatory about their family or about their skin colour. As parents, those are the things that we worry about. But hopefully, the fact that they have had this time in a world where it just is will allow them to build some resilience.
As much as we talk about having to check our safety, there's also a lot of really beautiful interactions with the world, where you just have to make the clarifying statement and people move on and it's totally fine. 
Like, Megan and I took the kids to a strawberry farm last week. We were walking through a field of strawberries, and this teenage girl came up to me, and she goes, 'Are you two a couple? Are those your kids?' And I was like, Yeah, she's my wife. We've been married for about seven years. Those are our kids.' And she said, 'I hope I can have what you have one day.' This teenage girl, witnessing our family just doing this super normal thing, it impacted her idea of what her future could look like.
@repost Child Support Lawyer
source https://www.huffingtonpost.ca/entry/lgbt-parents-sperm-donation_ca_5f0b3a4ac5b67a80bc08f9d4
July 13, 2020
CAIRO — Their accounts are similar. The girls and women describe meeting the young man — a former student at Egypt's most elite university — in person and online, followed by deceit, then escalating sexual harassment, assault, blackmail or rape.
Some were minors when the alleged crimes took place. In all, more than 100 accusers have emerged online in the past two weeks.
It's resulted in a new #MeToo firestorm on social media, and the arrest of the suspect last week from his home in a gated community outside Cairo.
Activists say the case shows that misogyny cuts across the country's stark class lines; many in Egypt have previously portrayed harassment as a problem of poor urban youth.
Women's rights champions hope the authorities' swift response signals change in how Egyptian society handles accusations of sexual assault.
"What's before this case is totally different from what's after," said Nihad Abuel-Komsan, head of the Egyptian Center for Women's Rights and a lawyer representing some of the alleged victims.
Sexual assault and harassment are deep-seated problems in Egypt, where victims must also fight the undercurrent of a conservative culture that typically ties female chastity to a family's reputation. In courts, the burden of proof lies heavily on the victim of such crimes.
In a statement, the public prosecutor's officer said the accused man acknowledged he blackmailed at least six girls, saying he would send sensitive photos of them to their families if they cut ties. Several attempts by The Associated Press to contact him or his lawyer were unsuccessful.
Amr Adib, Egypt's most prominent TV host, said in a recent episode that he'd spoken with the young man's father, who occupies a high-ranking position at a telecommunication company. He said his son dismissed the allegations.
At least 10 women have officially reported their claims, according to Abuel-Komsan, of the women's rights centre. Activists also set up the Instagram account @assaultpolice to collect allegations, said Sabah Khodir, a U.S.-based writer who helps run the account. She said there are more than 100 accounts.
"We are demanding to be listened to … We are just using what we have, lending our voices to hopefully create some kind of change," she said.
A court has ordered the accused to remain in custody pending an investigation into an array of accusations that include attempted rape, blackmail and indecent assault, according to a five-page statement by the public prosecutor. In the same statement, the prosecutor urged more alleged victims to come forward.
Last week, the government of President Abdel-Fattah el-Sissi moved to amend the country's criminal law to increase protections for the identities of sexual assault victims, which activists have welcomed. The amendment still needs parliamentary approval and el-Sissi's signature to be made law.
The allegations against the student cover a period of at least three years.
Many of the anonymous accounts appear to be from fellow students at the American International School, one of the country's most expensive private high schools, and the American University in Cairo, which school officials said the accused left in 2018. It would appear that he then enrolled at the European Union Business School in Spain, in an online program last year.
In February, he spent three weeks at its Barcelona campus, but the school expelled him after an accusation of online harassment that was subsequently proved false, said Claire Basterfield, a spokesperson for the EUBS. The school has filed a 54-page criminal complaint with the Spanish police, seeking further investigation into his actions.
The head of the American University in Cairo, Francis Ricciardone, said the university has a zero tolerance policy concerning sexual harassment, but that he would not comment on an ongoing case.
According to accusations posted on social media in the past two weeks, the former student would mine the pool of mutual friends on Facebook, online groups or school clubs. He would start with flattery, then pressure the women and girls to share intimate photos that he later used to blackmail them to have sex with him. If they did not, he would threaten to send the pictures to their family.
In some cases, he "attracted their sympathy by claiming he was going through a crisis," then lured them to his home in an upscale compound where he sexually assaulted them, the prosecutor's statement alleged.
In Egypt, sexual assault complaints have typically involved street harassment. During and after the 2011 uprising that toppled President Hosni Mubarak, women were frequently harassed, groped — and in some cases, beaten and sexually assaulted — during mass protests.
This time, there are signs of wider ripples throughout the society. The current series of complaints has prompted Egypt's Al-Azhar, the Sunni Muslim world's foremost religious institution, to speak out on sexual harassment and assault, even challenging the widely held belief that a woman is at fault if her clothing is less than modest. It's a departure from the norm for the conservative Muslim majority country where most women wear headscarves.
There are also other corners where accusations of sexual harassment are emerging, such as in civil society groups and businesses.
Two rights groups said they fired one employee and suspended another, and opened investigations after allegations of sexual misconduct against them were made public. Authorities also detained a prominent publisher over the weekend after a poet filed a complaint with the Cairo police, accusing him of sexually harassing her, the state-run al-Ahram reported. The publisher denied the allegations in a Facebook posting. He was released late Sunday on 5,000 Egyptian pounds ($313) in bail, pending an investigation.
The current case has "refuted all previous arguments and justifications for harassment, from poverty to illiteracy and things like that," Abuel-Komsan said.
Samy Magdy, The Associated Press
@repost Separation Spousal Support
Via Equalization Payments Divorce Canada
source https://toronto.citynews.ca/2020/07/13/accusations-of-serial-assault-spark-new-metoo-wave-in-egypt/
July 13, 2020
ST. PETERSBURG, Russia — At the Lagutenko wedding in 2017, the couple exchanged vows, rings and kisses in front of friends and relatives, then took a traditional drive in a limousine, stopping at landmarks for photos.
But because they were both women, the wedding wasn't legal in Russia.
If Irina and Anastasia Lagutenko had any hopes they could someday officially be married in their homeland, the possibility vanished on July 1 when voters approved a package of constitutional amendments, one of them stipulating that marriage is only between a man and a woman.
Unlike many LGBT people in Russia who keep low profiles because of pervasive enmity against nontraditional sexuality, they live openly as a same-sex couple with a 21-month-old boy, named Dorian, who was born to Irina.
They lack, and probably never will receive, those rights accorded to heterosexual couples. They won't be allowed to refuse to testify against their partner in court, they won't automatically inherit from each other, and they can't see each other in hospitals that only allow visits by family members. Anastasia is not a legal guardian for Dorian and can't become one.
"I want to have the same legal rights for the child," Anastasia told The Associated Press as Dorian played in her lap in their apartment.
"I planned this child. We went all the way of the pregnancy and the childbirth together, and now, I am 100%, 200% involved in the process of upbringing, and I consider him mine," she said.
Although Russia decriminalized homosexuality decades ago, animosity against gays remains high. In 2012, the Moscow city government ordered that gay pride parades be banned for the next 100 years. The following year, the parliament unanimously passed a law forbidding "propaganda of nontraditional sexual relationships" among minors.
Attacks on the gay community persist. Last summer, the murder of Yelena Grigoryeva, an LGBT activist in St. Petersburg, made national headlines. Dozens of other activists received death threats from an obscure anti-gay group that claimed responsibility for the killing of Grigoryeva, who was stabbed repeatedly and showed signs of strangulation.
In 2017, reports of extrajudicial arrests, torture and killings of gay men in the republic of Chechnya drew international condemnation.
Last year, Andrei Vaganov and Yevgeny Yerofeyev, a couple raising two adopted children, had to flee Russia after a doctor reported them to police and authorities opened a criminal case. Adoption by same-sex couples is banned in Russia, but Vaganov had applied as a single father.
Max Olenichev, a lawyer with the Coming Out gay rights group, said there are instances of tolerance by some courts. He said he has worked on seven custody cases in which judges refused to take away custody, saying that sexual orientation doesn't play a role in a child's upbringing.
But he is concerned that the constitutional changes will encourage anti-gay views.
Previously, "the state had to create equal opportunities for all people that live in Russia, both for LGBT people and non-LGBT people. When these amendments come into effect, then in fact the state will only support conservative values and promote them. LGBT people will be left behind," he said.
"Our society really looks up to what the government does, so any kinds of public actions promoting homophobia, transphobia, biphobia, many people may perceive as a call for action. And we believe that there will be more hate speech and hate crimes, and that LGBT people will suffer more violence," Olenichev said.
Pyotr Tolstoy, a parliament member who supported the changes to the constitution, says Russia is "a stronghold of traditionalism," reflecting the widespread view that the country is under siege from decadent foreign influences.
The amendments will allow Russia "not to repeat the mistakes that exist in the West," he told the AP. "These mistakes, in my opinion, are fundamental, when certain people — the LGBT community or certain race groups — are being given additional, special rights. More rights than the majority."
President Vladimir Putin has rejected criticism of the constitutional amendments and the gay propaganda law.
He said that in some countries, "criminal law provisions still exist under which people of nontraditional sexual orientation can be persecuted criminally, as it was in the Soviet Union. We don't have anything similar to that." Putin's remarks came after passage of the amendments package, which also allows him to seek two more terms in office.
Tolstoy, who is a deputy speaker in the lower house of parliament and heads the Russian delegation to the Parliamentary Assembly of the Council of Europe, rejects the idea that the provision outlawing same-sex marriages in the constitution promotes intolerance.
"In our country, people are tolerant to all communities, as long they don't demand any special rights," he said.
For Irina and Anastasia Lagutenko, it is not about any kind of special rights. Anastasia says she just wants basic rights given to every parent — the "reassurance" that she is "a lawful parent, like parents in a traditional family."
"When you have a legal right for a child, you feel safe," she said.
"I want people who think that families like ours don't exist to see us — (to see) that our family is complete, we have an excellent child, and to accept this fact." Irina said. "We don't have a fear of living in the open and we won't hide, because we are the same people and we have the same rights."
The Associated Press
@repost Quickie Divorce
Via Marriage Divorce
source https://toronto.citynews.ca/2020/07/13/russian-constitution-change-ends-hopes-for-same-sex-marriage/
July 13, 2020