Welcome toDad Village, Huffpost Canada's series about all things fatherhood.

A quarter of new dads feel socially isolated, and supports for fathers tend to be lacking even though this generation is more involved in parenting than ever before. That's why it's so important to connect! We hope this series will get dads talking: to each other, to their partners, and online.
There's a lot of focus on a mom's health when a new baby comes along, and rightly so. 
But whether a dad is supporting a female partner, parenting solo, or in a same-sex relationship, parenting takes a toll. Recent studies have shown that fatherhood can negatively impact mental health, and men can get postpartum depression, too. Dads can also get burnout, and the stress of it all can impact men physically.
Experiencing high stress and lack of sleep can increase a man's risk of heart disease, Type 2 diabetes, obesity, and mental illness, according to the Canadian Men's Health Foundation. The foundation also found that men are skipping meals, eating unhealthy snacks, and not taking breaks.
That's not great, dads! You need to start taking care of yourselves, too.
But how can a new dad, in all his sleeplessness and stress, make his own health a priority? Especially when there's a baby that requires most of your attention?
Here are five manageable tips for dads to take care of their mental and physical health:
1. Get outside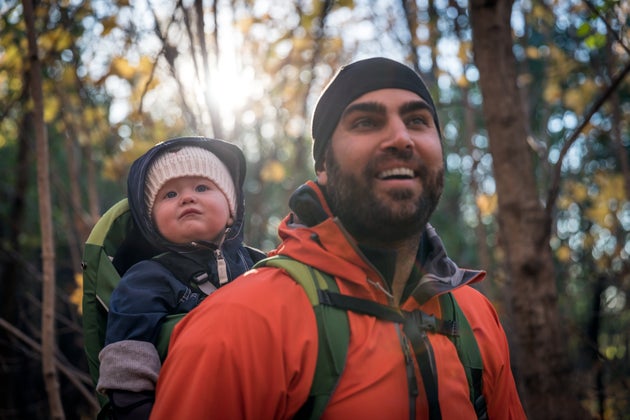 Sunlight and exercise have both been proven to help tired people stay awake, and fresh air is a natural mood booster. So get outside, whether it's for a brisk walk around the neighbourhood, a weekend hike, or a quick run at lunch.
"Nature is fuel for the soul, " Richard Ryan, researcher and professor of psychology at the University of Rochester, previously told the University of Rochester. "Often when we feel depleted we reach for a cup of coffee, but research suggests a better way to get energized is to connect with nature."
Not sure how you can squeeze it in? Take baby with you! This is why strollers were invented, people. You can also invest in a jogging stroller if you're craving a good run, or take baby in a carrier for a (low-impact, easy) hike.
2. Resist eating junk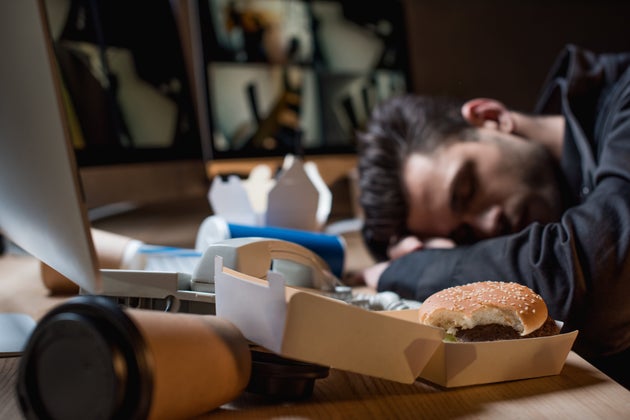 There's nothing like a lack of sleep and an increase in stress to make you reach for the chips, try to live off your kid's dinner scraps, or say eff it and order in burgers every second night. None of this is particularly … great. 
Parents are also prone to late-night snacking if and when the kids go to bed, which may induce weight gain and higher levels of blood sugar. In fact, a 2010 study found that a father's risk of obesity climbs by four per cent with every child!
We get it. You are keeping humans alive. You deserve a treat. But a little more focus on what you're actually putting in your body will benefit you in so many ways. Try to eat dinner together as a family, which increases your likelihood of consuming a balanced meal. Stock up on healthy snacks like fruit with yogurt, veggies and dip, and crackers with hummus or peanut butter.  
And if you're just snacking out of boredom or stress, Dietitians of Canada recommends going for a walk, listening to music, or reading instead.
3. Talk to other dads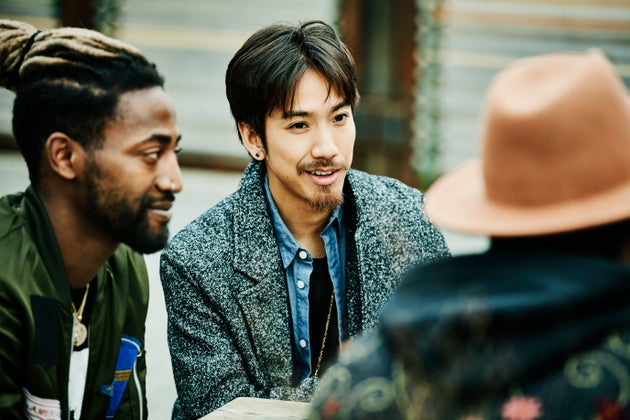 A 2019 study found that a quarter of new dads feel socially isolated, with 20 per cent saying they lost friends after having kids. That same study found that friendships are important for a dad's mental health, however, as those without close friends were more likely to experience stress in the first year of fatherhood.
There are tons of support groups and playgroups for new moms, and Facebook groups a'plenty. But support for new dads tends to be lacking. So, unfortunately, it's often up to you to seek out fellow dad kinship, but it's so important to try! 
Chat up another dad at the park. Ask about the baby pics your co-worker displays proudly on his desk. Get to know the other dads at daycare drop-off, and suggest a playdate. Use the kid as an excuse: that's what they're for.
Dad Central also provides a database for programs and organizations that serve dads across Canada. Get out there! Make some buddies who will nod in agreement when you occasionally refer to your baby as "the jerk that took all my sleep."
4. Schedule downtime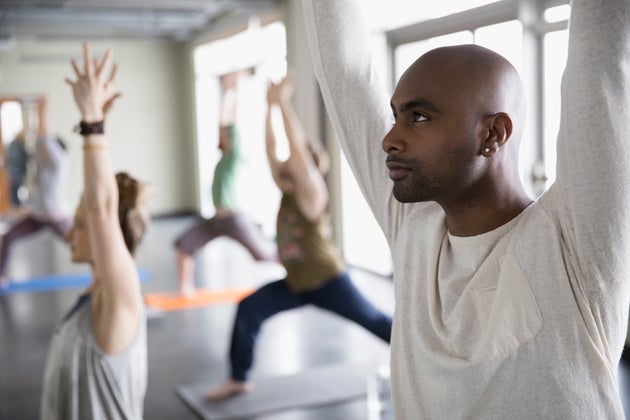 Every parent needs a break, and dads are no exception. You cannot run on an empty tank, pour from an empty cup, insert alternate cliche here. You get the picture.
It can be hard when baby is young, but try to do at least one thing for yourself every week. Maybe it's an exercise class or quick trip to the gym. Maybe it's 30 minutes alone in a coffee shop to read the newspaper. Maybe it's a massage (babies are heavy!). Whatever floats your boat, schedule it in the calendar and stick to it.
If you have a partner, return the favour and make sure they do the same for themselves. You'll both be happier.
5. Practice mindfulness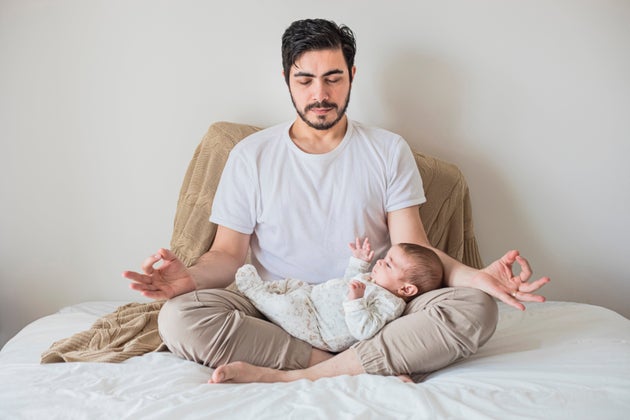 The stress of new parenthood is no joke. One recent study found that some new parents experience a drop in happiness even larger than the drop that occurs from unemployment, divorce, or a partner's death. 
When you have a million things on your mind, a little introspection can go a long way. That's where mindfulness comes in. Mindfulness meditation allows us to train our brains to react different to stressors, and it can make you a better parent.
"Think of it as doing push-ups for the brain," parenting expert Alyson Schafer previously wrote in HuffPost Canada.
Practicing mindfulness will help you to be more present, calm your reactions, and focus your attention. Here are some easy ways to get started:
Start your day with a few calming breaths, thinking about what you're grateful for, and setting your intentions.
Put down your phone around your kids to be more present.
Take breaks to refill your cup (figuratively … but literally if you need a coffee)
Try some mindfulness apps such as  Dan Harris's 10% Happier or Sam Harris's Waking Up, and Meditation Timer or Calm. 
WATCH: Dad opens up about postpartum depression.
@repost Local Child Support Lawyers
Via Domestic Partnership Prenuptial Agreement
source https://www.huffingtonpost.ca/entry/dads-health-tips_ca_5dc46e9ce4b07a341dfeb058
November 14, 2019
We know the classic story: girl meets girl, girl likes girl. They fall in love, grapple with coming out, grow apart, come out to their parents, reunite … and also it's a car ad?
That's the case with a video from French automobile company Renault making the rounds on Twitter this week. 
Without context, it seems like the sort of representative media queer folks like me have been clambering for. The two meet on what appears to be an exchange, with one girl helpfully handing the other a cassette tape labelled "MUSIC" — great flirting technique if you ask me. The video cuts forward to the two as young adults, frolicking in the rain and sharing a kiss inside a rain-soaked car as a soft and dramatic cover of Oasis's "Wonderwall" by British-Ethiopian singer Rahel Debebe-Dessalegne plays. 
But by the time the happy couple is cruising down an empty road in a shiny new orange car — adorable daughter of their own in the back — I started to realize this treacly film that made me feel seen and openly weep in a coffee shop was actually a vessel of gasoline-chugging capitalism here to sell me cars. 
And true to form, in an M. Night Shyamalan-worthy twist, text promoting the new Renault CLIO car comes up, alongside the message "30 years in the making" — a reference I assume to the car's development, but also the epic multi-decade romance and also possibly the 30th anniversary of the founding of Stonewall U.K., one of the country's largest LGBTQ advocacy organizations. 
'I'm weeping'
Regardless, everyone's getting emotional over what some are calling the best short film of the year.
I'll admit, as a queer woman, there's something undeniable about seeing my lived experience on film — even if it is a car ad. Does this make me want to buy a car? Not really. 
Does this ad give me hope that I, too, will one day reunite with my crush, who I sang Wicked show tunes with at art summer camp in the seventh grade, and we'll drive off into the sunset together?  You betcha. 
Many people also pointed out that the ad has a better ending for the central couple than most film or television depictions of lesbian relationships. The "bury your gays" trope rose to prominence in 2016, where LGBTQ advocacy group GLAAD's "Where We Are On TV" report noted that 25 queer female characters died in 2016-17. In this year's report, while GLAAD notes that things have improved, many key queer female characters still die at disporportionate rates onscreen. 
And no one dies in the lesbian car ad, which a lot of people are seeing as a win. You know it's bad for representation in media when that's your metric. 
Of course, many people are still pointing out that no matter how emotional or well-made, it is still a car ad. 
An Oscar for ads?
This isn't the first time an advertiser has tricked people into getting emotional over a well-produced film and then pulled back the curtain to sell them a product. In 2016, Subway aired a similarly epic and well-produced ad in Brazil. People were equally shook when they realized the short film was actually there to sell sandwiches.
Disguising ads as auteur-driven short films isn't even a 21st century phenomenon. In 1984, director Ridley Scott of 'Alien' fame was brought in to direct an ad for a little old company called Apple. What resulted is one of the most famous tv ads of all-time.
In 2012, Johnny Kelly directed an adorable animated ad for Chipotle that preaches sustainable farming and includes a bangin' Willie Nelson cover of Coldplay's "The Scientist."
The lesbian car ad isn't even the first to use an epic queer love story  to sell stuff. In 2018, Visit Las Vegas released an equally epic and equally heart-clenching ad featuring a queer female couple. 
I know this ad was a success because this one also made me cry, and sort of made me want to go to Vegas, dance under lights, look at fountains and have a shotgun wedding with my yet-to-be-determined future spouse. 
A girl can dream.
CORRECTION: A previous version of this story incorrectly stated Renault is a British car company. It is in fact, French.
Related on HuffPost:
@repost How Much Is Spousal Support
source https://www.huffingtonpost.ca/entry/lesbian-car-advertisement-video-renault_ca_5dcb133ce4b05bc4ebf3c63d
November 13, 2019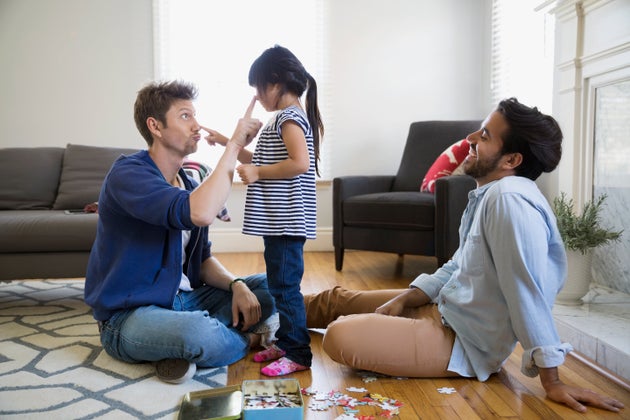 I was woefully unprepared for the realities of parenthood after my son was born. This was despite being an avid reader and consumer of all things "baby."
When I suffered a third-degree tear during childbirth, all I saw were articles about the importance of bonding and breastfeeding, when what I needed was something that gave me permission to sit on ice and told me when I should expect to wear pants again (it would take months). Ditto when everyone's baby seemed to sleep (at least some) except mine. I was unprepared for the hair loss, for the fights with my spouse, EXTREME picky eating, the excruciating tug and pull of balancing work and motherhood, LICE (wee!), anxiety, complicated pregnancy loss, and all the other aspects of parenthood that don't get talked about as much as, say, nursery decor and baby-and-me yoga.
So, when I started a new job as HuffPost Canada's Parents editor, my team and I curated these articles and videos ourselves. And honesty, even at-times brutal honesty, became the cornerstone of what we represent.
WATCH: The gross things no one tells you about motherhood. Story continues below.
Re-launching the parents section gave our team the opportunity to really hone in on our values and what we want Canadian parents to get out of our content.
Here at HuffPost Canada Parents, we are:
Informed
Realistic
Honest
Inclusive
Supportive
Our Parents News section shares only the most relevant stories and studies that matter to Canadian parents. Our how-tos are realistic, and include topics like useful cooking tips for parents on a time-crunch (not everyone can be a Pinterest parent), pregnancy-safe anti-aging products, and how not to be the worst in Facebook parents groups.
We delve into the tough topics in our real-talk section (like the brutal effects of sleep-deprivation). We celebrate and provide tailored content for every kind of parent and kid: dads, LGBTQ folk, people of colour, people with disabilities. 
And through it all, we're supportive. Our parents self-care section urges parents to take care of their own health and well-being at a time when focus tends to shift to kids. We never shame (parents get enough of that in the real world, don't you think?).
WATCH: Easy ways new dads can prioritize their own health. Story continues below.
@repost Shared Custody Child Support
source https://www.huffingtonpost.ca/entry/huffpost-parents-introducing_ca_5dcac64ee4b02bf57946b432
November 13, 2019
Live, from DC: Trump impeachment hearings about to go public
WASHINGTON (AP) — The closed doors of the Trump impeachment investigation are swinging wide open.
When the gavel strikes at the start of the House hearing Wednesday morning, America and the rest of the world will have the chance to see and hear for themselves for the first time about President Donald Trump's actions toward Ukraine and consider whether they are, in fact, impeachable offences.
It's a remarkable moment, even for a White House full of them.
All on TV, committee leaders will set the stage, then comes the main feature: Two seasoned diplomats, William Taylor, the graying former infantry officer now charge d'affaires in Ukraine, and George Kent, the deputy assistant secretary in Washington, telling the striking, if sometimes complicated story of a president allegedly using foreign policy for personal and political gain ahead of the 2020 election.
So far, the narrative is splitting Americans, mostly along the same lines as Trump's unusual presidency. The Constitution sets a dramatic, but vague, bar for impeachment, and there's no consensus yet that Trump's actions at the heart of the inquiry meet the threshold of "high crimes and misdemeanours."
___
Trump to face limits of his power in impeachment hearings
NEW YORK (AP) — For three years, Donald Trump has unapologetically defied the conventions of the American presidency. On Wednesday, he comes face to face with the limits of his power, confronting an impeachment process enshrined in the Constitution that will play out in public and help shape how the president will be viewed by voters next year and in the history books for generations.
Trump accepted the Republican nomination, declaring that "I alone can fix" the nation's problems. Once elected, he set about reshaping the presidency, bending and dismantling institutions surrounding the 230-year-old office.
Now a parade of career public servants will raise their hands and swear an oath to the truth, not the presidency, representing an integral part of the system of checks and balances envisioned by the Founding Fathers.
"Trump can do away with the traditions and niceties of the office, but he can't get away from the Constitution," said Douglas Brinkley, presidential historian at Rice University. "During Watergate, many people feared that if a president collapsed, America is broken. But the lesson of Nixon is that the Constitution is durable and the country can handle it."
The Democrats will try to make the case that the president tried to extort a foreign nation, Ukraine, to investigate a political rival, former Vice-President Joe Biden. But even if the House ultimately votes to make Trump only the third American president to be impeached, few expect the Republican-controlled Senate to eventually remove Trump from office.
___
Split Supreme Court appears ready to allow Trump to end DACA
WASHINGTON (AP) — Sharply at odds with liberal justices, the Supreme Court's conservative majority seemed ready Tuesday to allow the Trump administration to abolish protections that permit 660,000 immigrants to work in the U.S., free from the threat of deportation.
That outcome would "destroy lives," declared Justice Sonia Sotomayor, one the court's liberals who repeatedly suggested the administration has not adequately justified its decision to end the seven-year-old Deferred Action for Childhood Arrivals program. Nor has it taken sufficient account of the personal, economic and social disruption that might result, they said.
But there did not appear to be any support among the five conservatives for blocking the administration. The nine-member court's decision is expected by June, at the height of the 2020 presidential campaign.
President Donald Trump said on Twitter that DACA recipients shouldn't despair if the justices side with him, pledging that "a deal will be made with the Dems for them to stay!" But Trump's past promises to work with Democrats on a legislative solution for these immigrants have led nowhere.
The president also said in his tweet that many program participants, brought to the U.S. as children and now here illegally, are "far from 'angels,'" and he claimed that "some are very tough, hardened criminals." The program bars anyone with a felony conviction from participating, and serious misdemeanours may also bar eligibility.
___
US held record number of migrant children in custody in 2019
COMAYAGUA, Honduras (AP) — The 3-year-old girl travelled for weeks cradled in her father's arms, as he set out to seek asylum in the United States. Now she won't even look at him.
After being forcibly separated at the border by government officials, sexually abused in U.S. foster care and deported, the once bright and beaming girl arrived back in Honduras withdrawn, anxious and angry, convinced her father abandoned her.
He fears their bond is forever broken.
"I think about this trauma staying with her too, because the trauma has remained with me and still hasn't faded," he said, days after their reunion.
This month, new government data shows the little girl is one of an unprecedented 69,550 migrant children held in U.S. government custody over the past year, enough infants, toddlers, kids and teens to overflow the typical NFL stadium. That's more children detained away from their parents than any other country, according to United Nations researchers. And it's happening even though the U.S. government has acknowledged that being held in detention can be traumatic for children, putting them at risk of long-term physical and emotional damage.
___
Colin Kaepernick plans to audition for NFL teams on Saturday
Colin Kaepernick plans to audition for NFL teams on Saturday in a private workout arranged by the league to be held in Atlanta.
The exiled former Pro Bowl quarterback posted on Twitter: "I'm just getting word from my representatives that the NFL league office reached out to them about a workout in Atlanta on Saturday. I've been in shape and ready for this for 3 years, can't wait to see the head coaches and GMs on Saturday."
The NFL hasn't confirmed Kaepernick's workout details.
A person familiar with the plans told The Associated Press the league's decision to invite all 32 teams to watch Kaepernick "came out of the blue with no prior communication." The person said Kaepernick's team was given a 2-hour window to accept the invitation and was denied a request to schedule the tryout on a Tuesday or another Saturday.
Kaepernick's representatives have asked the league to provide a rolling list of teams that plan to attend the workout to ensure it's a "legitimate process," according to the person who spoke on condition of anonymity because details haven't been made public.
___
Uncertainty in Bolivia as senator claims interim presidency
LA PAZ, Bolivia (AP) — Bolivians have new uncertainty to grapple with now that opposition Sen. Jeanine Añez declared herself interim president of the crisis-torn Andean country just hours after Evo Morales flew off to self-exile in Mexico.
Questions remained about who might rally around Añez, while Morales' supporters angrily accused her of trying to seize power in her declaration Tuesday, raising the prospect of more troubles following weeks of clashes over the disputed Oct. 20 presidential election.
Some people took to the streets cheering and waving national flags Tuesday night after Añez claimed the post of Senate leader, the position next in line for the presidency. Furious supporters of Morales responded by trying to force their way to the Congress building in La Paz yelling, "She must quit!"
___
As Hong Kong descends into chaos, China mulls its options
BEIJING (AP) — A sharp escalation of violence in Hong Kong is once again raising the question of how China's central government will respond: Will it deploy its armed forces, or allow the chaos and destruction to continue?
Protests persisted Tuesday at university campuses and the central business district following a day of violence that left two people in critical condition after a police officer shot a protester and a man was set on fire during an argument with demonstrators.
Rioters again disrupted traffic and vandalized shops in multiple neighbourhoods. Subways were partially shut down, and passengers on one train were forced to get off and walk along the tracks.
The unabating tumult, now in its sixth month, may give the ruling Communist Party the justification it needs to intervene, analysts said.
"Beijing is hoping that the Hong Kong community will start blaming the protesters and support the restoration of order," said Jean-Pierre Cabestan, a political science professor at Hong Kong Baptist University.
___
USC campus left shaken by 9 student deaths since August
LOS ANGELES (AP) — The first death occurred in late August, two days before classes began, when an incoming freshman was struck by a car while walking on a freeway near the University of Southern California.
In the more than 2 months since, eight other USC students have died — three by suicide, others by unknown means. The string of fatalities has left students and faculty at the prestigious university shaken and struggling for answers.
The Los Angeles Times reported Tuesday that the latest fatality — a 27-year-old student found dead Monday in an off-campus apartment — came days after administrators sent letters to students and parents about the series of deaths.
"There is a great deal of speculation about the causes of these deaths and most are being attributed to suicide. This is not correct," the Times quoted one of the letters as saying.
While officials say three of the deaths are confirmed suicides, the causes of the others are not known or haven't been released. The latest case is still under investigation.
___
Most distant world ever explored gets new name: Arrokoth
CAPE CANAVERAL, Fla. (AP) — The most distant world ever explored 4 billion miles away finally has an official name: Arrokoth.
That means "sky" in the language of the Native American Powhatan people, NASA said Tuesday.
NASA's New Horizons spacecraft flew past the snowman-shaped Arrokoth on New Year's Day, 3 1/2 years after exploring Pluto. At the time, this small icy world 1 billion miles (1.6 billion kilometres) beyond Pluto was nicknamed Ultima Thule given its vast distance from us.
"The name 'Arrokoth' reflects the inspiration of looking to the skies," lead scientist Alan Stern of Southwest Research Institute said in a statement, "and wondering about the stars and worlds beyond our own."
The name was picked because of the Powhatan's ties to the Chesapeake Bay region.
___
People magazine names John Legend as 2019 Sexiest Man Alive
LOS ANGELES (AP) — R&B crooner John Legend has been named the Sexiest Man Alive by People magazine.
The Grammy-winning singer known for his silky-smooth vocals was revealed as this year's winner Tuesday night on NBC's "The Voice." He serves as a coach on the singing competition series with Gwen Stefani, Kelly Clarkson and Blake Shelton.
Shelton, who was named Sexiest Man Alive in 2017, announced Legend's honour on "The Voice." The country singer then handed Legend some short shorts with bedazzled letters "EGOTSMA" to signify the singer's many honours: an Emmy, Grammy, Oscar, Tony and now, Sexiest Man Alive.
Legend tells the magazine in an issue out Friday the honour comes with some pressure after following Idris Elba, who was last year's winner. He jokes it "is not fair and is not nice to me!"
The 40-year-old Legend is a 10-time Grammy winner. He scored an Oscar in 2015 for co-writing the song "Glory" from the film "Selma." He won a Tony Award for his co-producer work on "Jitney" and took home an Emmy as a producer on NBC's live version of "Jesus Christ Superstar," a project in which he also played the role of Jesus.
The Associated Press
@repost Property Settlement after Separation
source https://toronto.citynews.ca/2019/11/13/ap-news-in-brief-at-1204-a-m-est-109/
November 13, 2019
DALLAS — A Texas law that gives families 10 days to find a new hospital if they disagree with doctors who decide to take a patient off life support is once again under the spotlight after a judge halted a Fort Worth hospital's plan to remove a 9-month-old girl from a ventilator against her family's wishes.
Doctors at Cook Children's Medical Center planned to stop treatment Sunday for Tinslee Lewis after invoking the state's "10-day rule."
The hospital said Tinslee was born prematurely with a rare heart defect and suffers from chronic lung disease and severe chronic high blood pressure. She has been hospitalized since birth and has been on a ventilator since July. Not only is her condition fatal, the hospital said, but doctors believe she's suffering.
But on Sunday, a judge granted Tinslee's family a temporary restraining order that gives them until Nov. 22 to find a facility that will take her, said Kimberlyn Schwartz, a spokeswoman for anti-abortion group Texas Right to Life, which began helping the family over the weekend.
Cook Children's says it has reached out to nearly 20 facilities around the country and none felt the hospital's assessment was incorrect.
Tinslee's mother, Trinity Lewis, said her daughter likes to cuddle and is "a fighter."
Here's a look at Texas law in such cases:
WHAT THE LAW SAYS IN TEXAS:
Texas law stipulates if doctors believe life-sustaining treatment should be stopped but the family does not, the disagreement can be taken to the hospital's ethics committee. If the committee agrees with the doctor, the "10-day rule" can be employed. If the hospital or family can't find a willing provider in that time, and unless a court grants an extension, treatment can be withdrawn.
Experts say a committee rarely hears such disputes.
Typically, the family would first talk to experts including a palliative care specialist and an ethics consultant, according to Dr. Robert L. Fine, clinical director of the Office of Clinical Ethics and Palliative Care at Baylor Scott & White Health in Texas.
Trevor Bibler, a professor at the Center for Medical Ethics and Health Policy at Baylor College of Medicine in Houston, said "usually these types of impasses are able to be broken" through time and mediation.
The 1999 Texas law shields doctors who follow the procedure from lawsuits.
WHAT THE LAW SAYS IN OTHER STATES
Texas is one of only a handful of states with such a law. Virginia and California have similar ones.
In most states, the law is not as detailed on the matter, said Thaddeus Mason Pope, a professor at Mitchell Hamline School of Law in St. Paul, Minnesota. "The Texas law is very, very clear: You are absolutely allowed to do this," he said.
He said the same process basically occurs in other states that don't have specific legislation and that hospital staff would just assess the legal risk of getting sued before proceeding.
HOW TEXAS' LAW CAME ABOUT
The goal of the law was to give families and doctors a say but keep the debates out of the courtroom.
"I think it's important for families to know that they're being heard and to be given an opportunity to understand where the doctors and the hospital are coming from as well," said Tom Mayo, a law professor at Southern Methodist University in Dallas.
Lawmakers, attorneys, doctors and anti-abortion groups were among those participating in a task force that helped craft the law. Among those was Texas Alliance for Life, a group that opposes abortion except to save the mother's life and also opposes euthanasia.
Joe Pojman, the group's executive director, says they "strongly support" the law's dispute resolution process. He says the law balances the family's autonomy with doctors' rights not to give interventions that cause harm or suffering.
THE ETHICS COMMITTEES
The law doesn't stipulate who should be on a hospital's ethics committee, but at a large hospital it would likely include dozens of people from different backgrounds including doctors, nurses, lawyers and chaplains.
"We operate by consensus and we talk it out," Fine said.
WHAT THE GROUPS REPRESENTING THE FAMILY SAYS
Schwartz says her group believes "there shouldn't be a countdown placed on patients' lives."
In the 20 years that the law's been on the books, her group has helped more than 400 families, she said. It often takes "way longer" than 10 days to find a facility that will accept a patient, she said.
"Don't give the family just 10 days to navigate that complicated process. That's almost impossible for an average family to do," Schwartz said.
"Morally, these decisions should be left with patients and families," she said, adding that quality of life shouldn't be the only consideration.
OTHER CASES THAT HAVE GAINED ATTENTION:
Last year, a 9-year-old girl in Texas at the centre of a three-week court battle with Cook Children's Medical Center to keep her on life support died after an appeals court allowed her parents more time to find a facility to maintain her life support.
Doctors had declared Payton Summons brain-dead and beyond hope of recovery after her heart went into cardiac arrest.
___
Information from: Fort Worth Star-Telegram, https://ift.tt/PPEDyG
Jamie Stengle, The Associated Press
@repost No Contest Divorce
Via Local Child Support Lawyers
source https://toronto.citynews.ca/2019/11/13/spotlight-on-texas-10-day-rule-in-life-support-cases/
November 13, 2019